Five NYC Movie Theaters That Break From the Mainstream
With accessible instant-stream platforms like Netflix and iTunes becoming the norm, it seems that movie theaters are becoming obsolete. Today's high-speed technological innovations have heralded a desire for instant gratification, where people want to watch movies as quickly, conveniently and cheaply as possible, rather than having to make the trek to the multiplex to see a movie that will be available to own in two months. That being said, there is a barrage of unique movie theaters around New York City that are keeping the movie-going tradition alive, whether it is through their rich cultural tradition or their unique reinvention of the movie-going experience.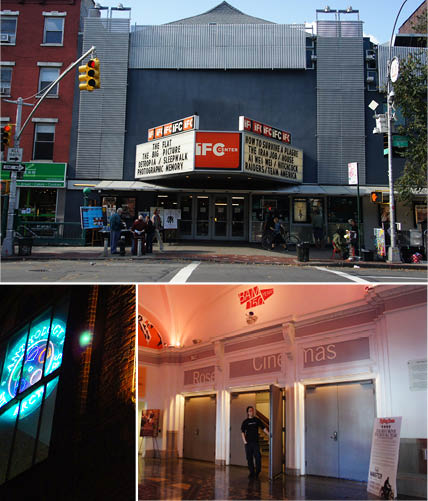 Lincoln Plaza Cinema
1886 Broadway
Ticket price: $13 general admission
Just a brief walk from Fordham College at Lincoln Center (FCLC)'s campus, Lincoln Plaza Cinema has been providing New York City with art house films for over three decades. The devotion to independence in cinema seems to have carried over to its décor, as the lobby, small theatres and even sound system give off of a somewhat lo-fi vibe, intimating that there may not have been any substantial restorations since it opened in 1981.
The Elinor Bunin Munroe Film Center
144 West 65th St.
Ticket price: $9 for students, $13 general admission
Right across from The Juilliard School lies the Elinor Bunin Munroe Film Center. Relatively new (it was unveiled in 2011) and with an exterior adorned in sleek glass, it is an invitingly sophisticated place to see the newest independent film releases and grab a snack at their WiFi-equipped café. In addition to its two movie screens is an amphitheatre, which plays host to various lectures, panels and special events throughout the year.
Anthology Film Archives
32 Second Ave.
Ticket price: $8 for students, $10 general admission
Founded in 1969, the Anthology Film Archives operates as more than just a movie theater. From its inception, its intent was to facilitate the discussion and study of the cinematic medium, which explains the fact that it has a massive reference library of books devoted to avant-garde cinema. The Archive's brick-lined exterior and copper-plated entrance sign contribute to it as feeling like a serious establishment or institution. As mentioned before, the primary emphasis of the Archive's programming is avant-garde cinema, so do not expect any overtly mainstream cinematic fare.
Film Forum
209 West Houston St.
Ticket price: $12.50 general admission
Like the Anthology Film Archives, the Film Forum is a movie exhibition located downtown that has devoted itself to presenting and preserving the medium film for the past four decades. The Forum's old-school marquee is indicative of its film programming; in addition to current independent releases are showings of various older films. By placing these films alongside each other, one can say that the Film Forum allows you to immerse yourself in the world of cinema, where the rules of time do not apply.
Nitehawk Cinema
136 Metropolitan Ave.
Ticket price: $12 general admission
Located in Brooklyn's perpetually hip Williamsburg neighborhood, Nitehawk Cinema offers moviegoers a relaxed and interesting movie-going experience. All three of its theaters are equipped with table-like settings, and moviegoers are given the opportunity to order food and drinks throughout the film's duration. Even better, their menu features items that are inspired, albeit cheekily, by the films they are showing at the time. For example, in honor of current Nitehawk feature "The Master," which stars Joaquin Phoenix as a hard-drinking World War II dispatch, their menu includes an entrée playfully titled "Drunken Phoenix," consisting of beer-battered chicken breast with whiskey dipping sauce.