Hurricane Sandy Disrupts Classes, Commute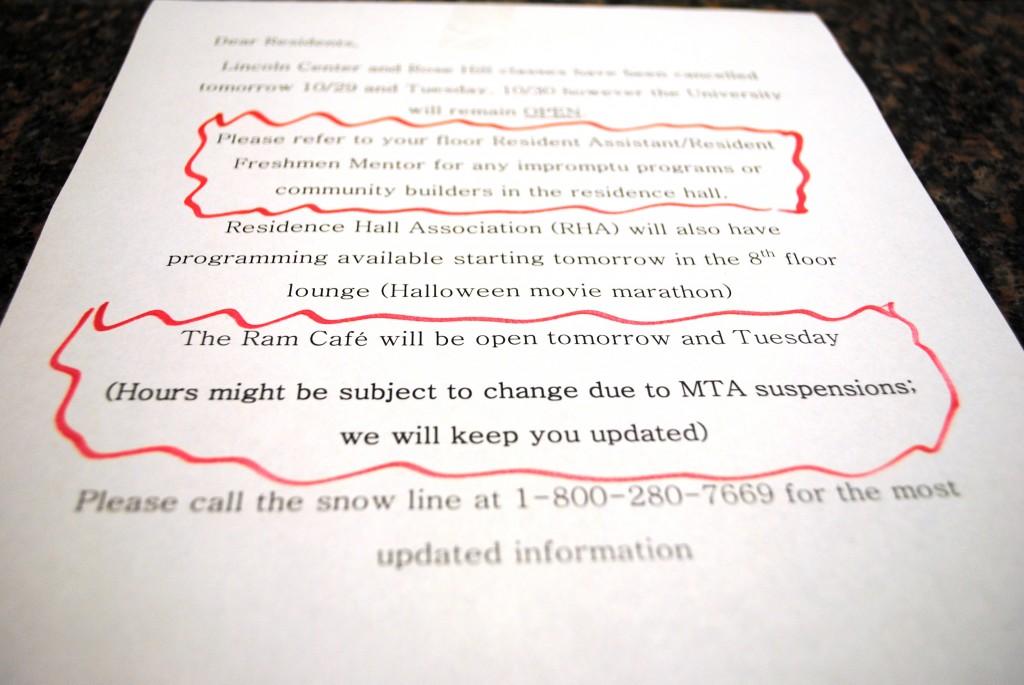 Hurricane Sandy hit the tri-state area Monday Oct. 29, knocking out power to millions and forcing evacuations from lower Manhattan and coastal regions. Despite precautionary measures, the storm had major impacts on the Fordham community, resulting in class cancellations for the entire week of Oct. 29 through Nov. 2.
Fordham announced via email on Sunday, Oct. 28 that all classes and events would be cancelled for Monday, Oct. 29 and Tuesday, Oct. 30 at the Lincoln Center, Rose Hill, Westchester and Calder Center campuses. On Tuesday, it was announced that classes would also be cancelled Wednesday, Oct. 31. Then on Wednesday, Dean of Fordham College at Lincoln Center (FCLC) Robert R. Grimes, S.J., announced that classes would be cancelled for the remainder of the week, resuming at 8 a.m. on Monday, Nov. 5.
Grimes' email also included new dates for registration and withdrawal from classes. The new deadline for withdrawing from a class without incurring a "WF" marking will be Nov. 13, and registration for spring 2013 classes will be moved to the week of Nov. 12 to allow students time to meet with their advisors, according to the email
On Monday afternoon, Fordham's graduate school residence on 58th Street was evacuated due to a fallen crane. At 2:30 p.m., the winch boom and operator control box of a 1,000-foot crane attached to an apartment building on West 57th Street doubled over backwards as a result of the storm's 80 mph gusts of wind. According to NBC 4, much debris fell on surrounding streets. At the time of print, the multi-thousand pound crane boom and control box still dangled high in the air, and reports say there is no way yet to secure it. In order to ensure the safety of New Yorkers, all buildings within a two-block radius have been evacuated.
As a result, about 40 graduate student residents were evacuated to McMahon Hall. Fordham intends for them to stay only the night or until the crane situation can be properly assessed. Despite Fordham's strict same-sex dorm policy, Fordham has allowed female residents to reside in male apartments with an extra bed.
According to an emergency text alerts from Fordham, the university website, email and servers were down Tuesday morning and were still down at the time of print.
A major source of frustration for Fordham commuters was the termination of all MTA activity from Sunday night at 7 p.m. to Tuesday at 5 p.m., when limited bus service was restored. Although most bridges in and out of Manhattan were reopened Tuesday, flooding continued to prevent the opening of subway lines or tunnels at time of print.
Prior to the storm, residents of McMahon Hall and all Fordham residents were warned on Oct. 26 to remain indoors and away from windows by an emergency email alert from Bob Howe, director of communications. Residents were even warned to keep a small bag ready with critical items in case conditions worsened, requiring evacuation. Fortunately, power remained uninterrupted throughout the storm.
Signs posted around McMahon on Monday relayed information to residents that the out-of-commission network. One hand-written sign told residents, "No guest passes tonight sorry for the inconvenience." Another instructed residents to "please close all windows" due to the high winds, while another assured students that the Ram Café would be open for limited hours on Monday and Tuesday.
Commuters were also majorly affected by the storm. York Campos, FCLC '13 of Forest Hills, Queens could not be reached by phone due to the hurricane, but he explained via text how his family prepared for the storm.
"My family was well off this time," Campos said. "We stocked up on food. We kept all our electronics charged and we safeguarded the windows. However, I'm scared about schools opening this week because the trains are projected to not run for the rest of this week and the only way for me to get to school is by train. And my parents both work, so dropping me off at school would put them in a tough situation for work."
Jerri Javier, FCLC '13, of Elmhurst, Queens, stayed home beginning Sunday. She dreaded what her commute to school will be like without full use of the MTA. "It's going to be longer, however it's going to be an awkward commute. My commute is 45 minutes usually, but I'm looking at at least a hour-and-a-half commute or longer."
Killing time while struck in an apartment was another challenge for Javier. "I have been eating cupcakes I bought for Halloween and basically eating and snacking," Javier said. "I really thought I would use this time to do something productive, but being here has been kind of a nice surprise because I think that for everyone, after midterms everyone was in really low spirits…and I think this is a nice break for folks, at least for me. I really did need it."
Jolaubi Osho, FCLC '13, of Canarsie, Brooklyn, said that although her neighborhood is surrounded by water that rushed up the nearby pier and flooded many houses, her street was fine. Still, commenting on whether or not she will make it to campus in time for the beginning of classes, Osho was less than optimistic.
"There's only one train that comes here [the L train], and that's down," Osho said. "They were already making repairs to that track for the last two years, so if anything damaged that, that's probably done…. Even if there's buses, I have classes at Rose Hill, so I doubt I would ever make it all the way over there."
When asked to estimate the soonest she could make it to either campus, Osho said, "The buses don't really run here often, so for me to get to a train from the buses here would be like another hour, so the trains would have to be running again for me to go back to school."
As for media coverage of the storm's destruction, Osho said her neighborhood has received inadequate attention. "There's no coverage of what's going on in my area at all," Osha said. "I saw a little about Red Hook, but not that much. I've seen Long Island, I've seen New Jersey."
Additional Reporting by Mehgan Abdelmassih, Rex Sakamoto, Ian McKenna, Monique John and Tayler Bennett