UPDATED: Hurricane Sandy Heading for Fordham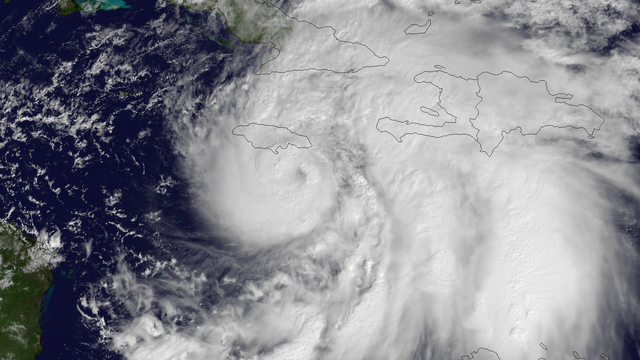 Hurricane Sandy is headed for the tri-state area and New York City officials are taking actions before Sandy's surge. Fordham also took precautionary actions and announced via email that all classes and events would be cancelled for Monday, Oct. 29 and Tuesday, Oct. 30 at the Lincoln Center, Rose Hill, Westchester and Calder Center campuses.
Residents of McMahon Hall, Fordham's storm warning, issued on Oct. 26, said to remain indoors and away from windows. "Resident students should have a small bag ready with their critical items if conditions require they be moved to another on-campus location," Bob Howe, director of communications, said in a release.
The release also stated that both Lincoln Center and Rose Hill campuses would have areas of emergency power should electricity go out during the storm.
According to the National Weather Service, winds have the potential to gust up to 50 mph by tonight. By Monday, wind gusts are estimated to reach 65 mph.
Earlier today New York Governor Andrew Cuomo announced that subway, bus and rail service would be suspended by 7 p.m. Chairman of the Metropolitan Transportation Authority  Joseph Lhota confirmed that New Yorkers would not have access to public transit for at least two full workdays, according to The New York Times. "I do think Monday and Tuesday are going to be difficult days," Lhota said.
The National Weather Service has designated three different zones according to the location's vulnerability to Sandy's surge. For FCLC students living off campus, refer to the Hurricane Evacuation Zone Finder in order to see if you are in a red area.
Call Fordham's weather emergency hotline (1-800-280-SNOW) or the emergency information line (877 375-HELP [4357]) to get updates about cancelations and Sandy's surge.
The Observer staff will be keeping up with emergency developments throughout the storm.
UPDATE: Information regarding Hurricane Sandy's affect on FCLC are being relayed to students through signs posted around McMahon Hall.
[nggallery id=24]
UPDATE October 29, 5:30 p.m.: Fordham University sent an email with more updates. According to the release,  Lowenstein's Ram Café will close today at 8 p.m. today and reopen around 9 a.m. on Tuesday.
The release also instructed residents of McMahon Hall (and other Fordham residence halls) to stay in their rooms should there be a loss of power. "Residential Life and security staff are equipped with flashlights and will be circulating throughout the residence halls all night," the release said.
UPDATE October 30, 3:38 p.m.: Last evening, Fordham's graduate school residence on 58th Street was evacuated due to a fallen crane. At 2:30 p.m., the winch boom and operator control box of a thousand foot crane attached to an apartment building on W. 57th St. was blown so hard by the 80 mph gusts of wind that it doubled over backwards. According to NBC 4, much debris fell on surrounding streets. The multi-thousand pound boom and control box still dangle high in the air and reports say there is no way yet to secure it. In order to ensure the safety of New Yorkers, all buildings within a two-block radius have been evacuated.
As a result, about 40 graduate student residents were evacuated to McMahon Hall. Fordham intends for them to stay only the night, or until the crane situation can be properly assessed. Despite Fordham's strict same-sex dorm policy, Fordham has allowed female residents to reside in male apartments with an extra bed.
The MTA has announced that starting at 5 p.m. today, limited bus services will resume, with a Sunday bus schedule going into effect tomorrow. Due to salt water flooding of many subway lines, the MTA has not released a timeline for a return to full service.
Fordham has also announced via mass text that classes will be cancelled tomorrow, Oct. 31. Fordham's network, including Lincoln Center internet, the website and the Fordham e-mail system, is also temporarily down.
UPDATE October 31, 1:05 p.m.: Fordham announced via email today that connection to the university's Internet Service Provider (ISP) has been restored, giving students access to the Fordham website and email once again.
New York Governor Andrew Cuomo also announced today that starting at 2 p.m., limited service would be restored to Amtrak, Long Island Rail Road and Metro North trains, according to The New York Times. The MTA has said limited subway service will return on Thursday, although to which lines has not been released. According to MTA's chairman Joseph Lhota, subway service would most likely run North of midtown Manhattan until power could be restored to lower Manhattan. A shuttle bus service between Manhattan and downtown Brooklyn will also be in place Thursday.
UPDATE October 31, 2:50 p.m.: Fordham has announced that classes at all campuses except the Calder Center will resume on Thursday, Nov. 1. Limited Ram Van service has begun today, and full service is scheduled to resume at 5:30 a.m. tomorrow.
UPDATE October 31, 5:14 p.m.: Robert R. Grimes, S.J., dean of FCLC, announced via mass email that the Emergency Management Team has decided to extend the cancellation of classes at FCLC for the remainder of the week. According to the email, classes and events will resume as of 8 a.m. on Monday, Nov. 5.
An earlier email also said that the deadline for withdrawing from a class without incurring a "WF" marking has been extended to Tuesday, Nov. 13, while registration for spring 2013 classes has been delayed to begin Monday, Nov. 12.