Birth Control Prescriptions, Information Offered at "Prescribe Fordham 2"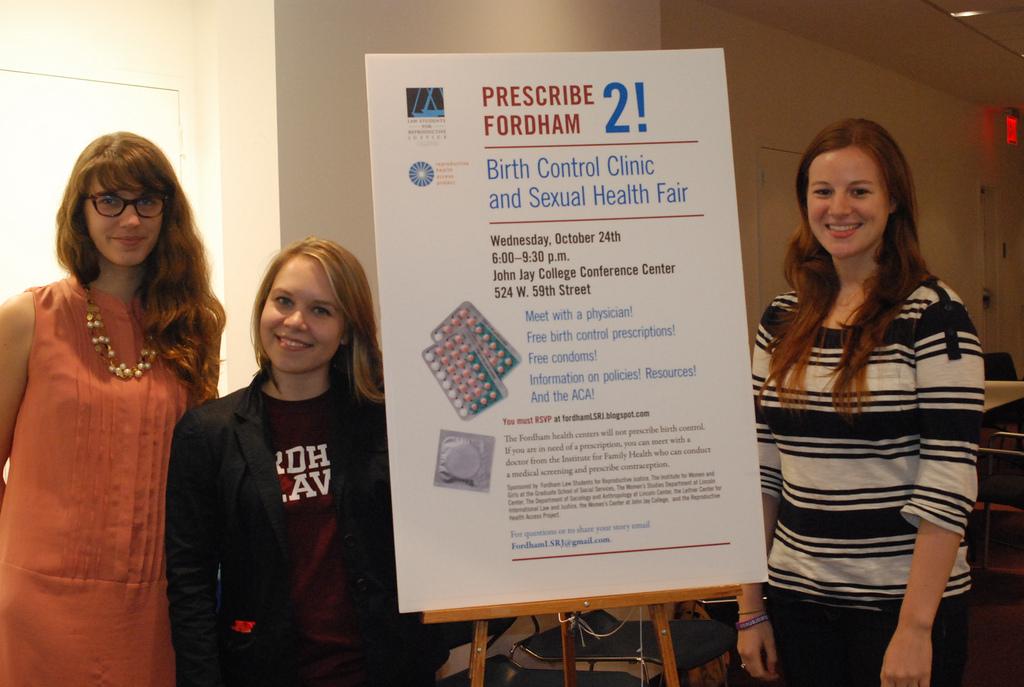 The Fordham chapter of Law Students for Reproductive Justice (LSRJ) held their second annual Prescribe Fordham event in the John Jay College of Criminal Justice conference center on Wednesday, Oct. 24. The event included a birth control clinic and sexual health fair for Fordham students, as well as students from neighboring colleges.
Despite securing the sponsorship of Fordham's departments of women's studies and sociology and anthropology, the organizers of this year's Prescribe Fordham were denied permission to advertise the event in Fordham College at Lincoln Center's (FCLC) public spaces. Keith Eldredge, dean of students at FCLC, sited conflict with the university's mission as the reason for not approving the group's fliers.
"It connects to our identity as a Catholic Jesuit university, and obviously we are not an institution that's indoctrinating folks in the Catholic faith," Eldredge said, "but this is an event that includes an activity that is contrary to Catholic teaching, and so as an institution, part of our mission is not to promote activities that our contrary to church teaching, so in that way it conflicts with the mission of the university."
Emily Wolf, president of the Fordham chapter of LSRJ, said that the organizers believed the fliers would be approved this year, because two academic departments at Fordham sponsored the event.
Eldredge, however, said, "Academic departments may sponsor or advocate on different concerns or issues, but that does not translate necessarily to the university as a whole taking a statement on something."
According to Wolf, president of the Fordham chapter of LSRJ, the main goal of this year's event was to provide students with access to "uncensored" birth control consultations with doctors from the Institute for Family Health.
"One of the things we learned last year is that there is definitely a need for birth control prescriptions at Fordham," Wolf said. "Based on that information, we wanted to continue this event to insure the women we helped last year as well as other women have access to meet with a doctor."
Wolf and Fordham's chapter of LSRJ have argued since last year's Prescribe Fordham that the Fordham health centers are censored from properly prescribing birth control even to students with medical need for it. This practice, they allege, undermines the university's written policy that medical exceptions can be made to the policy of not prescribing birth control to students, in keeping with Jesuit and Catholic teachings.
"Some students aren't comfortable with going to their health center for a few reasons," Wolf said. "They need something like this so they don't have to worry about school policies getting in the way of their health needs."
Lauren DeLuca, Fordham College at Lincoln Center (FCLC) '15, was one of the undergraduate students who attended the event after hearing of it from ISIS, FCLC's feminist club. Deluca said she saw a need for events like Prescribe Fordham at FCLC.
"I just think women's reproductive health is important and not covered enough at all at Fordham," DeLuca said. "It's important for women to be proactive, and they're giving us a really easy way to be proactive here. A lot of the information I already knew but it's helpful to be able to sit down with a professional who will answer your questions. I would definitely like to see more events like this one."
Doctors at the event from the Institute for Family Health were present to provide information about birth control options and insurance issues costs and coverage as well as to answer any questions from students. The students split into different groups with a couple doctors at each table. The doctors offered information pamphlets as well as private consultations.
Margaux Lazarin was one of the doctors from the Institute of Family Health. "In general, I think it's important that women have access contraceptive options," Lazarin said. "I was here last year, and I feel like there's a lot of misinformation, and this is a really helpful way to inform both men and women."
DeLuca said she noticed the effects of LSRJ's problems in getting Prescribe Fordham advertised on campus. "I've seen a few people that I know, which is good but I feel like there would be more people if it could be advertised more at Fordham," DeLuca said.
As for the future of Prescribe Fordham, Wolf said, "I think we're going to continue to provide this clinic every year until students have better access to the health care they need when they're on campus."