Fordham Hosts "Future of Islam" Discussion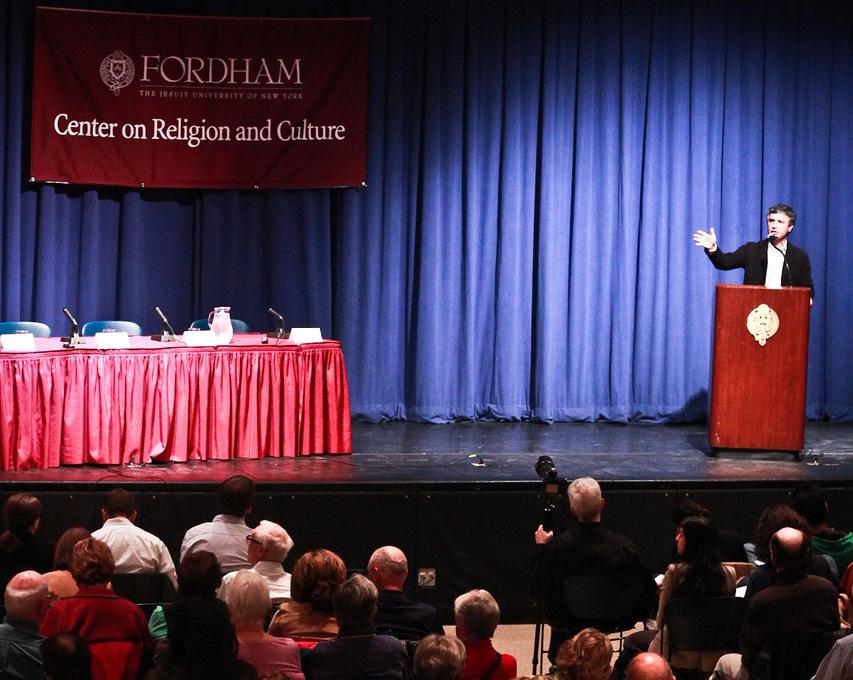 On Oct. 17, Fordham College at Lincoln Center (FCLC) hosted "My Generation: Muslim Millennials on the Future of Islam," which featured a panel of five prominent Muslims speaking on the future of the Muslim community in the United States.
The panel included Reza Aslan, author of "No God but God: The Origins, Evolution and Future of Islam Beyond," along with Musa Sayeed, director and screenwriter of "Valley of Saints." Two community organizers sat on the panel: Lidna Sarsour, the director of the Arab American Association of New York, and Nadia Roumani, director of the American Muslim Civil Leadership Institute. Khalid Latif, chaplain at New York Univeristy (NYU) was also a panelist.
Nusrat Jahan, FCLC '13 and president of the Muslim Student Association (MSA), said that as an active young Muslim, the event was easy to relate to because the overall topic of discussion specifically targeted the Muslim youth. "This event means a lot to the e-board and MSA because it was about young Muslims. We could relate to the speakers and the discussions because we were born before 9/11," Jahan said.
Each speaker that was featured on the panel offered differing viewpoints about the future of Muslim communities in the United States. Subtopics rose out of the general prompt, concerning the roles of sexual orientation, wealth and education in the American-Muslim community.
The differences among the panelists are what excited Adjunct Professor Hussein Rashid, who attended the conference and is a colleague of some of the individuals who were present that evening. "You have these really great Muslims as activists, as academics and as faith leaders coming together and sharing their thoughts about what the American-Muslim community looks like, and not agreeing – which I think is really important because we are not talking about one community," Rashid said.
Some FCLC students who are not of the Islamic faith found themselves connecting with the panelists because of their shared interests, professions and creative personalities. "Musa, the filmmaker, resonated with me because of the way he talked about his passion as a filmmaker," Maximilian Kempf, FCLC '13, said.
One of the panelists, Nadia Roumani, spoke of the need for Muslims to be more active in politics. Jahan also connected with this topic of discussion because of her political science major at FCLC. "Nadia talked about how important politics really are. She talked about this model society that Muslims believe we all live in, and she said that we need to separate ourselves from it, and become politically active," Jahan said.
Some of the panelists will be returning to FCLC to speak at Rashid's "Muslims in America" theology course. "I am very happy that being at Fordham has allowed me to invite guest speakers. We are hoping to have Linda Sarsour and Nadia Roumani in my class," Rashid said. "Our first talk is going to be with Darya Shaikh who is the executive director of the One Voice foundation, which is dedicated to bringing peace to the Middle East. That will be held on Monday, Oct. 22 in Lowenstein 912."