NYFF Dispatch: Gerwig Shines in Beguiling "Frances Ha"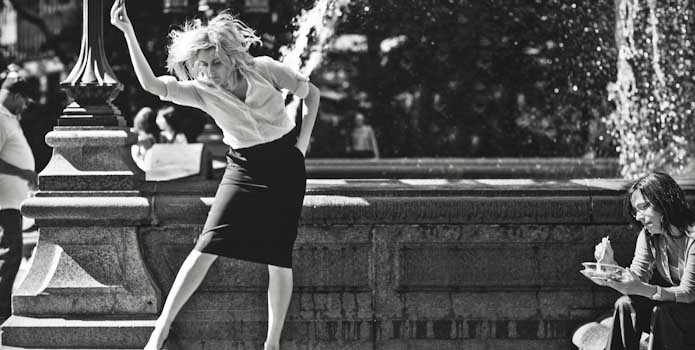 Roughly half an hour into "Frances Ha," I caught myself visibly smiling from ear to ear, later realizing that I had been for pretty much the movie's entire duration up until that point. Rarely have I been so genuinely delighted by a movie as it unfolded in front of me. Director Noah Baumbach has directed an immaculately observed low-key dramatic comedy with a disarmingly appealing central performance by Greta Gerwig.
Gerwig plays the Frances of the title, a twenty-something Brooklynite who lives with her best friend Sophie (Mickey Sumner.) With aspirations to be a professional dancer, Frances is working hard to make ends meet and bring her dream to fruition. Sophie, on the other hand, already has a leg-up in the publishing business and promptly decides to move out to live with her boyfriend, fraying their relationship and leaving Frances struggling to put her life and living arrangements in order.
Rather than adhering too rigidly to any sort of plot mechanics, the film follows Frances as she floats around the city, finding temporary room and board with friends and friends of friends. The pleasure of "Frances Ha" comes in its perfectly realized little moments. The movie begins with a speedy montage of Frances and Sophie's friendship, capturing them as they smoke cigarettes and swig beer on their fire escape and swap inside jokes. When Frances briefly moves in with two guys, Benji and Lev (the latter of whom is played by Adam Driver, known for his role as Adam on the HBO show "Girls," another portrait of young people living in Brooklyn,) Baumbach gently gauges the dynamics of the three as they shift from minor flirtation to simply being Platonic friends. The movie allows you to luxuriate in these low-key details, and they feel authentic and precise.
Baumbach also imbues "Frances Ha" with a playful, nostalgic sensibility. The film is shot in shadowy black and white and features a soundtrack often punctuated by brief moments of Georges Delerue, the composer who worked with such auteurs as Jean-Luc Godard and Francois Truffaut. The movie humorously juggles the more down-to-earth aspects of Frances' situation with occasional cinematic flights of fancy, such as when Frances impulsively makes the decision to fly to Paris to stay at a friend's apartment for the weekend, only to end up sleeping through the first day due to jet lag.
At the center of it all is Gerwig, who, appearing in every scene, proves an incredibly appealing presence. With her distinct voice and slightly awkward demeanor, she infuses the movie with a warm yet eccentric charm. She and Baumbach co-wrote the film together and the character plays exactly to her strengths as an actress. There is nothing mannered or showy about her performance; one gets that feeling that she simply is Frances, which is just about the highest compliment one can give.
At just under an hour and a half, "Frances Ha" plays almost like a collection of brief occurrences and circumstances. The fact that it is deliberately small-scale should not deter from what Baumbach and Gerwig have accomplished. "Frances Ha" is, in its own way, pretty much perfect.
After the film's afternoon press screening on Sept. 20, director Noah Baumbach and actors Greta Gerwig and Nicky Sumner joined the droves of critics in the Walter Reade Theater for an onstage press conference. One of the first topics that were brought up was the collaboration between Gerwig and Baumbach, who both had expressed a desire to work together again after she appeared in Baumbach's previous film, 2010's "Greenberg." Describing the creative process, Gerwig shared that they "started trading ideas back and forth, and out of them a character emerged. Like all things, it's hard to know when they began and when they coalesced… but once they had these people seemed so formed."
Gerwig and Baumbach also discussed an interesting tactic they used for dealing with the actors once they were on set, as Gerwig revealed, "We gave the actors only the scenes they were in."  Co-star Nicki Sumner confessed, "I didn't read a script… I didn't know [what the movie would be] until I saw the whole thing." Baumbach discussed the desired effect he wanted to get from using this tactic and that he wanted "to have actors just play the moment, and what's in front of them."
Portrayals of female friendship feel almost anomalous in today's cinematic climate and a journalist asked the actors why they thought that was. Gerwig replied, "I don't know why, I know that they are rare and underrepresented… but women doing anything other than falling in love is underrepresented across the board… I'm so happy we got to make one… Whenever I see female friendships represented accurately or even somewhat accurately, I'm so pleased."