Stand-Up That Stands Out
If you're looking to find the next generation of comedians, whether stand-up, improv or any other kind, New York City is as good a place to start as any. New York has been home to the most recognizable names in comedy today and yesterday, including John Stewart, Eddie Murphy, Chevy Chase and many more. Getting to enjoy that caliber of comedian, before they become that caliber of a name, is only a matter of knowing where to look.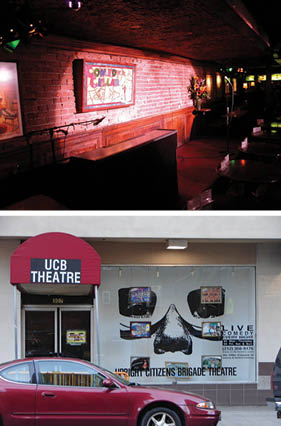 The Comedy Cellar
One of the city's most renowned stand-up venues, and the New York Post's favorite comedy club, is Greenwich Village's Comedy Cellar. With the standard brick wall and single spotlight setting the stage, some of the world's most famous comedians perform here. They don't announce their schedule very far in advance, as they regularly have surprise guests, from Aziz Ansari to John Mayer, showing up. Before the two-drink minimum, weekday shows range from $10-$14 and weekends range from $20-$24.
Upcoming Events: Judah Friedlander, Dave Attell, Godfrey
Caroline's on Broadway
Coming back to the immediate vicinity of Fordham at Lincoln Center, there is Caroline's on Broadway. Whereas Comedy Cellar doesn't announce their comics more than a few days in advance, even saying they cannot guarantee a particular name, Caroline's is all about the name. Recent and upcoming performers include Tom Green, Wyatt Cenac and the Wayans Brothers. Ticket prices are a bit more expensive here, generally from $30-$80 before the drink minimum, but you get a guaranteed name, along with a real restaurant setting.
Upcoming Events: Tom Green, Lil Duval, The Wayans Brothers
The Upright Citizens Brigade Theater
Of course if you're interested in improv comedy, you could try The Upright Citizens Brigade Theater. They have two theaters, one in Chelsea and another on the Lower East Side, which just opened last fall. Both feature the same revolving troupe including the likes of Scott Adsit (of "30 Rock") and Matt Walsh. The room in Chelsea is comfortably cramped into what seems to be the basement of a grocery store. Most shows range from $5-$10, with no drink minimum, and if that's too much, the weekly Tuesday Night Open Mic is free. Upright Citizens Brigade also offers classes taught by members of their regular team. If you pass through their entire curriculum you are even eligible to join the group.
Upcoming Events: Moustache Man: Confessions of a NYC Graffiti Artist, DIAMOND LION: Where Dreams Are Made Of, 404ing It: Breaking (Down) the Internet NEW YORK COMIC CON EDITION!,The Spooky Ghost Show: Halloween Edition
The People's Improv Theater
Unlike the Upright Citizen's Brigade, the People's Improv Theater (PIT) in Gramercy has multiple designated improv teams which perform in separate theaters. Their shows are also from $5-$10, along with Super Free Monday and free Wednesday night Improv Jams. The Harvard Sailing Team, an award winning sketch comedy group with viral YouTube videos, have also been known to frequent the PIT. Improv classes are also offered, some of which are taught by Michael Showalter of The State and writer's from both The Colbert Report and The Daily Show.
Upcoming Events: Midnight Movies with Montoya, Moon Pools (an interpretation of the Clueless Soundtrack), Big Black Car (including Kristen Schaal) and The Baldwins.