Jason Rosenberg Holds His Own in His Play "[sleep] holds them"
According to the writer, Jason Rosenberg, Fordham College at Lincoln Center (FCLC) '12, the title "[is] a metaphor for lack of control, about people waiting for something to happen." Rosenberg went on to explain this is a common motif in his work, an ironic fact, for he actively does the opposite in his real life— the Fordham senior just acted and co-directed the show he wrote last weekend at The Actor's Movement and Chekhov Studio in Philadelphia.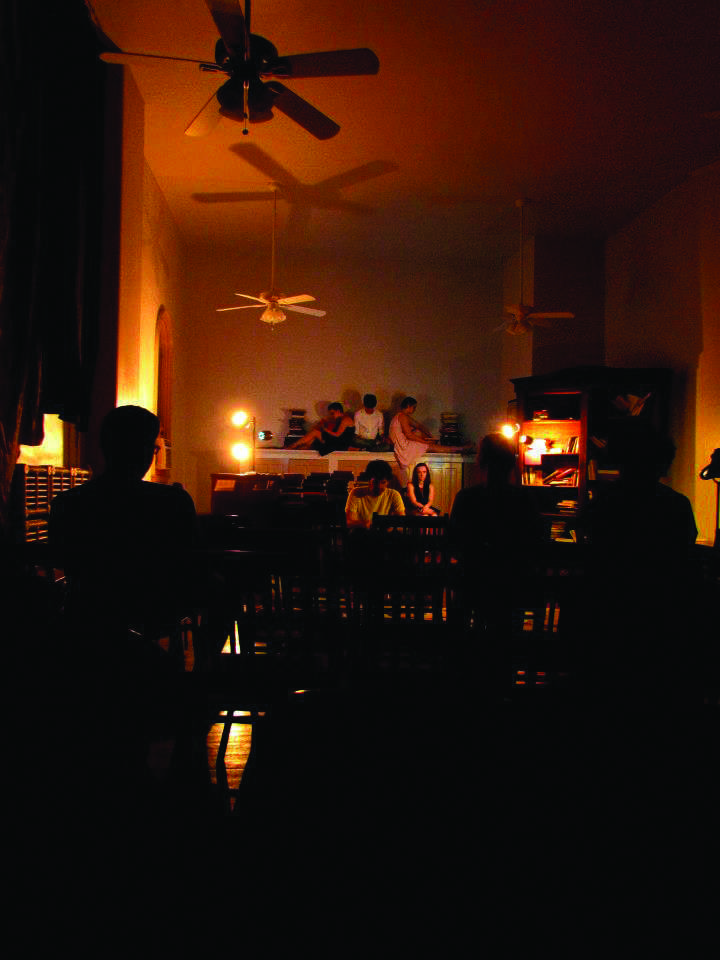 "[Sleep] holds them" is based on "Sappho and Phaon," a fictional account of Sappho's life and her romance with the fisherman Phaon; a tragedy in which the Phaon is given the gift of eternal youth and beauty by the goddess Aphrodite and falls in love with infamous Sappho. In the grand tradition of Greek tragedies, things do not end well for the couple. "[Sleep] holds them" is a modern retelling of the ancient tale, in which the character Sappho is paralleled by drug—addicted Penelope, whose sponsor Caleb (a reflection of Phaon) obsessively collects books, yet helps her through a mental crisis in which she begins to babble in Greek.  Sappho's work "features addiction and sacrifice for love, and I wanted to parallel how we perceive both" Rosenberg said; he goes on the further explain the mentor/student relationship that blossoms between the two characters, helped along by the appearance of the ghosts in the play (an otherworldly version of the Greek chorus).
Rosenberg credits Fordham professors for sparking his initial interest in the classics and the theatre department here for "[teaching] me how to put up a play; it definitely helped me in the practical sense." But Rosenberg's primary inspiration came from Tarell Alvin McCraney's "Brother/Sister trilogy," in which McCraney adapts Yoruba mythology and sets it in the pre-Hurricane Katrina Louisiana projects.  McCraney's work is where Rosenberg's initial idea of "restructuring ancient plays and reusing them came from," so between McCraney's work and Rosenberg's admiration for classics in general (and Sappho in particular), "[sleep] holds them" was born.
The execution of the play was a collaborative effort; the whole cast directed it together. Rosenberg played the main male protagonist (after the original actor was forced to quit due to scheduling conflicts), and the set and lighting was collected in a sort of eclectic scrounging process.  The set was constructed mainly of books and was illuminated using "pedestrian lighting"— which amounted to three lamps on the set.  "[We wanted to challenge] ourselves to see what we could hide in the guise of a lamp" Rosenberg said, and also laughingly admitted "part of it was that we couldn't afford theatrical lighting" (a common lament among college students), but went on to explain that the cast would play around with the lighting to hide the overall meaning and significance of the set until they chose to reveal it.
"This was the first play I'd written… For theater, you have to be aware that you're writing for people to perform. '[sleep] holds them' taught me where I had room to grow," said Rosenberg. Unlike the typical Greek tragedy, this story has a happy ending— Rosenberg ultimately deemed the show a success, saying "I think we accomplished what we set out to do. We put up a play on our own…it ended up being something that we were all proud of."
For quotes, pictures, and more information on "[sleep] holds them" and other work, follow Jason Rosenberg on his blog www.thecaffeined.tumblr.com.