Soccer Upsets Brown, Four Players Named All-Tournament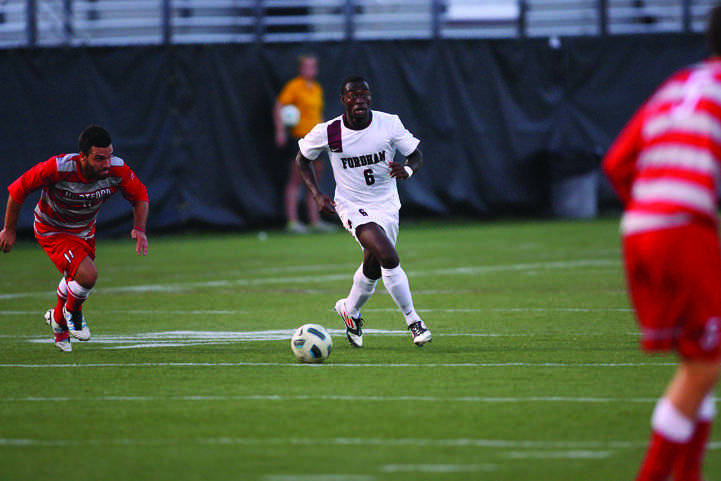 It doesn't take a soccer aficionado to understand what a hard-fought game is. Anytime you have a one goal differential between two teams, you can say the game was evenly matched. However, only one team came out on top in the Brown Soccer Classic. The Rams faced the Brown Bears in a hotly contested game. With a 1-0 final, the Rams overtook 22nd-ranked Brown after beating Sienna in the opening round. The Rams came in with a losing 1-2 record before the tournament began and left with a winning record of 3-2. Head Coach Jim McElderry felt satisfied with the Rams performance.
"We are very happy with the two wins, especially away from home, with the second win against a very strong Brown team rated as a top team in the nation," McElderry said.
Following the 1-0 victory over Brown, Fordham can now afford to look in the mirror and, perhaps, expect more. With the new crew of players, the team has the potential to improve as well as maintain the level of dominance on the defensive side of the ball they showed against Brown.
"We have a lot of new players on this team, so we have worked hard over the past month to come together as a team. Our team defense has been very good, led by senior captain Ryan Curran from Carlow, Ireland," McElderry said.
One of the key returning players selected to the All-Tournament team was midfielder Nathaniel Bekoe, Fordham College at Rose Hill (FCRH) '14, who was named MVP for his superb play on the defensive side of the ball. Kalle Sotka (FCRH '15), Ryan Curran (FCRH '13), and Kyle Bitterman (FCRH '16) were also named All-Tournament for their contributions to the Rams' 2-0 performance. Bitterman, being a freshman, earned his first point with the assist on the winning and only goal versus Brown. McElderry said he also has plenty of confidence in Jack Bouchard (FCRH '14) and Michael Valencia (FCRH '13).
Fordham has a lot to look forward to in the upcoming weeks. Starting in October, they will face nine conference opponents, largely determining the season's outcome.
Upon being challenged with the question of how confident he feels with his group, McElderry responded, "I know we still have a long way to go in order for this group to reach its potential, but as always I have high expectations for this team."
High expectations don't make a final stop at the coaches table, as the Fordham community is eager to see how much this season can contribute to key players breaking out. Time can only tell once they enter October.