Colbert Media Blackout Broken by Tweets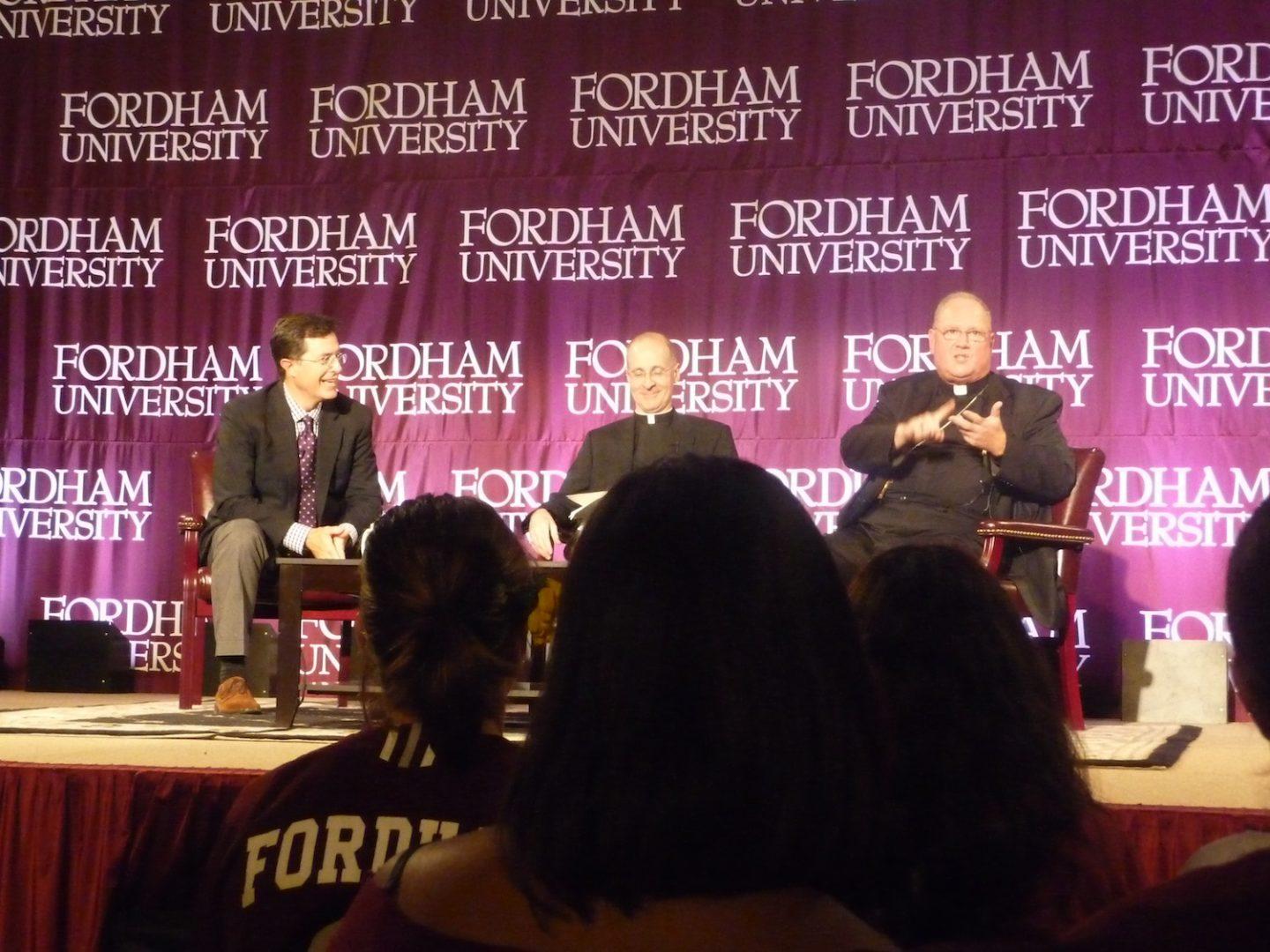 Despite a Fordham administration-imposed press blackout, the events of last week's discussion between Stephen Colbert and Timothy Cardinal Dolan were widely reported by media outlets after students tweeted quotes and favorite moments using the #dolancolbert tag promoted by the event organizers and the shortened #dolbert tag.
On Sept. 14, more than 3,000 students welcomed Colbert, known from his news satire show "The Colbert Report," and Dolan, Archbishop of New York, to the Rose Hill Gymnasium. The event, titled "The Cardinal and Colbert: Humor, Joy, and the Spiritual Life," was moderated by Father James Martin, S.J., author of "Between Heaven and Mirth" and focused on living as a Catholic humorist. Throughout the program, Colbert gave the audience insights into his real personality and attitude towards Catholicism by answering questions not as the character he plays in his show, but as a practicing Catholic..
At the event, Fordham prevented guests from bringing in digital cameras and informed student press that they were not to report on the sincere discussion. Neither The Ram nor The Observer were told they would not be able to report on the discussion beforehand. But once quotes were on Twitter, they became part of the public record. The New York Times, the New York Post and other media outlets reported the candid nature of the conversation.
Although some administrators mentioned contracts with Colbert and Dolan as the reason for the blackout, Bob Howe, senior director of communications at Fordham, said that no such contracts existed though Colbert and Dolan were told that there would be no media. According to Howe, the event's planning committee made the decision to blackout media coverage. They believed the guests would be more likely to give sincere answers without the press there, Howe said.
"I know in a room of 3,000 it isn't really intimate, but it was just a little more private," Howe said. "We wanted it to be just a nice evening discussion."
Paul Levinson, professor of communication and media studies and author of the book "New New Media," said he believes the expectation of a media blackout in the 21st century is "laughable." Levinson also contributes regularly to national media outlets such as Fox News and MSNBC as a media commentator.
"The truth is, trying to put up a blackout is based on an antiquated view of media," Levinson said. "It's based on a world where we got the news from TV, radio and newspapers, where you could easily enforce a blackout because all you had to do was not let reporters be there. Twitter has made everyone a reporter, so has YouTube, so the whole notion of trying to black something out is based on 20th century media, and that environment is gone."
Kathryn Reklis, assistant professor of theology at Fordham and research fellow at the New Media Project, said she saw the usefulness in having a press blackout for an event like Dolan/Colbert, especially seeing how Colbert answered questions.
"What was most surprising to me was that we all know how rare it is for Colbert to appear out of character for an extended period of time," Reklis said. "Obviously his satire has real weight in the world, and that's because he has cultivated such a strong character. The media blackout allowed for him to be there as Stephen Colbert the Catholic Christian having a real conversation about his spiritual life."
As for the students taking to Twitter to share the discussion, Reklis said she thought most of the thoughts shared were respectful in not going into the more personal parts of the discussion.
"I don't think a complete media blackout exists anymore now with social media democratization," Reklis said. "I think that's kind of why they may have asked for a media blackout in the first place."
Whether or not the blackout worked, students in attendance said they enjoyed seeing Colbert out of character.
"It was amazing to see the more serious side of [Colbert]," Carl Bhamdeo, Fordham College at Lincoln Center (FCLC) '13, said. "He's known for being funny on his show, and everyone knows that he's smart and although he maintained that he was just someone who 'makes jokes' for the entire night, you could see that he was serious about his values so it was great to see him speak about humor the way he did."
Michael Macalintal, FCLC '15, said, "I thought that his upright honesty of his beliefs was something that should be held as an example to the rest of the world because not many people, especially if they are in his position, are willing to be honest about their faith."
Alisha Kothari, FCLC '15, said, "He seemed a lot calmer and more respectful. I'm guessing that his change in persona was as a result of the cardinal's presence."
Dolan was received positively, as well.
"Dolan was a lot funnier than I expected him to be!" Bhamdeo said. "It was good to see that laid back side to him as he stepped back from his duties and his responsibilities as a public figure and just spoke to us about something as simple as laughter."
Kothari described Dolan's attitude as "refreshing" and recounted Dolan's story of an encounter with anti-homosexuality protestors outside St. Patrick's Cathedral. "He talked about how the protesters were the ones who should be ashamed of themselves for not believing that everyone is created in the image of God and should therefore be loved.
"My favorite part was Colbert's response to someone asking if he ever feels pressure to be funny. In all seriousness he asked James Martin and Cardinal Dolan, 'Do you feel pressure to be holy?'" Kothari said.
With additional reporting by Richard Ramsundar, News Co-Editor.