A Hungry Lincoln Center Student's Guide to Buying Groceries
Before moving to Fordham College at Lincoln Center (FCLC) about a year ago, I was accustomed to food showing up in my pantry. I didn't know how much to pay for mayonnaise or what kind of vegetables you need to make a salad; basically, I didn't know how to go grocery shopping.
Living on your own for the first time can be daunting, especially when you really don't know anything about the real world like I did. I had never heard of a Trader Joe's and Whole Foods was too sophisticated for my small, rural town in New Jersey. So, in order to make your transition here to FCLC easier, I'll give you a quick and dirty comparison of the three most popular food stores around our campus.
As for prices, I looked at the total amount of money spent for a decent party for 5-6 people (drinks, potato chips, tortilla chips and salsa and two appetizers). Maybe with this information, you could even throw a little getting-to-know-you floor party.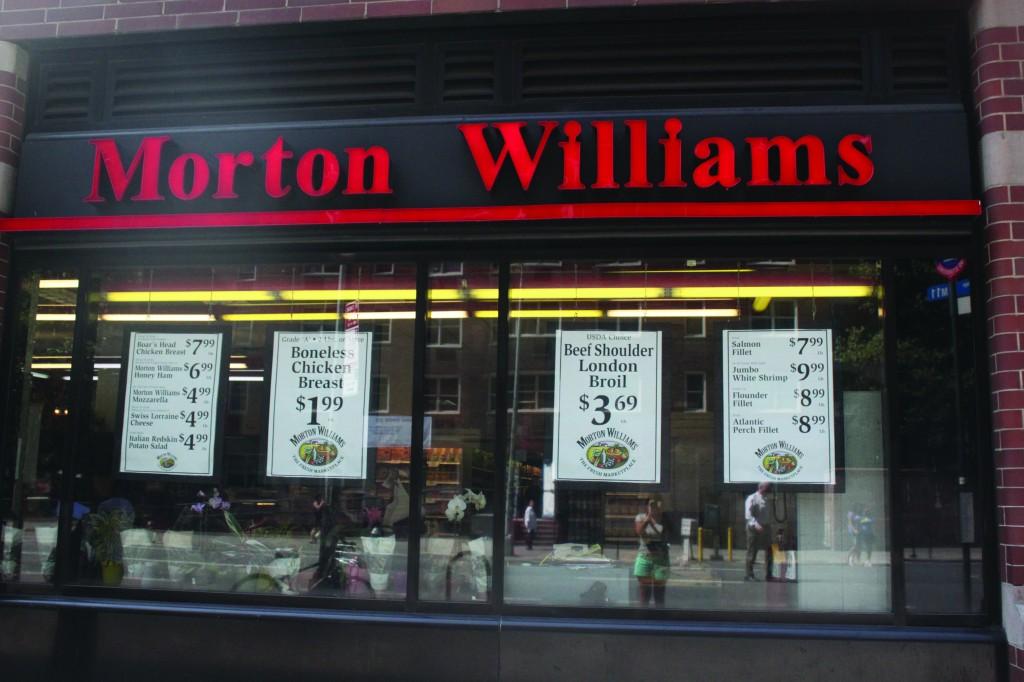 Morton Williams
Location: 917 9th Ave. (between 58th St. and 59th St.)
Ambience: Morton Williams offers a more traditional supermarket experience for those who are accustomed to Stop & Shops, Shop Rites or A&Ps in suburban America. With white tile, bright fluorescent lights and tight aisles, this no-frills shopping experience can sometimes be frustrating. The fresh produce section is especially small compared to the other stores mentioned, but the vast array of foods (read: they have junk food) is often a comfort for people who aren't truly ready to throw out all of their bad eating habits just because they have moved to a city that has.
What I Overheard: "Foster's. Australian for beer. Gotta get me some of those."
Principles: The Morton Williams website makes it clear that this family-owned chain with twelve stores in the New York metropolitan area serves the community with "each store designed to reflect the needs of the individual neighborhood."
Personal Opinion: While usually not my first pick for weekly groceries, I often find myself wandering in with friends late at night to pick up quick things to eat like popcorn for movie night or Oreos for watching TV.
Cost of a Party: $29.52
Coca-Cola 2L – $2.29
Stewart's Root Beer – $4.79
Ginger Ale 2L – $2.29
Bachman Restaurant Style Tortilla Chips – $3.99
ShopRite Salsa – $2.29
Lay's Classic Potato Chips – $4.29
T.G.I.Friday's Potato Skins – $4.79
T.G.I. Friday's Mozzarella Sticks – $4.79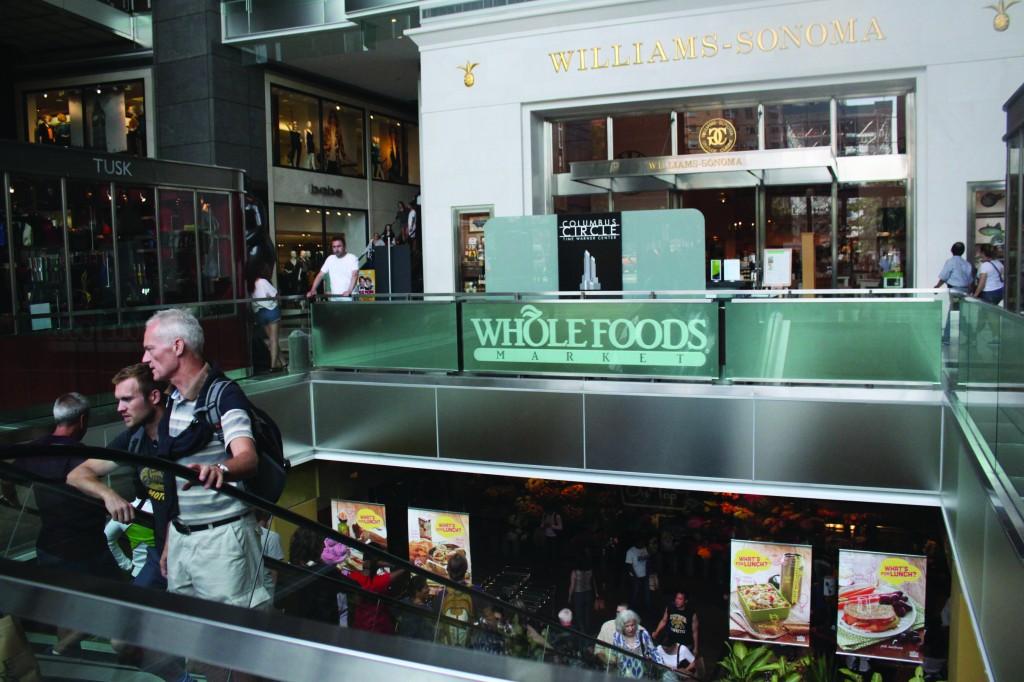 Whole Foods
Location: 10 Columbus Circle (The Shops at Columbus Circle)
Ambience: Whole Foods's location in one of the more expensive shopping centers in Manhattan is impressive, if not a little daunting. The entrance, an escalator embedded in the front lobby of The Shops at Columbus Circle, pulls you down into the world of chickpeas and vegan sausage patties. Shoppers can be split into three groups: Upper West Siders on their way home from work, physically perfect specimens in workout clothes picking up dinner and a plethora of slow-moving elderly people. Equipped with salad and hot food self-serving stations, a sit-down eat-in restaurant and even a bar, this Whole Foods is often filled to the brim with people.
What I Overheard: "Mom, can we please stop at the TOMS rack?"
Principles: Whole Foods, according to their website, stresses quality in conjunction with ecologically-conscious decisions in manufacturing and production. Whole Foods "seeks out the finest natural and organic foods available, maintain the strictest quality standards in the industry, and have an unshakeable commitment to sustainable agriculture." Translation: Bring your reusable bag and don't expect to find Pop-Tarts here.
Personal Opinion: While I do appreciate their emphasis on eating healthy and living a green life, I choose to support that cause without spending my money at Whole Foods. While I find it good to stop by for fresh fruit occasionally, I can get more from my money elsewhere. The convenience, however, of being a block away is often the deciding factor for some college students, whose schedules don't allow for constant bargain hunting.
Cost of a Party:  $34.42
365 Everyday Value Cola – $2.99
365 Everyday Value Root Beer – $2.99
365 Everyday Value Ginger Ale – $2.99
Organic White Corn Tortilla Chips with Sea Salt – $3.49
Whole Foods Fresh Salsa – $2.99
Kettle Chips Sea Salt Potato Chips – $4.99
Trio of Mini Quiches – $7.49
365 Everyday Value Spanakopita – $6.49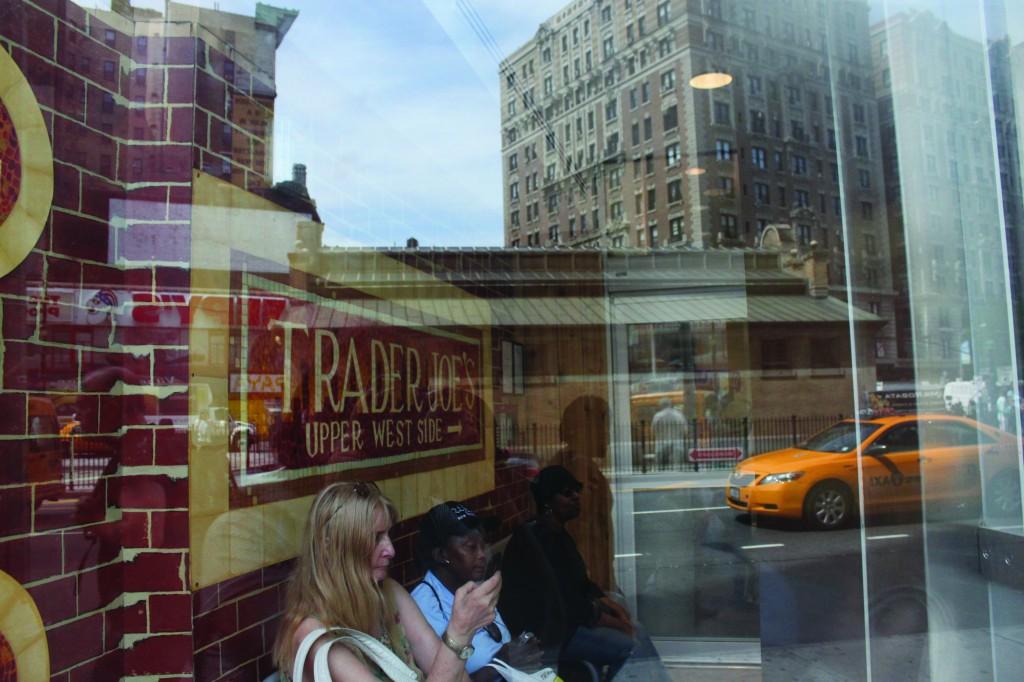 Trader Joe's
Location: 2073 Broadway (at 72nd Street)
Ambience: New York-specific painted decorations add character and fun to a rather menial task. Employees, usually adorned with tropical tops and accessories, are friendly and helpful. A detail-oriented eye will enjoy the puns, jokes, and witticisms scrawled on price tags and labels.
What I Overheard: "I'm pretty sure I have had lentil soup every day this week. "
Principles:  Trader Joe's prides itself on "hard-to-find, great-tasting foods" while still maintaining reasonable prices, according to their website. Their dedication to customer service, ability to buy directly from suppliers and refusal to charge supplier fees come together in their core mantra: "Everyday prices on all of our great products — no sales, no gimmicks, no clubs to join, no special cards to swipe."
Personal Opinion:  Trader Joe's is always my pick. The fresh fruit, the great frozen meals and the warm environment make it a great place to shop. Plus, it isn't too hard on your wallet.
Cost of a Party: $28.52
Vintage Cola – $3.99
Vintage Root Beer – $3.99
Diet Hansen's Ginger Ale – $2.79
Restaurant Style Whit corn Tortilla Chips – $1.79
Hot Chipotle Salsa – $1.99
Ode to the Classic Potato Chips – $1.99
Cheddar Chipotle Potato Bites – $3.99
Marinated Chipotle Chicken Skewers – $7.99