Anticipated Fall Film Disappoints With Predictable Script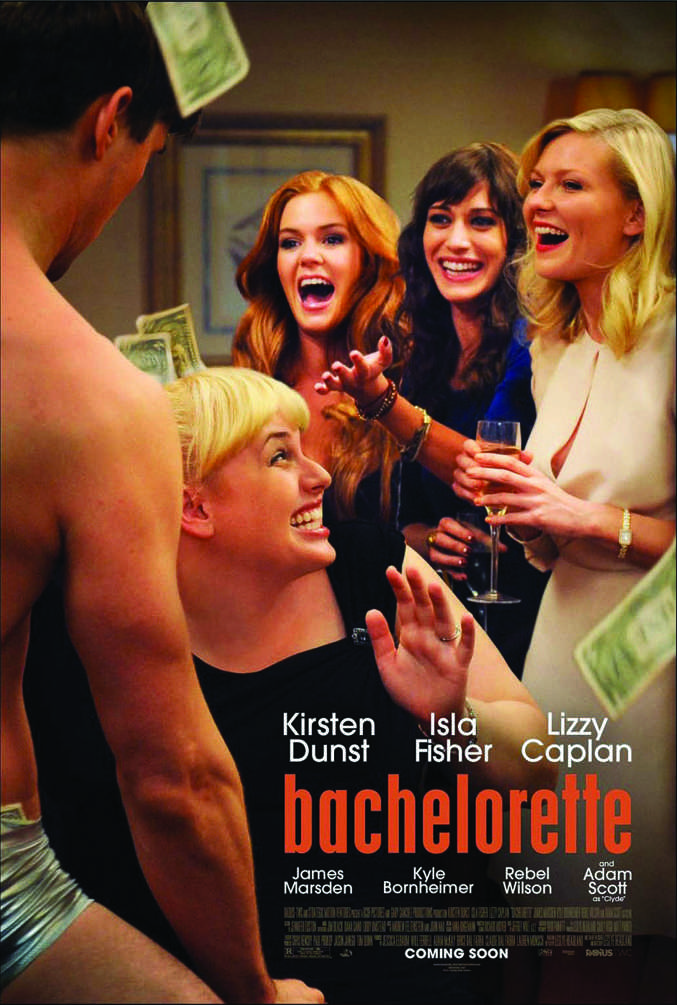 The common misconception that "women aren't funny" has taken a serious beating in recent years as a plethora of females working in various mediums have proven to be intelligent, complex and, yes, able to make you laugh. Following in the footsteps of last year's mega-hit "Bridesmaids," "Bachelorette," a film to be released this fall, offers another take on the shenanigans of women preparing for a wedding, with results that are mixed, yet engaging.
The movie opens with high school friends Regan and Becky (played by Kirsten Dunst and Rebel Wilson, respectively) having lunch, with the latter revealing to the former that her boyfriend has proposed to her. Despite Regan's jealousy and resentment over the fact that the overweight and plain-looking Becky is getting married before she does, she takes on the duties of maid of honor. Two of their other best friends from high school, Katie (Isla Fisher) and Gena (Lizzy Caplan) are invited to also serve as bridesmaids. While trying to blow off steam by snorting cocaine the night before the ceremony, the three bridesmaids accidentally end up tearing the bride's dress. This leads them on a frantic race around the city to get it fixed in time, leading to mishaps of various levels of humor and taste.
The fact that the film shares a similar plot with "Bridesmaids", as well as cast member Wilson, makes it impossible not to compare the two. However, it would be a mistake to label "Bachelorette" as a cheap knockoff— it is actually based on a 2008 stage play that was written by the film's writer and director Leslye Headland. The movie is also set apart from the silly, zany tone of Bridesmaids in the way it hints at the much darker aspects of what the humor implies on the surface. Beneath the main characters' pretty faces and caustic wit lie endless layers of self-destructive behavior and substantial self-esteem issues. These are women who, despite graduating high school over a decade ago, have never quite been able to get over the problems they faced during that time.
That being said, "Bachelorette" never quite embraces these more serious tendencies and simply reverts to being a mostly routine comedy. What elevates the predictable material is the cast, who are able to pull off some of the script's more outrageous hijinks with admirable energy and aplomb. So while "Bachelorette" may not amount to much in the end, story-wise, it makes for a decent showcase for the actors' comedic talents.
"Bachelorette" is now available to watch on iTunes and opens in theaters Sept. 7.