FCLC Alum Rocks Out with "Family Band" of Sorts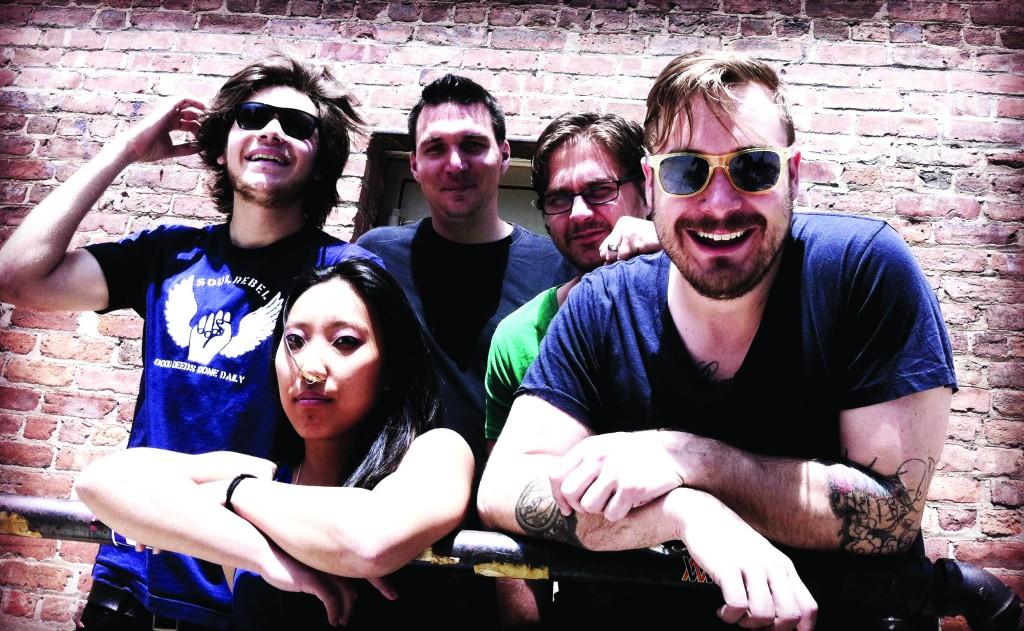 Even though no one is related, Doug Zambon, Fordham College at Lincoln Center (FCLC) '11, talks to The Observer about the family-like closeness of his band, The Vansaders, and his musical experiences at Fordham.
Observer: Tell me how you became involved with The Vansaders.
Doug Zambon: We've been together for a year-and-a-half with some member changes and different names. We had one guitarist, then a different guitarist, a keyboardist. We changed a lot since then. The bass player and guitarist saw me playing at an open mic. So we started talking and decided to start something up.
Observer: The name "The Vansaders" comes from the last name of your drummer. How did you guys come to agree with that? You could have been called "The Zambons."
D.Z.: We shot around so many ideas and none seemed to be OK with anybody. Then we kind of shouted out (the last name of the drummer) and we said, "Hey that's cool. We're friends. We can be a family," (laughs). The drummer at first didn't really know what to think because he knew his name was going to be on T-shirts and stuff like that. But then he came around and settled on it.
Observer: Did playing club events and fundraisers at Fordham cultivate your playing in any way, be it live or with other people?
D.Z.: Definitely. Fordham was really good with having events to perform at. To improve as a musician and performer, you need to be put in that situation all the time. Fordham definitely facilitated that.
Observer: The band has a rollicking, Americana punk sound. Do you think that type of style is making a comeback, is in decline, or do you think it's always been there?
D.Z.: I feel that there have been acts that display this country-ish, punk rock stuff before. Frank Turner does it and so does Andrew Jackson Jihad. There's definitely a scene for it. Then you got the other end where it's straight up folk bands like Mumford & Sons and The Avett Brothers. There's so much electronic stuff now and I think people are turning more to the traditional sound and going with that.
Observer: Did you ever feel a sense of community with Fordham's music scene or musicians?
D.Z.: There were so many people during my time there where I could just go to their dorm room and start playing with them during the day. I was impressed by the closeness of the community. So many people had a similar experience as I did.  There would room jams with 10 people with instruments hanging out all the time. That's crazy to me. I wasn't expecting that at all. I hope it's still like that.
Observer: So it's safe to say you weren't expecting this strong of a music scene/community at Fordham when you arrived?
D.Z.: I was really hoping it would. A school in the city like Fordham  would most likely have a music scene but I didn't know if it was gonna be fun, have a style.  I thought it was just gonna be DJs spinning stuff all day. Since that's not what I do, I didn't know if it was going to work but, fortunately, it did.
Observer: Who do you cite as influences on your guitar playing?
D.Z.: All sorts of stuff. I really like Willie Nelson. I think he can play really well. He's a lead player with a nylon string guitar. I still play a lot of blues, so all those guys are big influences on me: B.B. King, Rory Gallagher and Peter Green. They're all influential to me. I got into jam bands like The Allman Brothers for a while. This band opened me up to rhythm guitar too. I grew up playing lead guitar. Once I started playing with these guys, I realized I had to brush up a bit. It made me a much better guitar player.
Observer: Did you write songs for the EP or was it done as a collective?
D.Z.: We all contributed to the songs musically, lyrically and melodically.
Observer: There are probably more than 100 upcoming bands in New York City at any given moment. What do you guys bring to the table?
D.Z.: We write songs about good times. Or good times gone wrong (laughs). The kind of music we play makes me bouncy and I feel it makes other people bouncy. It's fun; it's danceable. We get the crowds drinking and dancing. A lot of bands have different feels; some are more mellow. I love mellow music but I'm glad the stuff we worked on is up tempo, kind of "jumping around" type stuff.
Observer: What's next for you and The Vansaders?
D.Z.: We're gonna play as much as we can. Keep writing songs. We have a full-length record, but we took some songs from that to make the EP.