Behind the Scenes With USG's "Senior of the Year," Matt Ortiz
Matt Ortiz, Fordham College at Lincoln Center (FCLC) '12, is one of the most recognizable faces at our school, having been involved with many clubs, organizations and events that aim to make FCLC a better community, which is why he was nominated, and eventually won the Senior of the Year award.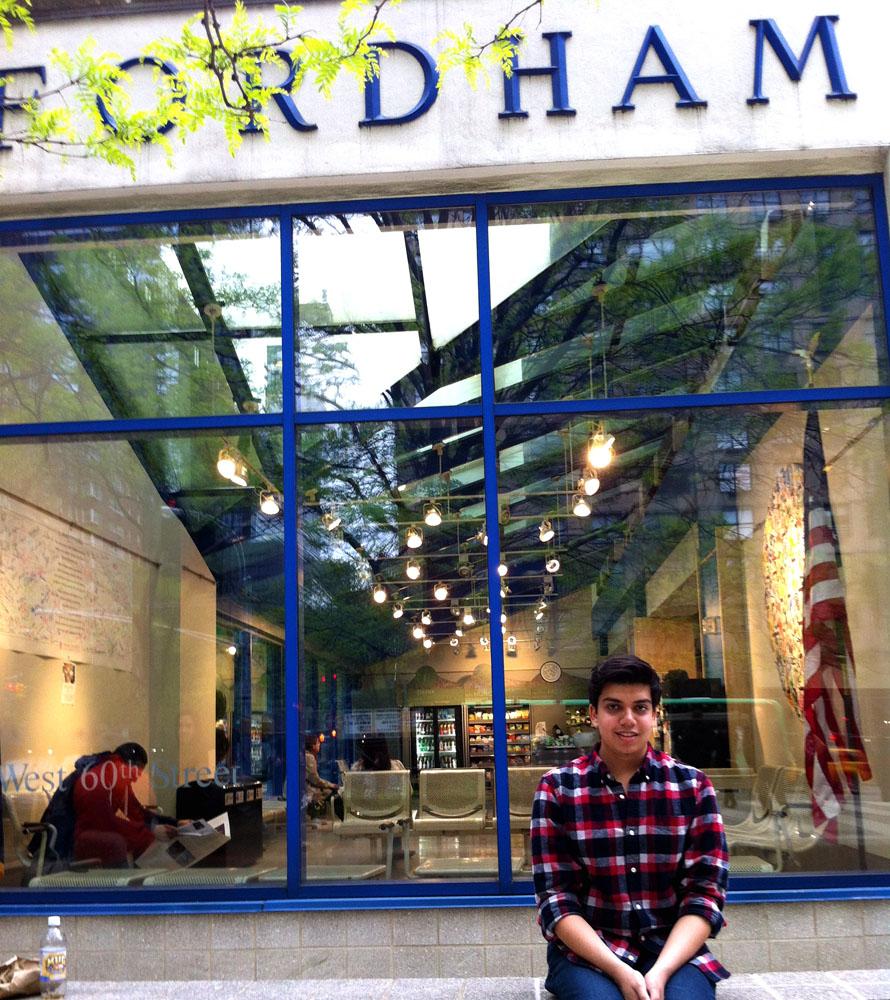 In recognition of important students in the Fordham community, the United Student Government (USG) annually awards outstanding student leaders in each grade. And Ortiz certainly deserved it for all of his involvement in creating and orchestrating events here at FCLC to enhance students' college experiences.
Ortiz has been involved with numerous clubs and organizations, including acting as the chair of the Student Affairs committee for USG, helping to organize the Spring Fling Treasure Hunt, being on the Winter Ball committee, and planning the Undergraduate Appreciation Awards. And this is only an abbreviated listing of his accomplishments.
Most recently, Ortiz has been the brain behind the Under the Crane dance, an answer to the Under the Tent dance hosted at Rose Hill during Spring Weekend. The Under the Crane dance is a semi-formal dance, which will take place on the Outdoor Plaza on May 3 as a fun way to end the year and relax before finals begin.  The reasoning, he said, is simple. "I wasn't very happy with the events on campus so I decided to make a new event," Ortiz explained.
Ortiz first became involved in student leadership in high school as company commander of the Junior Reserve Officer Training Corps.  After deciding to enroll at FCLC because of its location and a generous scholarship awarded to him, Ortiz began his path to Senior of the Year by joining the Residence Hall Association (RHA). After a couple years of involvement with RHA, he moved on to USG to affect more of the student body.
"I think it's important to be involved because its your way of leaving a legacy for those that come after you," Ortiz said of his involvement on campus.  "The best way to solve what is wrong with your school is to get involved and make a change."
This year, he took on the role of vice president of Student Affairs for USG.  Dorothy Wenzel, director of Student Leadership and Community Development, explained just how influential Ortiz was this year in coordinating and enhancing on-campus activities.  "He has done a tremendous amount to revitalize the Amazing Race; we had more teams compete than we had in the past several years," Wenzel remarked of the scavenger-hunt style race through the city which took place in March. "Undergraduate Appreciation Awards and his big project this year has been creating this new, large-scale program called Under the Crane by renting tents on either side of the Atrium and having a dance floor to create a big, end-of-the-year semi-formal dance."
"I think that there are a lot of really great things about Fordham and with that comes some bad things, so instead of just sitting back and complaining about them, I like to go and do something about them," Ortiz said of his dedication to creating, helping coordinate, and running activities for FCLC. While Ortiz said that a lot of his leadership has been a result of his time in high school, he also said, "It's a continuing process and you're always learning more."
While those who do not directly work with Ortiz may only reap the benefits of his hard work through participation in his fun events, those who know him are in awe of his character and personality.
"I've worked with Matt on USG and he has just come up with so many different initiatives to make our school better," Alexa Rodriguez, FCLC '13 said. "And he has done all of the footwork, to make sure that everything he does is successful.  Not only is he coming up with new initiatives and is so creative, he is also extremely dedicated to making FCLC a better place for everyone."
Hillary Fisk, FCLC '12, lived across the hall from Ortiz freshman year and, through involvement in similar activities, has witnessed Ortiz's growth into an amazing and dedicated leader. "Matt has become such a large part of bringing so many great things to Fordham at Lincoln Center that we have never had, like Under the Crane," Fisk remarked. "I just see his passion and creativity being harnessed into great events for Fordham.  He is just a fun, lovable guy."
When asked what makes Ortiz a great leader, Wenzel said, "He's passionate, very creative, is willing to listen to his peers and their ideas, he is really great at getting people motivated."
With his career here at FCLC coming to an end, Ortiz is gearing up for next year, when he hopes to begin law school.
What will he miss most?  "All the great people that I met. There are a lot of great students on campus and I think that the best thing was getting to know all of them," Ortiz said.
I have a feeling we will miss him even more.