Teresa Baker: Intuitive Painting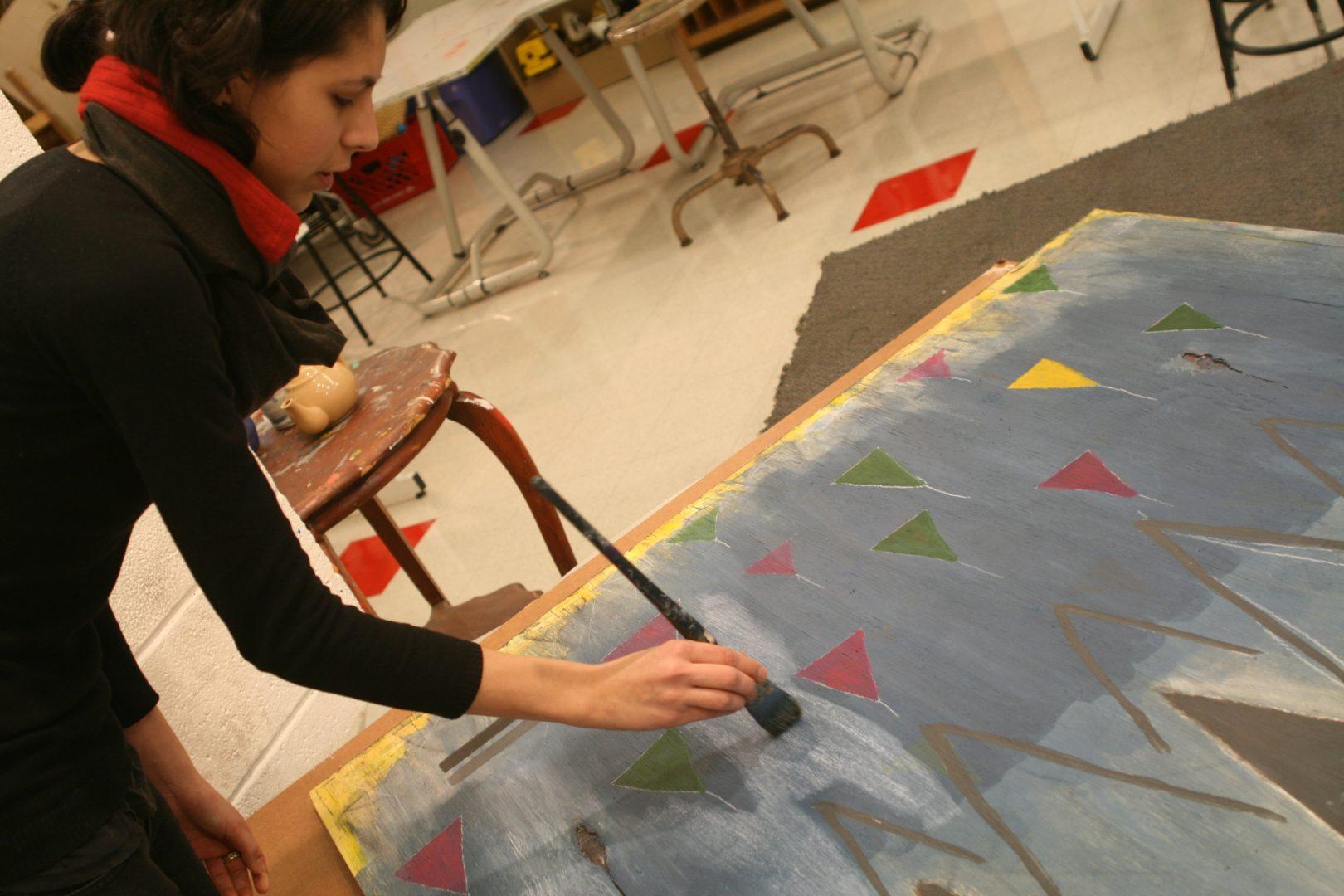 Published: April 17, 2008
"The painter that I am doing the show with is fabulous—but completely, stylistically, absolutely, opposite of me," Amie Cunat explained.
FCLC's fabulous Teresa Baker allowed the Observer to visit her McMahon Hall dorm-turned-studio to learn more about the woman behind the art.  Her senior thesis project will be exhibited alongside fellow visual arts major Amie Cunat's senior project.
Baker's art reconciles influences from her roots in North Dakota and her current stomping grounds in New York.  In high school, as a thespian, Baker envisioned herself attending college in New York City.  Once at Fordham, her studies steered her away from the stage and toward the canvas.  Originally, Baker enrolled in drawing classes to help her become a costume designer.  However, a few drawing classes turned into a career path.
Last fall, Baker's experience studying at the Rietveld Art School in Amsterdam encouraged her to study art full-time.  On a whim she put together a portfolio.  "I decided to just try it, why not?"  Baker said. "It gave me confidence to follow my art."
Baker also credits professors at Fordham for fostering her interest and talents in drawing and painting. Particularly, her advisor, Richard Kalina, supported her studies.
When approached by the Observer, Kalina said, "Teresa's work is more low-keyed and quirky."  He continued, "There is a deceptively offhand quality to them that masks their remarkable pictorial intelligence and, not unimportantly, their great technical skill."
Baker's senior thesis is a compilation of pieces composed of various different media.  Some pieces consist of acrylic and charcoal on boards of wood; some consist of scrap material attached to veneer, while some consist of sketches on drawing paper.  Although her pieces maintain an air of individuality, they all reflect her interest in patterns.
"Everything is connected," Baker said.  "I am working a lot with the idea of connections—falling, attachments and applying [those ideas] to very simple shapes."
Even Baker's piece decorated with scrap materials remains faithful to her interest in patterns.  That piece, which will be featured in her thesis, is adorned with rectangular aluminum shapes and string fastened to triangular fragments of an old theater set.  She resourcefully salvaged the materials from a past apprenticeship at a wood shop and discarded materials from the Metropolitan Opera.  Despite the random nature of the scrap materials, they are displayed in an orderly fashion.
No matter the medium, the art, like the flat plains of North Dakota, maintains a tranquil tone. Baker said, "North Dakota is very barren—I think a lot of my material influences are from the midwest and growing up there," Baker said.
Baker achieves a subdued tone in her work through the use of color.  The wood absorbs the purples, blues, greens and yellows to show its natural grain.  The calming, natural elements of Baker's work contrast the busy, man-made elements of its home in New York City.
Baker plans to stay in NYC after graduation to continue working on her art.  Although she has no definite plans, she lives her life like she paints: following her fabulous intuition.