Amie Cunat: Outside the Grid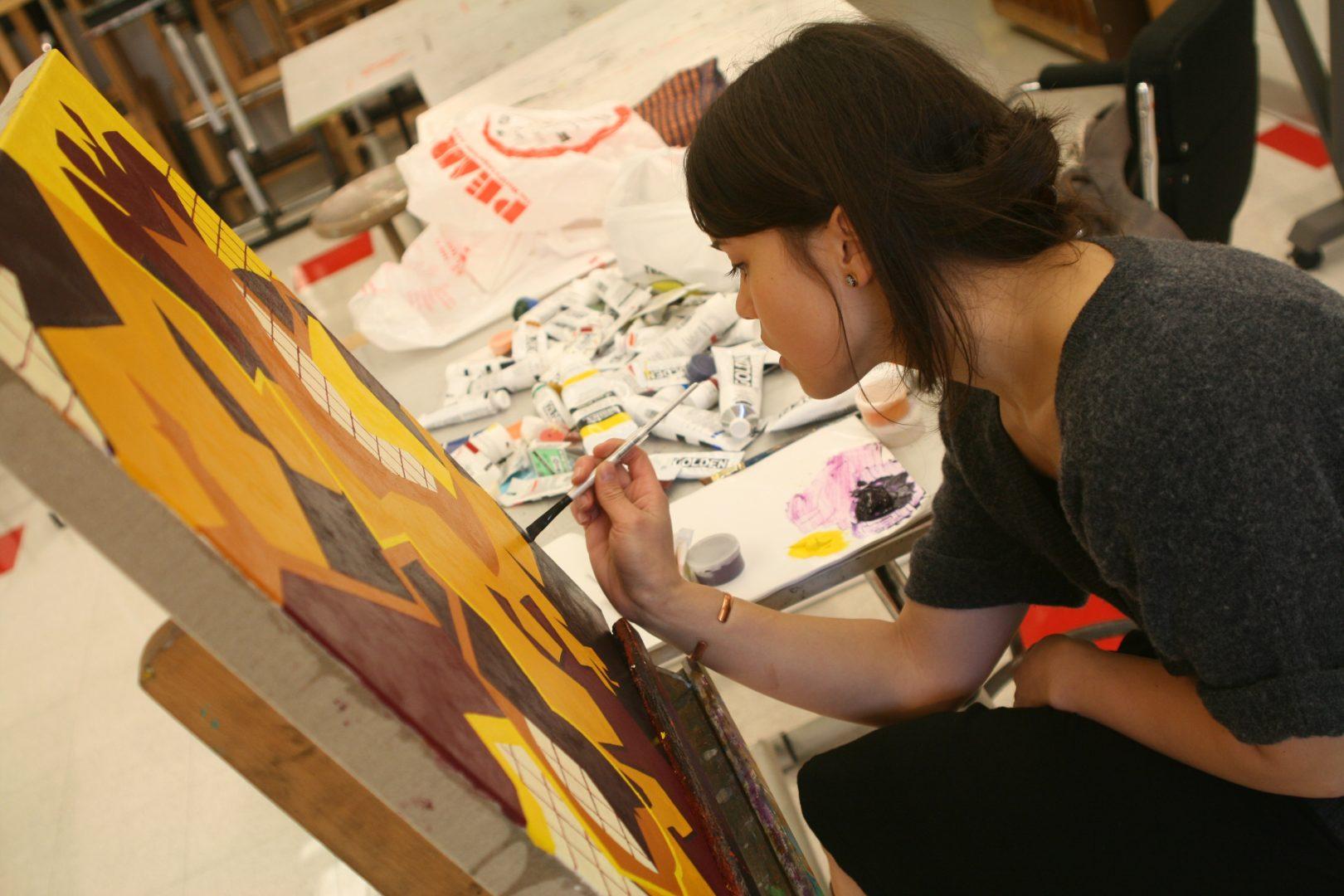 Published: April 17, 2008
What's linen, geometric and acrylic all over?  FCLC's Amie Cunat's senior art thesis.
The Observer had a chance to sit down with Cunat to discuss her experience as an FCLC artist and her upcoming dual exhibit with fellow Fordhamite Teresa Baker in the Center Gallery, premiering April 17 and closing the April 24.
When McHenry, Ill. native Amie Cunat entered college, art was just a hobby.  Cunat's experience as an apprentice with Francesca Samsill influenced her to pursue art.  As a transfer from Marymount College, she found her niche in the visual arts major with a painting/drawing concentration.
Her art classes served as a break from Fordham's core curriculum and helped her natural talent to flourish; from there, Cunat transformed her hobby into her passion.  She said, "Six hours will go by and you really don't even notice it happens because you are consumed [by painting]."
Cunat credits FCLC visual arts professors Bill Conlon and Richard Kalina for influencing her artistic style.  Kalina commented, "Amie's carefully constructed, thought-provoking and imaginative paintings concern themselves with intricate geometries and complex color relations."  He continued, "Amie's paintings mix the conceptual with the felt and are clearly part of an ongoing series."
Cunat's paintings for her senior thesis are "organic systems based on a geometric approach."  In other words, she sketches natural shapes onto graph-like paper and then transfers her vision onto a linen painting surface.
"I try not to completely limit myself by the conformity of the grid, but I do try to follow it to some respect," Cunat said.  "I think that it adds stability to your painting that, especially if you are going to do geometry, you can't really compare to anything else."
The result of the geometric grids: abstract images infused with vivid acrylic paints.  The shapes created by the grids play with the perceptions.  Some seem to pop off the page, while others blend together to form characters.  Contrasting dark and bright colors set off the shapes, tricking the eye to observe a foreground and background.
"There is something about the chemical nature [of acrylic paints] that appeals to me because the colors in my paintings are chemical; they are bright and unnatural."  Cunat continued, "The fact that [acrylic] is artificial and that these [paintings] are a reflection on the artifice of the world."
Before Cunat refined her painting style, although still organic, it was free-flowing.  Her current project starkly contrasts her old style, which is characterized by the blending of images.  Now, she defines each shape with fine lines that distinguishes them.  Cunat said, "There is something about precision—absolutely precise—painting that gets me excited."
Now Fordham students and visitors alike will have a chance to also get excited for Cunat's meticulous painting.  She maintains the mystery of her artistic riddle by deciding to not name her exhibit or her paintings—leaving the interpretation of her exhibit up to the viewer.