Mets Exceed Early Expectations, Eye Strong Season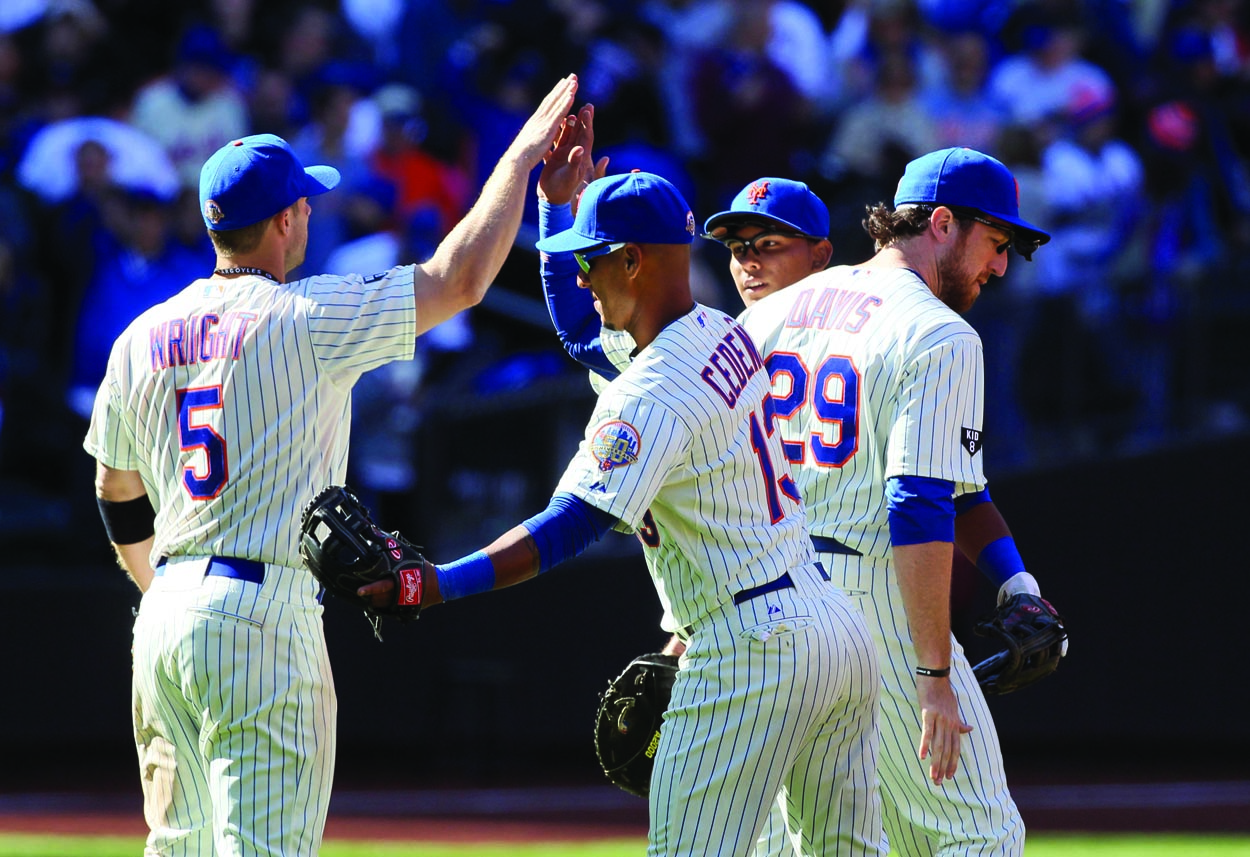 Sports Illustrated predicted the New York Mets to win merely 75 games and come in last in the National League East, behind even the young Washington Nationals. Yet, as the season has begun, fans have seen a shimmer of hope.
With expectations at a seemingly all-time low, the Mets have already been written off by most as losers. There are many reasons for these low expectations. Mets fans were disappointed last season, as the Mets finished with a dismal 77 wins and a .475 winning percentage, landing them the fourth spot in their division. There were a few bright spots from last season, including the emergence of bright young rookies like Ike Davis, Lucas Duda and the maturation of younger players like Daniel Murphy and Jonathan Niese. Also, Jose Reyes, the five-tool Met shortstop, won the batting title last season, sporting an impressive .337 batting average. Yet, this positivity came to a crashing end during this off-season.
Mets fans have been dreading a payroll cut since the 2010 season. In December 2010, team owner Fred Wilpon found that he was named in a lawsuit filed on behalf of the victims of Bernie Madoff's Ponzi scheme. As a result ownership began to scramble for more money to offset pending losses. These austerity measures have finally hit home; the Mets payroll has fallen from $134,422,942 in the 2010 season to $93,357,465 by the 2012 season.  While this may still seem like a lot of money, in actuality it is a large loss, and fans realized that their team would not be able to sign any high- priced free agents over the next few offseasons. This was a tough pill to swallow, and critics began projecting high losses for the Mets' 2012 season.
Offseason woes continued as the Mets all but broke their fans' hearts. The Mets' two best players from 2011, homegrown speed-demon Reyes and high-powered slugger Carlos Beltran, were in walk years of their respective contracts. The Mets traded Beltran in exchange for future draft picks and let Reyes test free agency over the winter. The Mets couldn't afford to pay Beltran and fans had already come to grips with this fact, but there was a great outcry to resign the beloved Reyes.  At times, Jose, as he was affectionately referred to by fans, was the sole reason that fans showed up to the stadium. Die-hards had cheered for years as Jose legged out booming triples and swiped bags with a seemingly arrogant confidence. Sadly, ownership had convinced themselves that they could not afford to resign Reyes either. Hearts broke as Reyes signed with the division-rival Marlins, simply because they could not afford to pay him a $106 million, six-year contract.
Put bluntly, spring training did not get fans excited for the season to start. Finishing 10-19-2, the Mets showed signs of inexperience, sloppiness and a lack of stellar pitching.  In a division with the star-studded Phillies, tenacious but aging Braves, up-and-coming Nationals and flashy Marlins, it was hard to imagine that the Mets have a fighting chance at making the playoffs. Yet, when the regular season opened, they gave the fans something to root for. Johan Santana was back on a major league mound for the first time in years, opening the season for the Mets. This alone gave the fan-base hope; Santana is a true ace, a former Cy Young winner and a team leader, so the team was happy to have him back on the mound.  After a better than expected first outing that lasted five innings, prompting Met Manager Terry Collins to say, "It's one game but it's very, very important for us. [If] we pitch, we can compete.''
That mantra stood true for the rest of the series, and fans watched as they continued to receive great pitching performances from all their starters. Not only was the starting pitching effective but the bullpen looked fantastic as well. John Rauch and Frank Francisco, the two relievers that were meant to sure up the eighth and ninth innings for the Mets pitched much better than they did in the spring and seemed worth their contracts. Francisco quelled the nerves of management by posting a 0.00 ERA and collecting three saves, as opposed to the 5.54 ERA that he accrued during spring training. The Mets then went on to win the next three games, opening the season at 4-0. This great start was not only due to great pitching but also to timely clutch hitting. David Wright, the face of the franchise, is off to a really hot start, batting .583 over the first four games. He was aided by some of the younger rising Mets players. Outfielder Duda finally has begun to flex the muscle that the organization has been hyping, hitting two homeruns during the second game of the season. Another highly-touted homegrown Met, Davis, has been hitless to start the season, yet he is projected to be an above average first baseman with great power as well.
While this start seemed nothing short of "Amazin," the Mets have already begun to show their faults. Fans have had to cringe as  Wright injured his hand, hitting became stagnant and the bullpen had begun to falter. However, to this point the Mets are a respectable 7-3, and are just a half game out of first. If the start to this season is any indication, Mets fans are in for a bumpy ride this year, with many ups and downs, but their team may surprise many critics as the season progresses. Only time can tell if the Mets can remain relevant.