Celebrate the Rhythm of the City For National Poetry Month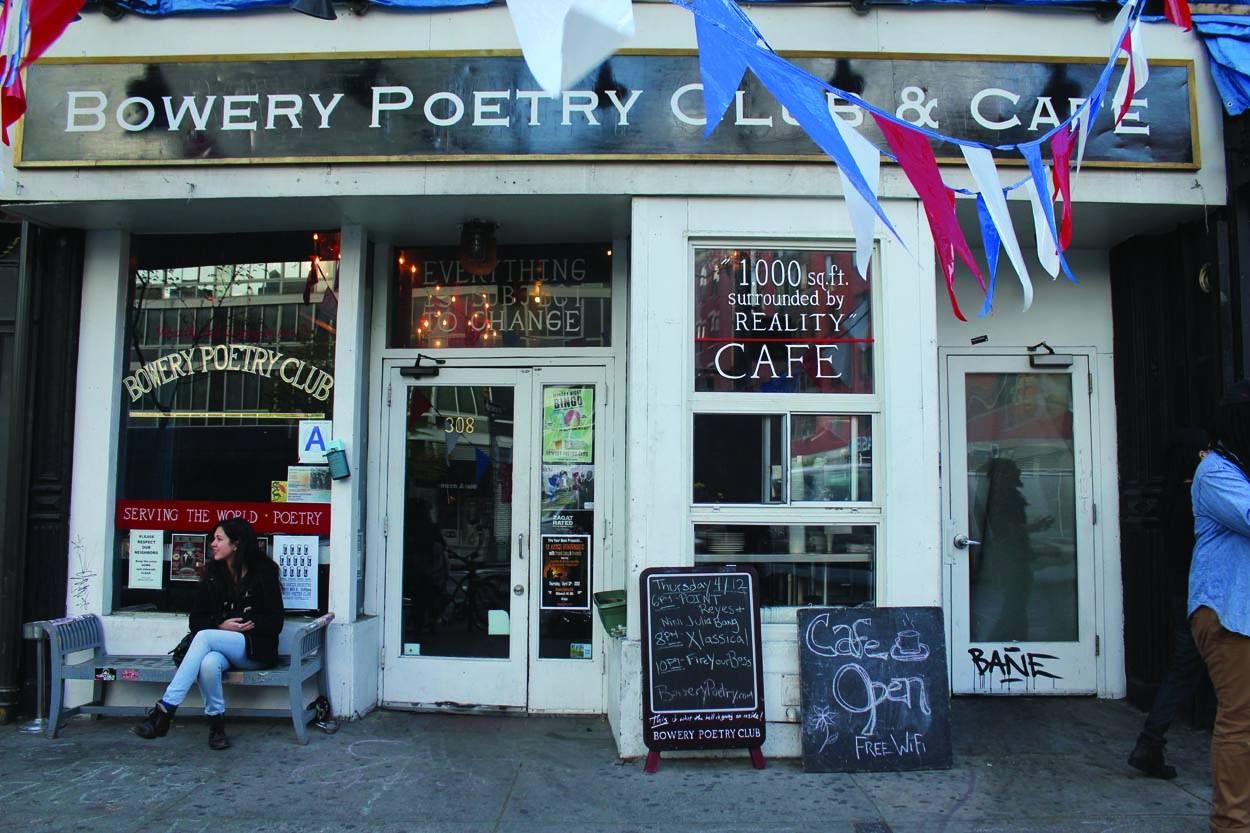 The word "poet" often evokes an image of a half-mad, romantic recluse—an absinthe-guzzling scribe in a candlelit room penning intimate lyrics to a lost Lenore. But even Edgar Allan Poe did not choose to make his poetry an entirely private affair. What purpose does an excellent poem serve if no one gets to appreciate it?
During the month of April, readers and writers have the opportunity to make their love for poetry a public affair. Here is a guide to celebrate National Poetry Month, featuring the Bowery Poetry Club, and some additional ways to wax poetic in New York City.
Bowery Poetry Club & Café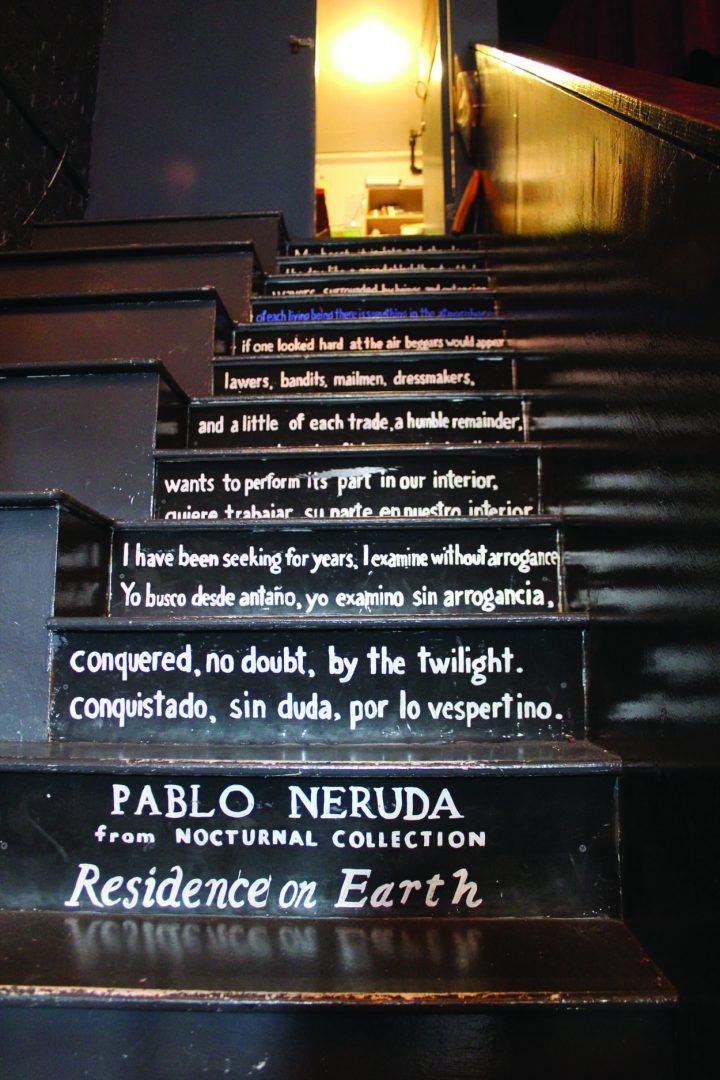 Behind an unassuming green façade, the Bowery Poetry Club provides a space for those who love poetry, those who are poets and those who are either of the first two, but just don't know it. One step through the front door reveals a cozy café with wood floors and posters of poetic heroes spread across the dark brick walls. Off to the side, a staircase bears words from a Pablo Neruda poem painted on each step. The ceilings are high and the air smells like ground coffee. Jazz from a Charles Mingus album bounces around the room.
A few more steps to the end of the café, through some black curtains, the café becomes a bar. More poetry memorabilia adorns the walls, like Ginsberg's translation of a Japanese haiku painted on the wall, and old portraits of writers.
Further along, past the bar, is an open space full of chairs, finally coming to a stop at a raised stage with the words "Bowery Poetry Club" hanging on a banner. This is a multi-purpose stage.
Every Tuesday night, the club hosts a workshop for aspiring poets, a performance by an established poet and then a competitive poetry slam. "Urbana [Poetry Slam] on Tuesday nights is probably the best for students to check out," café manager Grace Kalambay said. "They have a 'Wordshop' before the slam, and the featured poet that night runs it and gives them tips on how they work." These featured poets are often big names in contemporary poetry or have published works.
Students pay a five dollar cover charge to get in, discounted from the usual eight dollars, and have an opportunity to be a part of the competition. Ryan Ramirez, manager and sound DJ, explained that audience members determine the outcome of the Urbana Poetry Slam.
"If [students] come to the slam, they can be judges," Ramirez said. "We pick five people from the audience—objective and fresh faces—to hold up scorecards and rate the performers to determine who advances to the next round."
On Monday nights the stage belongs to actor, writer and poetry legend Taylor Mead. The 87-year-old Beat poet has
made a name for himself after a long (and still) thriving career in New York City. "He's legit, he's been around," Ramirez said. "He was hanging out with Warhol and Ginsberg and those guys back in the day. He's one of the last of that crowd."
Mead, it seems, is also the reason for the music selection on the speakers. "He'll get up on stage with his stereo, play some Mingus and then do some talking," Ramirez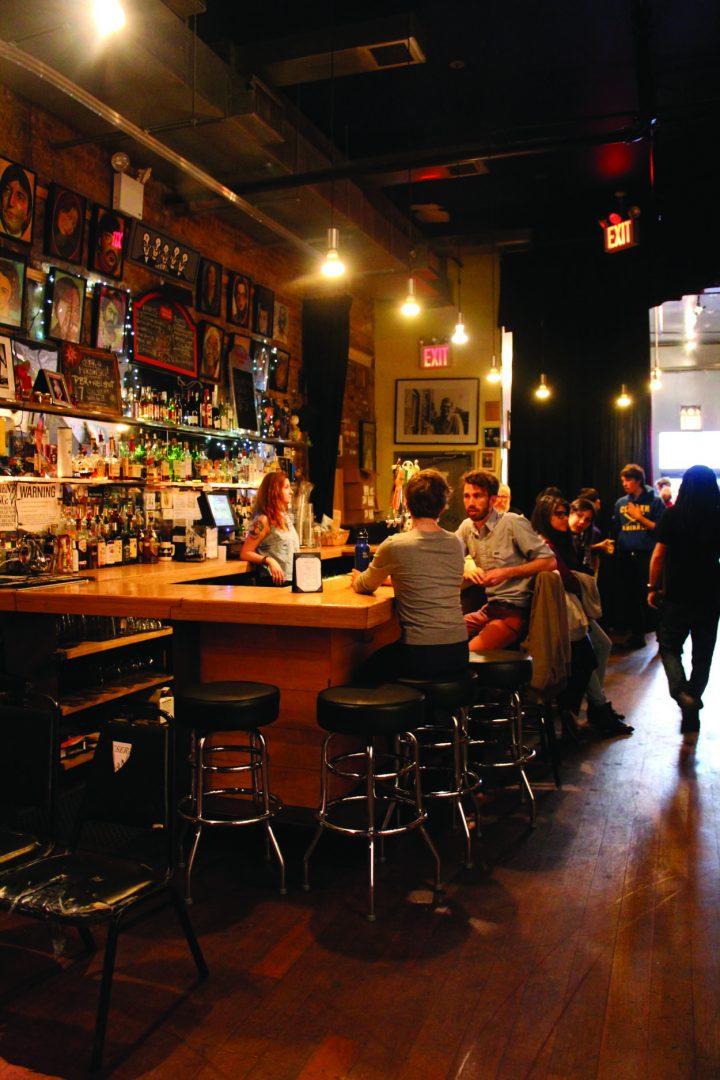 said. "He'll read poetry; some of it is pretty sexual. He's wild."
After "The Taylor Mead Show", it's time for Monday Night Bingo. This is not the typical bingo night for grandmothers (unless they happen to be as edgy as Mead). Instead, it's a game hosted by "Mr. Murray Hill and drag queen Linda Simpson," during happy hour with "cheap booze, sex jokes, drag queens, and fart machines," according to the event pamphlet. A bingo card is two dollars for the entire night and players can win prizes, including a real cash jackpot.
Once players have downed some spirits to raise their spirits, the "NYC Talent" open mic night begins. Crowd members can sign up before the show to perform and showcase their talents amongst featured performers, including known comedians, writers and other artists.
The Bowery Poetry Club is built for artists and poets, and it's built for sharing. Step in, order a coffee. Sip it, pen a poem. Then walk to the bar. Take a couple shots. Muster the courage to get on stage, and embrace National Poetry Month.
BOWERY POETRY CLUB & CAFE
Located: 308 Bowery St., between Bleecker and Houston.
A few blocks from the B/D train stop at Broadway-Lafayette.
Don't Miss:
Monday nights- $5 cover charge for students, all ages
6:30 p.m.-7 p.m., The Taylor Mead Show
7 p.m.-9:30 p.m., Bingo! ($2 to play)
10 p.m.-2 a.m., NYC Talent
Tuesday nights- $5 cover charge for students,
6:30 p.m.–7:00 p.m., Wordshop
7:00 p.m.-9:30 p.m., Urbana Poetry Slam.
NUYORICAN POETS CAFÉ
Located: 236 East 3rd St., between Avenue B and Avenue C.
Nuyorican hosts various slam poetry events and hip-hop and jazz performances.
A few blocks from the F train stop at 2 Ave.
Don't Miss:
Friday nights – $10, all ages
10:00 p.m., The Nuyorican Friday Night Poetry Slam.
KGB BAR
Located: 85 East 4th St., between Bowery and 2 Ave.
This Ukrainian-socialist-themed bar is a popular literary hub for those who like to get wordy.
A few blocks from the N/R train stop at 8 St. NYU.
Don't Miss:
Monday nights –Free admission, 21+
7 p.m.-9 p.m., Monday Night Poetry readings
TELL ME MORE POETRY
"Tell Me More," a program on National Public Radio, asks writers to Tweet their poetry (no more than 140 characters), with the hash tag "#TMMPoetry." The program will select poems to play on air during National Poetry Month. More info at www.npr.org.