Kathryn Berry: Manhattan, Meet Your Queen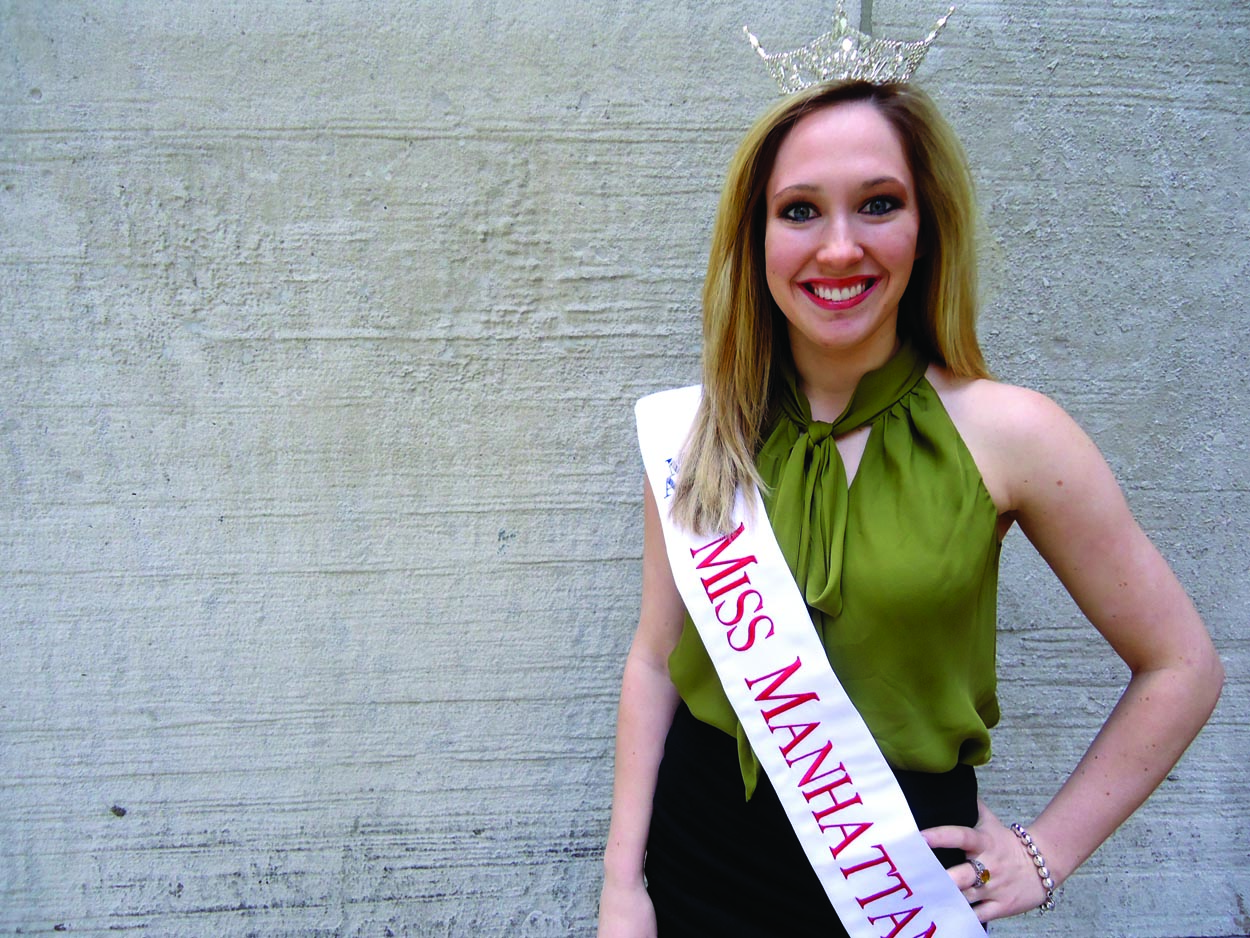 Dancer-turned-pageant star Kathryn Berry, Fordham College at Lincoln Center (FCLC) '11, was recently crowned Miss Manhattan 2012 in March, amidst a crowd of dazzled fans and supportive family.
She said it all started with a dance class. "My mom first put me in dance class when I was six. There was a little 'dolly dinkle' studio five minutes from my house, and I took to it like a duck to water.  I loved it.  I wanted to dance as much as I could," Berry said.
"I've been dancing my whole life, since I could walk, and for me it was an opportunity to showcase a solo I had been working on or a special piece," Berry said of participating in pageants.
Berry's love of performance and dance and her desire to share her creativity with others is what drew her to pageants, but she soon found something more in the competitions. "I really liked the people I met and the things I got to do and the different community service projects that I was exposed to that I would normally or probably not have been exposed to had it not been for pageants," Berry said.
"I definitely think there is a stigma surrounding pageants—that they are a beauty competition," Berry responded when asked about the mainstream media depiction of pageants. Shows like Toddlers & Tiaras and movies like Miss Congeniality seem to give pageants a bad rap as beauty-centric and body-focused competitions. Berry said it is important for the public to know that "its more about scholarship than beauty." Berry explained how the Miss America Organization is the largest provider of scholarships to young women nationwide, distributing $45 million annually. "I mean, that is amazing when you think about it!" Berry said.
Berry thinks that pageants even transcend scholarship in certain ways. "I think educating people to the fact that these girls that participate are involved in the communities and outreach programs," explained Berry. "We each have to have a platform, which is a cause that you would advocate if chosen for whatever the title is that you are aspiring to be. The things that these girls are doing are amazing and so much more than beauty. It is deeper than that."
Berry's personal platform is titled "Unmasking the Stigma of HIV/AIDS", a cause that Berry associated herself early on in her pageant career, at age 15. "I think especially our generation has this idea of AIDS and this idea of being infallible, of 'Oh, that will never happen to me'.  And because of that, we have become complacent, and we don't think of the decisions we make or the consequences and ramifications that they have," Berry explained.
Some of Berry's involvement with HIV/AIDS charities and activist groups even stands at FCLC; Berry was the brain behind the MasquerAIDS Ball "a masquerade ball where everyone wore masks to help unmask the stigma surrounding AIDS,"  Berry explained.  In addition to creating a fun event, the MasquerAIDS Ball was also used to generate funds and educate people on the transmission of AIDs and testing. The MasquerAIDS Ball has even continued on even after Berry's graduation, taking place at FCLC earlier this year.  "It was the most amazing thing to see it continue past my graduation How exciting is that that it continues! I hope it still continues and grows!"
Berry was initially attracted to FCLC because of the alliance with the Alvin Ailey American Dance Theater.  "I chose Fordham because of their dance program.  I knew that I wanted to dance, as I said, I had been dancing my whole life and they have a phenomenal alliance program with Alvin Ailey American Dance Theater," Berry explained.  Berry was taught early on by her parents that education was just as important as her artistic creativity, something Fordham, in conjunction with the Ailey BFA program, seemed to understand.  Having double majored in Dance and Communications and Media Studies, Berry now works as in marketing and advertising for Swiss watch company Vacheron Constantine.
But work isn't the only thing on her mind; the Miss New York competition is approaching fast for Berry. The pageant, which is slated for June 14-16, will consist of three basic phases, an interview portion, lifestyle and fitness portion, and the talent portion.  And while Berry is no stranger to pageants, she admits that "There are always those initial nerves."  She describes it as a bundle of anxiety and excitement.  "It's good to have that nervous energy because it means this is still fresh.  It means I get excited every time I am about to walk out there," Berry explained.  "It isn't 'Oh, I'm doing another pageant.'"
"Whatever will happen, this journey has been amazing and it has been great to represent Manhattan.  I mean, I love this city, so how amazing is that?"
You can find out more about Miss Manhattan 2012 at missmanhattan2012.wordpress.com.