Spring Cleaning Starts With the Cleansing of the Body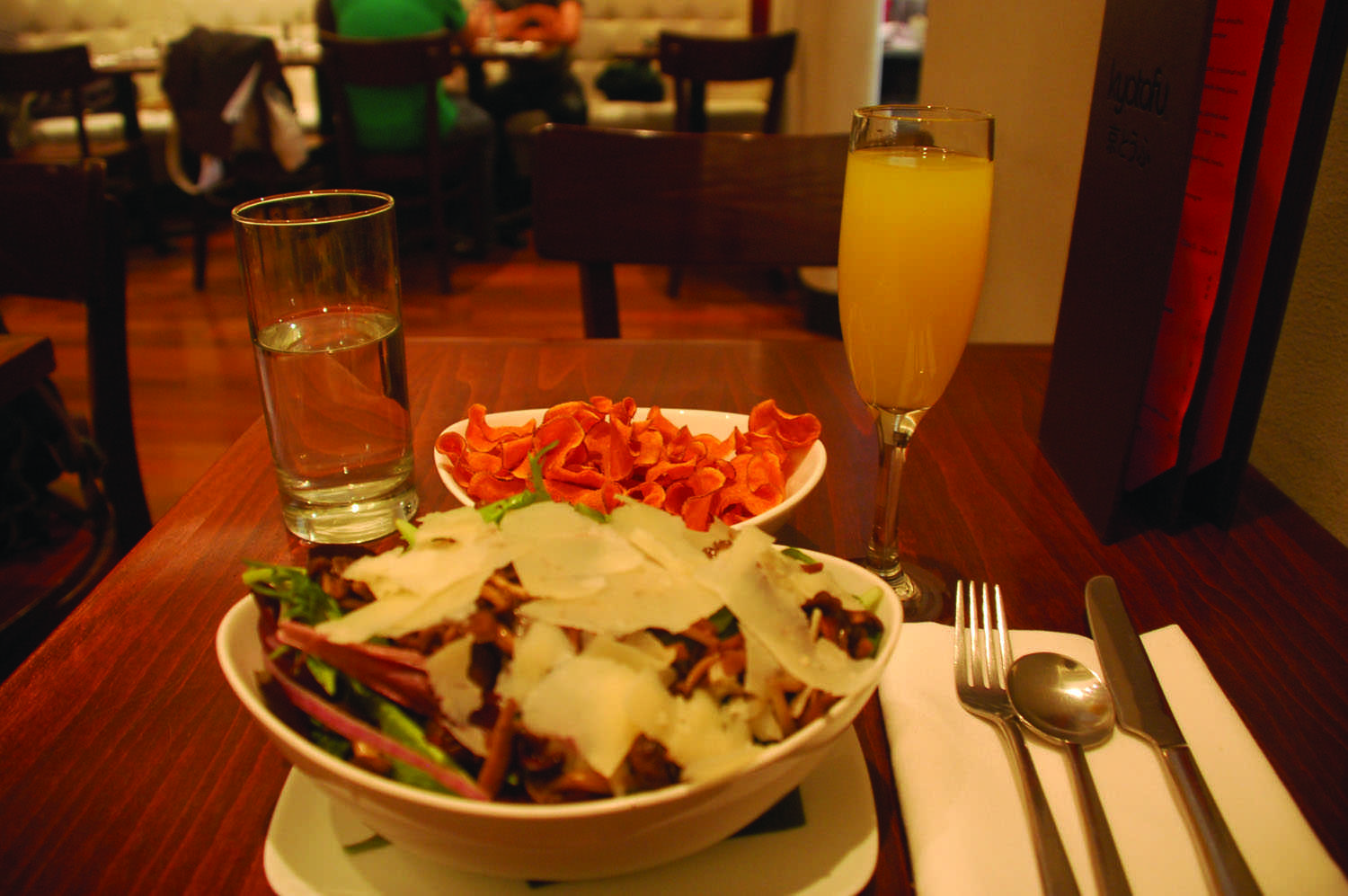 With spring in full gear and summer just around the corner, it's time for us to break out of our lazy winter shells and embrace the warmth of a healthy lifestyle. For the past week, scores of people have suddenly been inspired by the beautiful weather to go jogging and work out. I've also been bitten by the physical bug, cycling around Central Park three times just last week.
But physical activity alone isn't enough to start a healthy lifestyle. With March being National Nutrition month, I decided to forgo my usual choices of unhealthy food and go for something  a little healthier.  Searching far and wide around the city for healthy eateries, I came across this small Japanese restaurant called Kyotofu.
Located in the middle of the famous Hell's Kitchen district of New York City, Kyotofu takes a unique minimalist perspective on food. Decorated by Japanese architect Hiromi Tsuruta, Kyotofu's interior is supposed to be a modern take on a traditional Kyoto style home.
At Kyotofu, patrons are given a variety of tofu based dishes such as silken tofu salad (a dish filled with roasted vegetables, mesclun greens and yumiso dressing) and the cha soba noodles (green tea buckwheat noodles soaked in shiitake-kombu dashi broth with abura-age tofu). If that wasn't enough, Kyotofu also has an impressive selection of Japanese desserts and a variety of Japanese teas that are sure to keep you wanting more.
Looking to start my new healthy diet, I ordered sweet potato chips and warm Japanese mushroom salad when I first ate at Kyotofu. Arriving in record time, my sweet potato chips were exactly how I pictured them to be. Presented in a simple ceramic bowl, the chips were delightfully crunchy but sadly lacked the memorable taste that I was looking for. They were at times bland and needed a sauce to kick up the taste.
Next up was my warm mushroom salad. It had a mixture of unique ingredients such as mesclun greens, red onion, panteleo cheese, honshimeji mushrooms and maitake mushrooms. But although there was a lot of variety in the dish, the salad fell a little bit short of what I was generally expecting. The one thing that bothered me was the strong cheese flavor. Looking forward to a salad filled with greens and different kinds of mushrooms, I was instead met with a thick layer of cheese on top of my salad. Nevertheless, as soon as I got past the cheese layer I really enjoyed the smooth and balanced flavor of the salad.
Toward the end of my meal, I was pleasantly surprised when I learned that my entrée came with a free cocktail. Choosing between a number of drinks such as bloody Mary and mimosa, this was the icing on top of a relaxing, simple andhealthy lunch.
Located only a few clicks away from Fordham College at Lincoln Center, this modern simple Japanese restaurant is a good place to take a small group of friends. Its small interior design is perfect for those wanting a more intimate dining experience. In terms of food, Kyotofu, in my opinion, was a value for money deal. For under $20, I was able to try a lot of pretty decent medium-sized dishes. With still so many more healthy dishes in the menu to try Kyotofu is definitely a place you want to check out if you're looking to embark on your healthy lifestyle quest for spring.
IF YOU GO
Kyotofu
Rating: 3.5/5
$ out of $$$$$$
Where: 705 Ninth Avenue (between 48th and 49th) New York, NY 10019
Darryl's Recommendation: Warm Mushroom Salad

View 705 9th Ave in a larger map