Arthur Miller's Death of a Salesman Revived on Broadway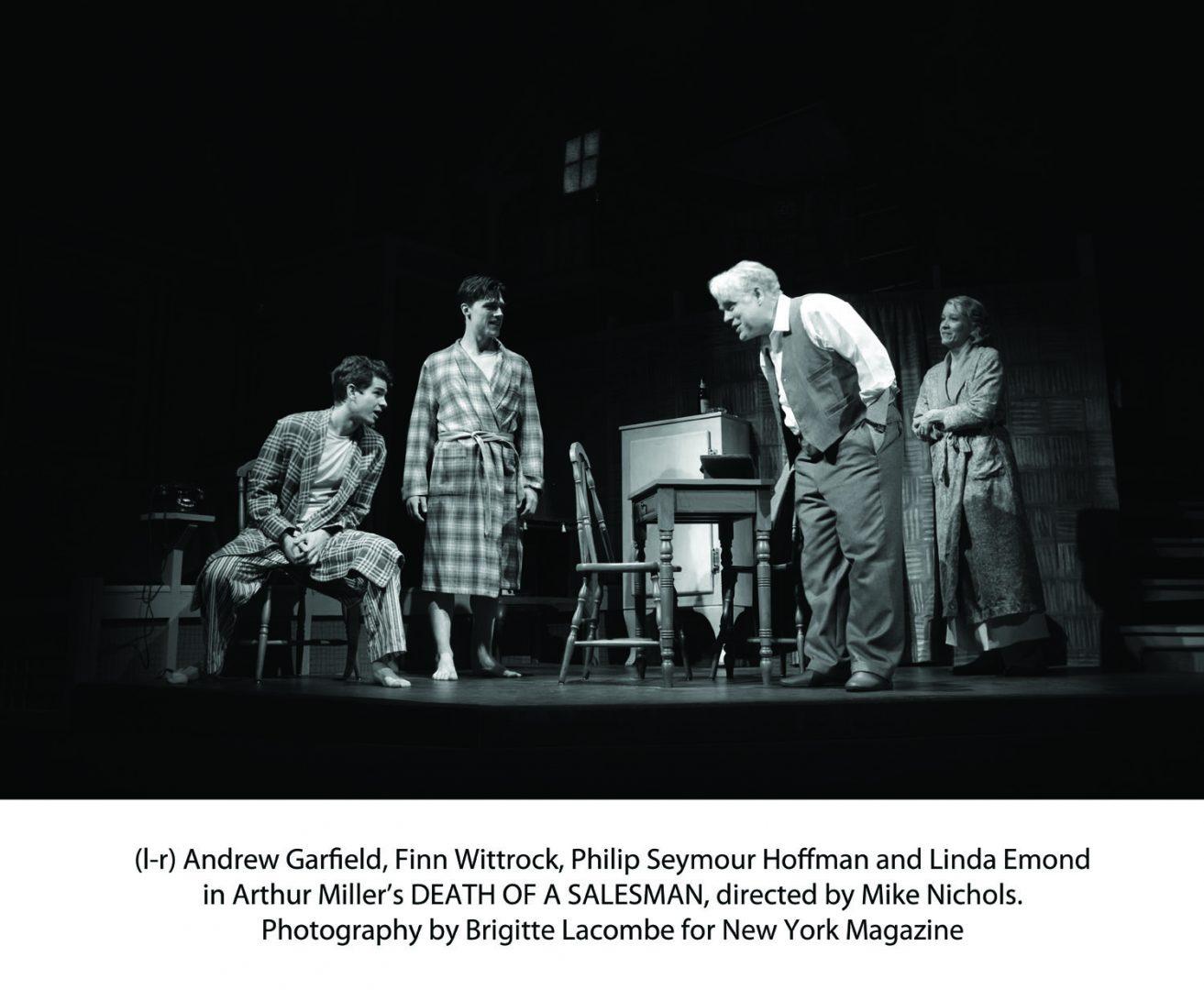 Remember sitting through 10th grade English class trying to watch your classmates attempt to act out scenes from Arthur Miller's "Death of a Salesman" but wishing you could poke your eyes out instead? Well, thankfully, the Broadway production of "Death of a Salesman," which opened March 15, is nothing like that experience.
This play isn't an uplifting story, hence the title, so don't expect to leave the theater skipping. In case you didn't read the play in high school, it centers on a Brooklyn family with two sons who can't seem to get their act together.
The curtains opened to a small, aged apartment in Brooklyn where most of the action of the play took place. The apartment was complete with two beds upstairs, one for Biff, played by Andrew Garfield, and one for Happy, played by Finn Wittrock.
There was also a bed for Willy Loman, played by Philip Seymour Hoffman, and his wife Linda, played by Linda Edmond. On paper the cast is impressive and they're even more extraordinary on stage.
Biff was the stereotypical star quarterback in high school and had a scholarship to college but never graduated. After he and his father experience an unfortunate event while on business in Boston, their relationship is never the same and Willy is always on Biff's case shouting at him about being a slacker. The character Happy plays a less important role in the production and is somewhat of a womanizer who gets most of the laughs.
The play chronicles Biff's time at home as he tries to open up a sporting goods store with his brother and make his father proud after his mother tells him that his father is sick and has been trying to kill himself.
The play is a mix of reality and a trip inside Willy's mind as the audience sees his hallucinations of his older brother Ben. There are also a few flashbacks thrown in of Biff's time in high school to explain when he and his father's relationship fell apart.
Hoffman is marvelous as the feeble-minded, suicidal traveling salesman. However, he does tend to shout a lot of his lines, mostly during some intensely emotional fights with his son Biff. But its rare to see an Academy Award-winner act in front of you or actor of that caliber. It was like seeing Bob Dylan perform at The Bitter End in the '60s, the kind of thing you tell your grandkids about.
Andrew Garfield was the dark horse of the play. I would have expected him to be in "Spider-Man: Turn Off the Dark" instead, but he gave Hoffman a run for his money as the estranged son with daddy issues. Especially during the scenes where he and Hoffman were practically wrestling and Garfield ended up on the floor in tears.
This play is well worth the almost three hour running time, as well as the questioning of one's self worth that is sure to follow. For the low Student Rush ticket rate of $30,  you would be a fool to miss out on such brilliant performances by one of the best actors in the business and one of Hollywood's rising stars. If you wait outside after the show, the cast, including Garfield, will sign your playbill. But unfortunately Hoffman sneaks out the side door.
IF YOU GO
Death of a Salesman
When: Playing now
Where: Ethel Barrymore Theater, 243 West 47th St.
Price: $30 Student Rush tickets

View Barrymore Theatre in a larger map