Recyclemania Highlights Problem Areas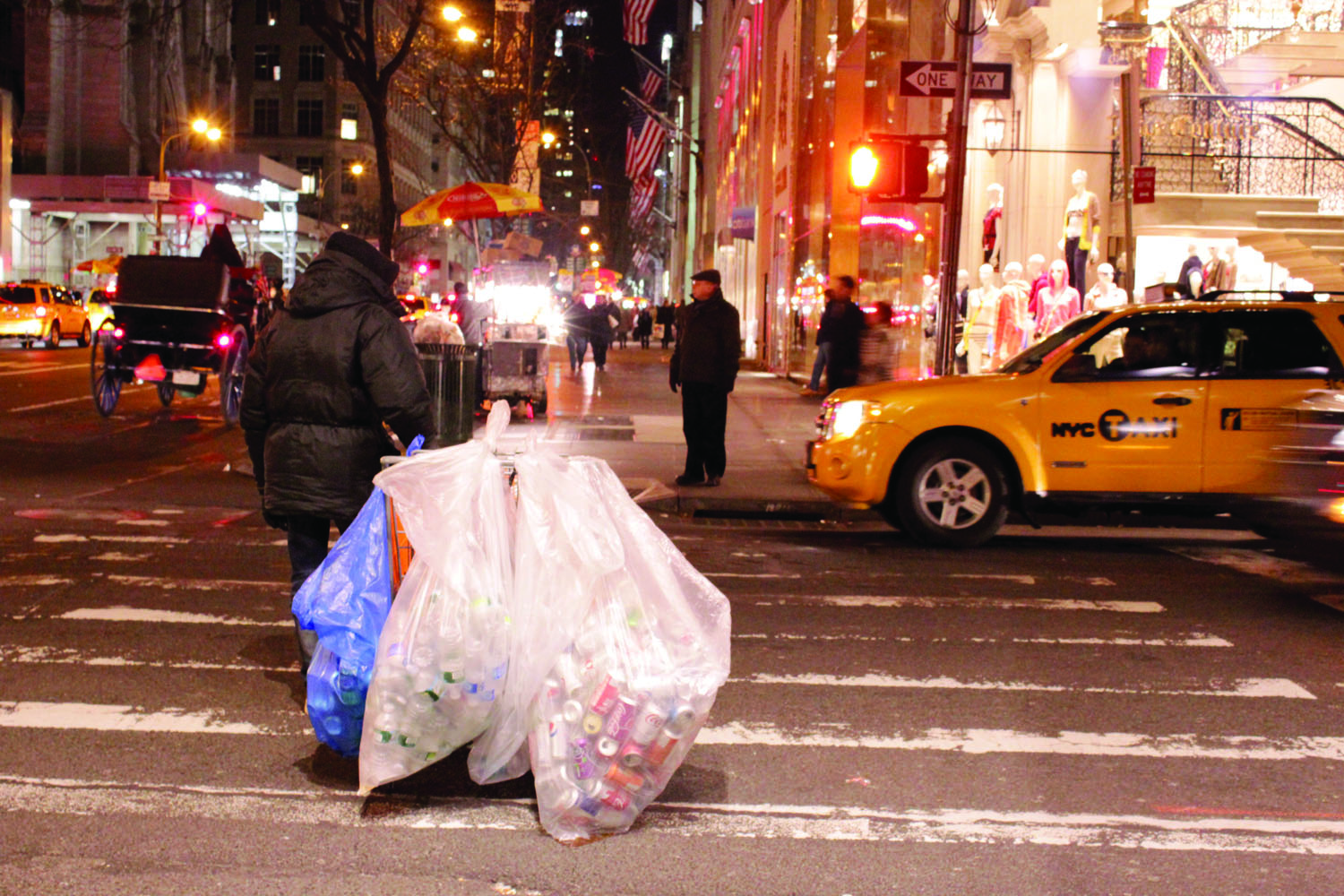 Fordham has placed as one of the top 50 schools of a national recycling competition every year that the university has competed, according to the Environmental Club. Recylclemania, a nation-wide recycling competition, is a sustainability and recycling event currently taking place at 605 universities across the country. The tournament, which lasts for eight weeks, promotes recycling and other sustainability activities at college campuses.
All the schools that are participating are ranked each week according to the largest amount of recyclables per capita, least amount of trash and highest recycling rate.
As president of the Environmental Club, Ben Schaub, Fordham College at Lincoln Center '14, took initiative and is working with Leslie Timoney, resident manager of the facilities operations and the rest of the Environmental Club, to encourage residents of McMahon Hall to recycle more and to be less wasteful.
According to Schaub, Fordham has been one of the top 50 schools of the competition for every year that Fordham has participated. Schaub said that McMahon Hall usually has the lowest waste production and the highest rate of recycling compared to the residence halls at Rose Hill. However, Timoney points out that in order to compare residence halls in Lincoln Center and in Rose Hill, you need to think in terms of similar housing styles.
"Residents of dorms, that is, single rooms on a corridor, eat all their meals at McGinley," Timoney said. "Their garbage is composed of wrappers, papers and beverage containers. Apartment-style living has residents who eat at McGinley or who cook in their kitchens. Here at McMahon Hall, we have access to good supermarkets so students can buy bulk items and prepare their meals, generating less trash."
Other schools located in New York that are participating in the competition include St. John's University, Ithaca College and Cornell University.
Nothing has completely changed compared to last year's Recyclemania. "The rate continually remains between 20-25 percent of residents who recycle," Schaub said. "Although McMahon Hall always recycles more than Rose Hill, our number one issue at McMahon Hall is the fact that garbage is always contaminated with recyclables. We're trying to focus more on what students are doing with the garbage and recyclables in their rooms," Schaub said.
For Schaub, the importance of Recyclemania is not for one particular school to win, but for all the schools that are participating to encourage their students to understand the importance of sustainability and recycling. "It's important to inform people of the ethics of clothing, the different foods we can eat, and of course recycling," Schaub said. "People tend to have the throw-away mentality, where people just throw away things without really thinking about if it is recyclable or not. This mentality leads to a huge amount of waste."
Schaub says that residents of McMahon Hall do put a lot of effort in recycling. "Students have approached me on how to be more recycle-friendly. It is nice to see that students are recognizing the importance of the issue and that they have an impact on the environment." However, Schaub would like to see even more student engagement and involvement in the little sustainability choices in the dorms. "McMahon Hall currently uses a recycling system with color-coded bags for recyclables, but students don't know how to use it, or don't even bother," Schaub said.
As Recyclemania enters its last week, both Timoney and Schaub still have some things planned to make students more aware of the environment. Similar to last year, there will be a distribution and selling of water bottles to decrease the use of plastic water bottles. According to Timoney, there will also be a contest for a recycling mural to be painted in McMahon's A stairway from the 6th floor to the 2nd floor. "The hope is that the mural would help freshmen learn the recycling rules at McMahon," Timoney said.
Timoney also said that the move-out donations program, which allows residents to donate their clothing, bedding and other household items to social service agencies instead of throwing them away, will return this year. The goods are then donated to Goodwill and Project Find senior centers. Silverware, Tupperware, non-perishable foods and books are all in demand at the senior centers. "We're hoping residents save some time at move-out to sort their discarded items to the bins in the lobby," Timoney said.
Schaub said that he knows that not everyone wants to help with the environment. "People tend to get defensive when it comes to helping the environment and with sustainability. People generally don't like being told what to do. It is about finding a way to show people the importance of sustainability without feeling like they are being told what to do," Schaub said.