Holy Week's Deeper Meaning for Community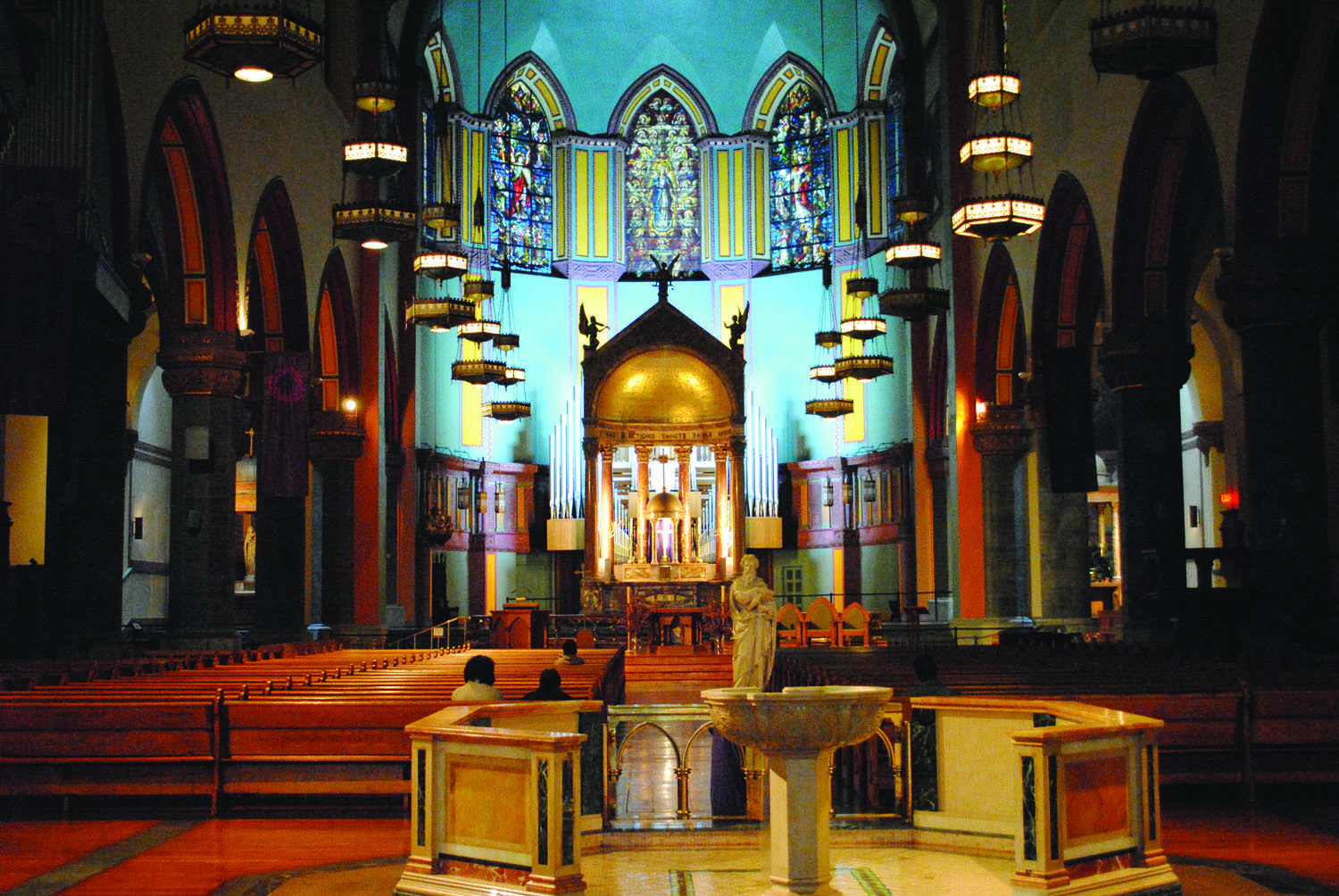 As Lent draws to a close, Fordham's Christian students and faculty are preparing for Holy Week, during which many Christian denominations remember the final days of Jesus Christ's earthly life with both fasting and celebration.
Holy Week, beginning on April 1 and leading up to Easter on April 8, starts off with the observance of Palm Sunday or Passion Sunday, which celebrates Christ's entry into Jerusalem as well as his Passion. The Easter celebrations begin on the evening of Holy Thursday with the Mass of the Lord's Supper, which recalls the institution of the priesthood and the Eucharist. The next day, on Good Friday, the Church celebrates Christ's passion, suffering, and death on the cross. Holy Saturday is a day of waiting and fasting in remembrance of Christ in the tomb. Finally, many Christian denominations ring in Easter by observing a vigil, and spend the day in celebration of Christ's resurrection.
This is a time of prayer, fasting and reflection. "Holy Week means, slow down and stop and focus," said Rev. Phil Florio, S.J., director of Fordham's Campus Ministry. "The focus is on what is really holy, what is of God.  It is the passion, death and resurrection.  It's our entire faith encapsulated into a few days."
And for Fordham students, that faith, expressed in special attention to fasting, prayer and service during Lent and Holy Week, challenges the values and paradigms of Western society and culture.
For some students, Lent represents a time to limit consumption. "Even just with the markets and the obesity problems in America," said Alyssa Carolan, Fordham College at Lincoln Center (FCLC) '14, "the idea of, say, not getting an extra-large something during Lent because you're fasting, by doing that you're thinking more, you're reflecting more."
For others, Lent and Holy Week are times to rethink the penultimate value placed on achievement. According to Faith Brancale, FCLC '14, in a society in which good grades are becoming essential for success, taking time during the day to pray and reflect appears counterintuitive, but, because of that, it carries an added significance. "Reliance on God is something we don't necessarily want to do because we are people of the world, it's all about achievement, it's all about success, and to say I trust the will of God is crazy-person talk," Brancale said. "But from my experience, trusting in God is not the most terrible thing, and the whole problem with students especially is to be like, 'OK, I'm going to go to daily Mass instead of spending that hour studying.' That's huge. That can mean a grade."
"You need to achieve a certain goal academically and strive to achieve the standard, but that can blur the line between what's important and what's not," Alex Lupo, FCLC '13, said. "People get so bogged down in what they are told to do and they don't actually take the opportunity to realize what they really want to be doing. You have to realize whether you care about spirituality or not."
For other students, Holy Week is a time to examine individual and structural injustices.
"You look at Christ, he was crucified, but what was he killed for?  Sedition against the Roman Empire," Matt Cuff, FCRH '12, said. "In America we're obsessed with good things: the benefit, the nice thing and the resurrection is a nice thing. But some guy getting executed for talking a little too loudly is not very convenient, especially in a country that pretty closely models the Roman Empire."
For some Fordham students, Holy Week is a call to question social injustices in this country and abroad.  For Cuff, the remembrance on Good Friday of Christ's death specifically represents such a call. "I think we need to talk more about the historical Jesus, why he was killed. I think there is something inherently radical about that and not just on the level of, 'Oh, he was killed for our sins, blah, blah.' Maybe, but he was also killed for this statement and that action."
He continued, "There is also the idea of a sin of omission, of not doing something, so I think the Church recognizes that it is not just about doing, but it's about not doing as well. I think we are not doing a lot for a lot of people, we forget that the South Bronx exists, we forget that Appalachia exists, and the only time we remember Africa is a real thing is when Bono sings about it. That's omission. And think about how indulgent we are on Easter!  'Oh, I gave up chocolate so let me eat a box of it.' What is that?"
Holy Week affects Brancale in a similar way.  "There are so many sins that are not OK, and why would God forgive me? Because the world doesn't forgive me. The world doesn't forgive anything. The world looks and if they see something that they reject, whether it's a sin or not, some failure in their eyes, that's it. There is no redemption for you. So with that in mind, when I look at Jesus Christ on the cross, I think about what he did for us, what God did for us. You can ignore it until Holy Week, but then it becomes so real."
But while repentance is a major theme of Holy Week, Carol Gibney, associate director of Fordham's Campus Ministry, made a point to stress that this season is not a time to moralize, but rather a moment to love. "Lent is supposed to help us recognize that religion is a path of beauty as opposed to a set of rules, that God is not the judge but rather that God is the healer, a doctor who wants us to be healed of our ills and the ills of the world," she said. "So we need to move away from that [idea of the] judge with a long white beard that is going to point a finger at us and move toward facing [the idea] that we all need help, the world needs help."