Business School to Receive Half the New Dorm Space FCLC Expected
During the Mar. 8 College Council meeting at Fordham College at Lincoln Center (FCLC), faculty learned from the Rev. Robert R. Grimes, S.J., that of the 436 new beds which had been expected to go to FCLC student expansion, 200 will now be given to Gabelli School of Business (GSB) students. This would be part of a new undergraduate business program on campus. The plan, set to be implemented in 2014 and developed by the Vice President task force at Fordham, has not been approved yet, according to Grimes.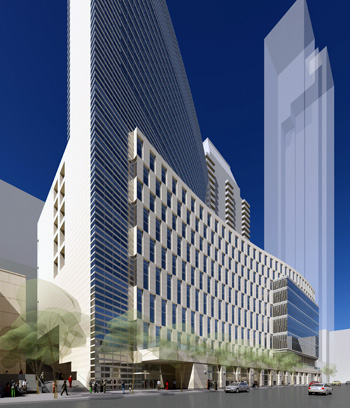 Concerns about transparency and a change of academic culture at FCLC were voiced by the approximately 40 faculty members present in McMahon Hall 109 for the meeting.
Grimes said the "bare bones" plan will give 25 beds per year to incoming FCLC students over the next four years, raising the total population of the school. The other 100 beds will be reserved for students who would have been commuters.If the plan takes effect, the resident to commuter ratio will change from its current 55-to-45 to 60-to-40. In addition, the GSB will develop a new program available at FCLC for students to major in business. In 2014, 50 freshmen will be accepted to the business program and it will increase by 50 students a year for a total of 200 business students.
Half of the courses taken by students in the GSB program will be liberal arts courses with FCLC students and taught by FCLC faculty. There will also be a full modern language component added, according
to Grimes.
Grimes said that Quinn Library will relocate to the current law school library's space, however no other decisions for space have been made.
In response to the news, faculty expressed frustration about the lack of transparency in the decision process.
Frank Boyle, associate chair and professor of English, said that finding out about this at the "11th hour" makes things challenging when it comes to hiring faculty and planning for an influx of students, which he said takes a minimum two years of planning. He said that the plan, as it was understood by faculty, was to provide the majority of new beds to FCLC students.
"My problem with the process was that, as I understood it, we were already told and planning on hiring and other things in relation to having the entire dormitory. Now we're talking about less than half of the dormitory space, and having a service role with a significant number of students," Boyle said.
Anne Fernald, associate professor of English, expressed concerns about business students taking liberal arts classes simply to fulfill requirements.
"When you're planning for new students who are going to dip into your department for the first two years, who aren't going to major in liberal arts, that's a different problem," Fernald said.
Other faculty members along with Boyle said that the decision should have been made with faculty consultation.
"What is clear to me is that the program has been thrown together as a bare bones program and we're being asked to actually make it work, and that's just completely inappropriate governance for our university," Boyle said. "Faculty are systematically excluded from the deliberations that went into this incredibly important issue."
In addition, Boyle said that it is "upsetting" to hear that there are no representatives of faculty involved in this process. "I believe the university runs better when the people who actually do the work and are involved with the planning," he said.