Swimming Ends Season With a Strong Burst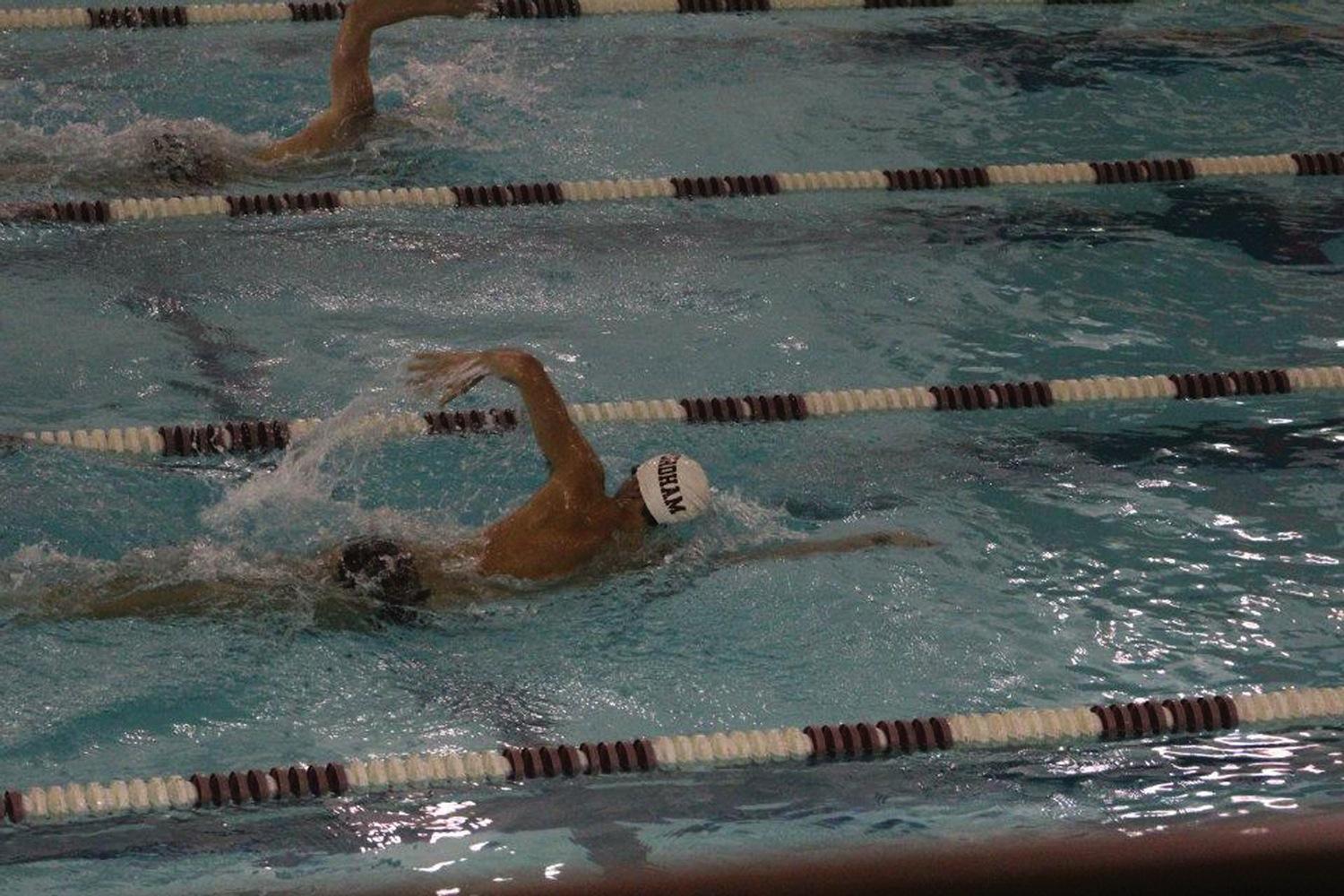 The Fordham men's swimming team will have a burst of momentum to build upon for the 2012-2013 campaign after a very strong finish to this season.
The Rams finished fifth at the Atlantic-10 (A-10) championships, five points out of fourth place, and had many stellar performances, taking gold in the 50m freestyle, 100m butterfly and the 200m freestyle relay. "We're a very young team and I'm proud of the way guys finished season," Coach Steve Potsklan said. "We broke more records than we had in 15 years. For the first time since 1996 we had two individual champions and also our first relay win since 1996."
These performances come after a regular season in which the Rams finished with a record of 2-8. "The record doesn't reflect too much," Potsklan said. "It's not that we don't want to win but we want to do what's best for the kids. We want them to perform their best at championship meets."
The success of the Rams is even more remarkable considering how young the team is. The team lost many seniors due to graduation and this season, only four of the 25 athletes were seniors.
"We really shined and it showed," Shintaro Noguchi, Fordham College at Rose Hill (FCRH) '14, said. "No matter how much the team fluctuates with talent, because of graduation, there's always hidden talent. It will show when everyone's under pressure and everyone's cheering for each other."
Noguchi capped off the season as one of Fordham's strongest swimmers. He took gold in the 100m butterfly, silver in the 200m butterfly, and was part of the gold medal freestyle relay team, along with Devon Morris, FCRH '13, Patrick Militti, FCRH '15 and Patrick Mulligan, FCRH '15. Noguchi's performance earned him First Team All A-10 in the 100m butterfly and Second Team All Atlantic-10 in the 200m butterfly.
Noguchi's gold medal 100m butterfly swim came in at a new Fordham record time of 48.86 seconds. His time broke the 15 year old record held by Akira Kosugi, FCRH '96.
"Last year I missed the record by a few hundredths of a second," Noguchi said. "It made me frustrated because I was so close but couldn't make it. It stuck in my head and I trained really hard this offseason. I worked on my turns, my underwater kicks and every aspect of my stroke. I did everything to make sure I'd break the record and finally be ahead of everyone in the A-10."
Junior Devon Morris was the other Fordham athlete with a phenomenal meet. Morris won gold in the 50m freestyle and silver in the 100m freestyle. Morris was named First Team All A-10 in the 50m freestyle and Second Team All A-10 in the 100m freestyle. Morris set an A-10 record with a time of 20.28 second in the 50m freestyle and set a Fordham record with a time of 44.98 seconds in the 100m freestyle.
"Devon did amazing summer training," Potsklan said. "He got a lot stronger and really burst out of the pack."
Noguchi added about Morris, "Devon was phenomenal; he was always performing well. Every time he touched the water he was consistently posting amazing, ridiculous times. He's a good role model; he's funny, nice, fast and a hard worker.
One of the key strengths to this Rams team was great team chemistry. "We're all best friends," Noguchi said. " We love to hang out and we spend so much time together we're a family. We do a lot of weird things that brought us closer, like we made the word 'ramtastic.' When someone had a great race we'd say, 'Dude that was ramtastic!'"
With the Rams just losing four members to graduation, expectations will be high next season. Potsklan wants the returning members of this year's squad to look positively on their success this season. "I want them to have good memories of a lot of fast swimming, how much they've improved and that they can take that into next year," Potsklan said.