BonChon, the Korean Answer to Traditional Fried Chicken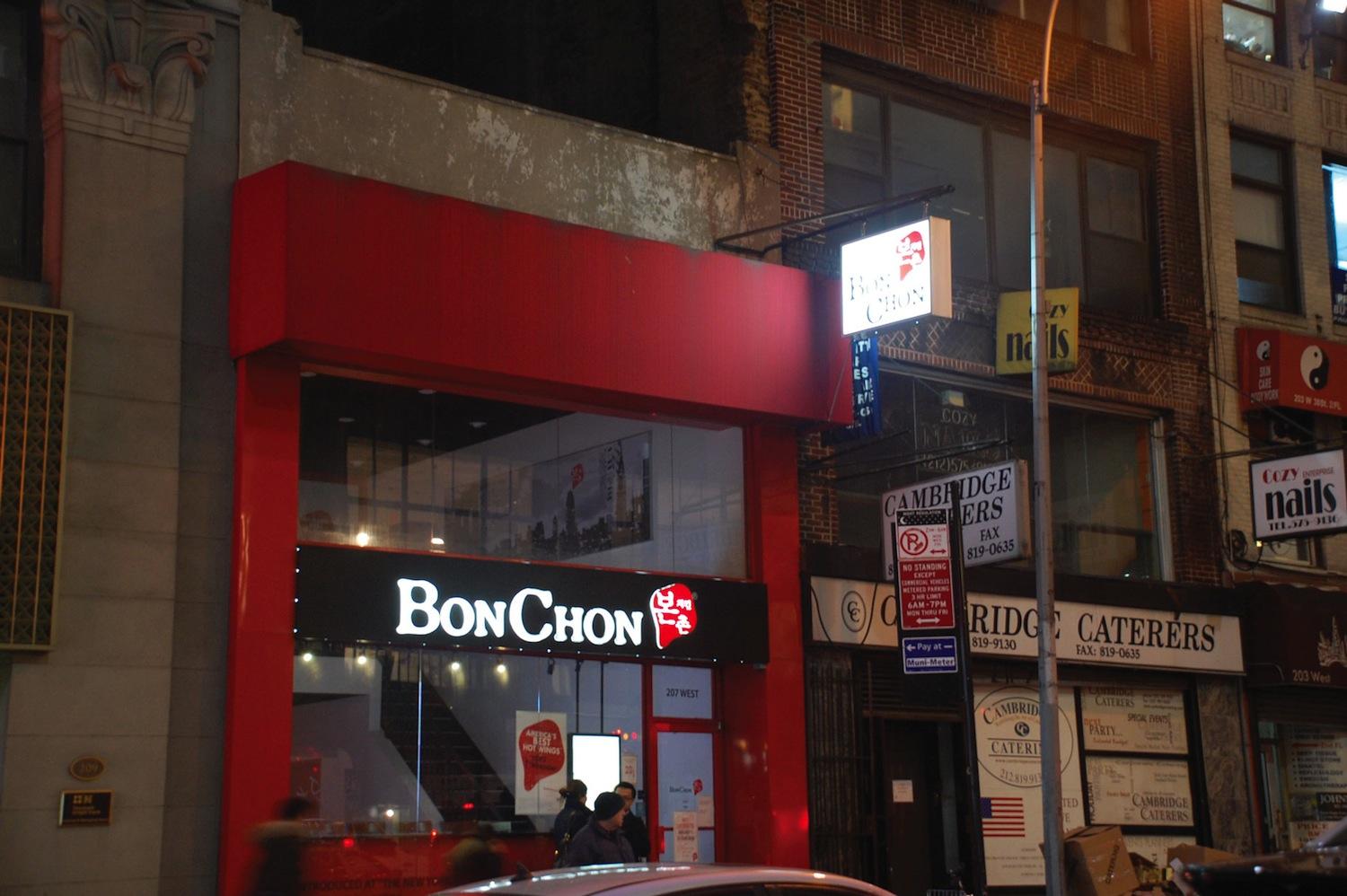 When someone mentions Korean food, the first thing that always pops into their heads is of course Korean BBQ or kimchi, but there is a certain place out there that hopes to change this general belief of Korean food and that place is Bonchon. Known for its unique style of Korean fried chicken, Bonchon even rivals the famous American buffalo chicken.
Found in various different locations around the greater New York City area, Bonchon is slowly becoming a popular eating destination for many New Yorkers. Already receiving many eatery prizes such as the 2011 Craved Restaurant award for best game day food Bonchon is certainly a place Fordham College at Lincoln Center students will enjoy going to.
Located throughout the New York City area, the nearest Bonchon in relation to the FCLC campus is located on West 38th between 7th and 8th Avenue. It's only a 30 minute walk from campus or a 10 minute train ride from the Columbus Circle station. Venturing to the West 38th Bonchon just a couple of weeks ago, I was surprised with how classy and hip ambiance. With plasma screens spread out everywhere showing sports varying from basketball to soccer, Bonchon looked more like a stylish sports bar than an actual restaurant.
Aside from the nice cool surroundings Bonchon also had an interesting assortment of chicken dishes in its menu. On top of having the typical chicken sandwich and chicken salad, Bonchon also had a number of special combos. Containing a mixture of its wings and drumsticks with a side order, these combos were definitely a value for money deal. If combos aren't your thing you could place an order wings or drumsticks from small to extra large servings.
However, choosing what chicken you wanted was only the first step, you also had to choose what kind of sauce you wanted. There were a number of choices such as soy garlic, mild spicy, hot spicy and BBQ sauces. In the end I would suggest not sticking to one kind of sauce but mixing it up for the full experience of Bonchon. We ordered a large combo one (a mixture of 14 wings and four drumsticks; half soy garlic and the other half hot spicy). We were very hungry and excited to get our hands on some Korean fried chicken, little did we know that it would take a while.
Waiting almost 20 minutes for our chicken, we were all starving! Watching the kitchen door with much anticipation, I was left disappointed when every dish that came out wasn't ours. I was about to complain to the waitress then our meal arrived. Presented to us in two large brown baskets, were golden glistening drumsticks and wings.
So hungry, I instantly lunged for the soy garlic flavored wings and was met with wonderful soul satisfying crunch. The soy garlic wings had a nice clean cut taste to it and didn't try to overpower your taste buds. The light addition of the soy garlic sauce mixed with a pinch of salt and pepper was a great compliment to the base flavor of the chicken.
But the feast didn't stop there; we also got spicy flavored drumsticks and just like the soy garlic wings it didn't disappoint. The nice hot and spicy blend of the drumsticks like the soy garlic had a nice non-overpowering aspect to it. Instead of being in your face spicy it had a nice subtle scorching blend that was nice and slow.
Although the food in Bonchon took a while to arrive the meal was definitely worth it. The amount of food for the price we paid was too good to be true. For under $25 we had a feast that would be fit for a king.  This place is perfect if you're looking for a quick casual meal with a couple of close friends or if you're looking for a place to watch a game.
IF YOU GO
Bonchon
Rating: 4/5
$$ out of $$$$$
Where: 207 W. 38th Street, New York NY 10018
Darryl's Recommendation: Mixed Batch of Spicy and Soy Garlic Wings and Drumsticks

View 207 W 38th St in a larger map