The Man Who Followed Murder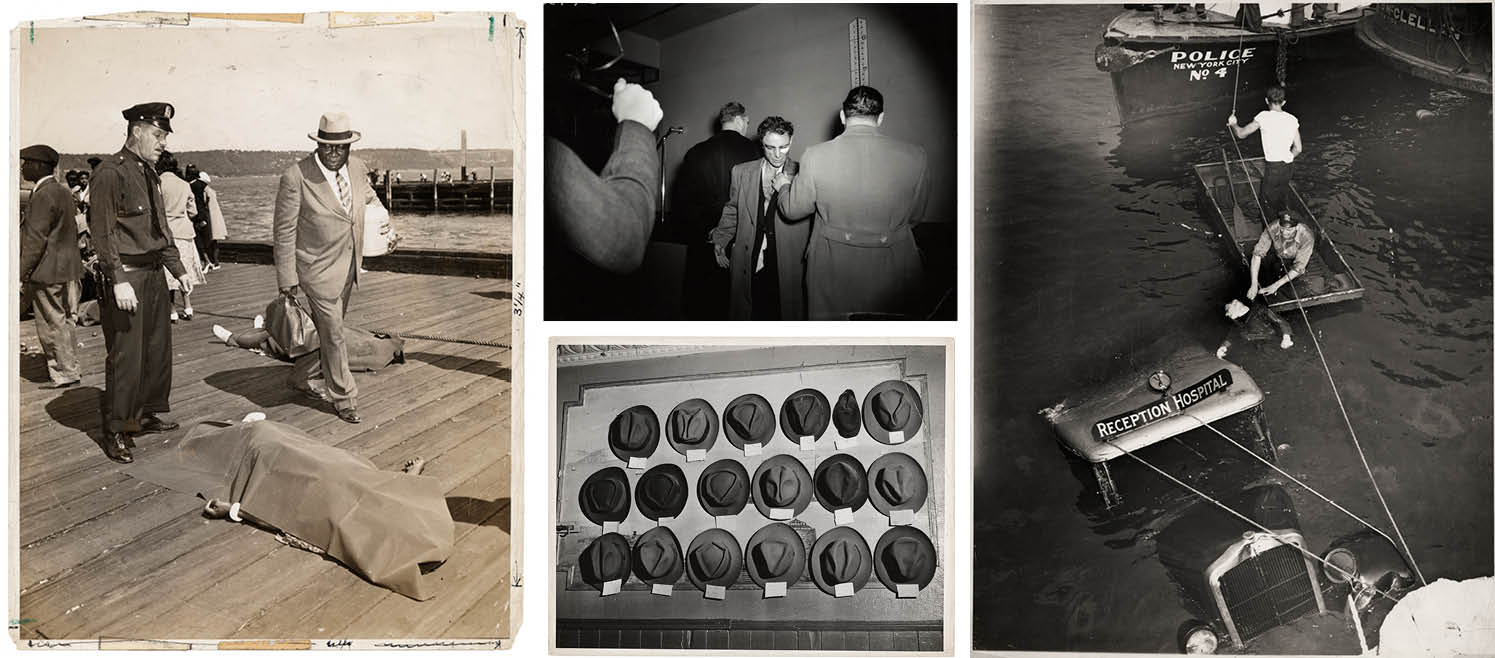 He was known as the "official photographer of Murder Inc.," a gang of hitmen that haunted the streets of New York City during the 1930s. Arthur Fellig, better known by his pseudonym, Weegee, became one of the most infamous and influential photojournalists of all time through his gritty black and white photographs of murder, crime and all else hidden in the dark underbelly of Depression-era New York City. His work as a freelancer fed all of New York's tabloid newspapers as well as a number of national publications with the sensational images that made him so riveting.
Now the International Center of Photography (ICP) is putting many of these images back on display with a new exhibit titled "Weegee: Murder Is My Business." The name comes directly from a self-curated exhibition that Weegee held at the Photo League in 1941. ICP channels many of the elements of that show into its own exhibition, even including some of the pictures that Weegee took of the gallery.
What you get to see is quite extensive, as it should be given the tens of thousands of Weegee photographs and negatives that the ICP holds in its collection. The work of Weegee is dark, vivid and personal. He preferred to capture sensational subjects, and manages to do so in a way that is utterly captivating in its genuineness. Weegee brings us to murder scenes, brawls, courthouses, bars and tenements capturing all of it in his signature dark style.
In a sense, Weegee preempted the noir aesthetic through these stylistic elements. Especially in his staged photographs, such as his 1944 self-portrait, darkness becomes an enveloping presence. In the photograph, Weegee sits in his car at night and the only light visible is from the dim glow of headlights and a washed out silhouette of his face.
The subject matter is equally shadowy. There are several photographs of bloodied corpses sprawled onto the street. Weegee once bragged that he was paid $35 by LIFE Magazine for covering two murders— a little extra for the one with more bullets. Another print is an image of the police pulling an ambulance and its driver up from the bottom of the East River.
While the exhibition also features newspapers, films and interactive displays, the focus of the show remains on the photographic work of Weegee. In particular, it is mostly a documentation of the first ten years of his rise to prominence, much as the original "Murder Is My Business" exhibition was.
During this period, Weegee worked at night from a small apartment across from the police headquarters. He spent these evenings listening to crime reports on his shortwave radio. Whenever news arrived of something worth capturing, Weegee would set out to be the first one covering it, often arriving before the police did.
It was also at this time that he made ties with many of the biggest criminals in the city including Bugsy Siegel, Lucky Luciano and Legs Diamond. This connection sealed Weegee's association with coverage of crime, desperation and murder. He claimed that dead subjects were the easiest to capture: they never moved.
From the mid 1940s until his death in 1968, Weegee branched out, experimenting with writing, film and more avant-garde styles of photography. However, it is for these early images of urban scenes that he will be most associated with.  By focusing on this period, ICP pays homage to these formative years, and to the world of news photography that it inspired.
IF YOU GO
Weegee: Murder Is My Business
When: Now through Sept. 2, 2012
Where: International Center of Photography, 1143 Ave. of the Americas (at 43rd St.)
Price: $8 with student ID; voluntary contribution Fridays from 5  – 8 p.m.
Hours: Tuesday & Wednesday, Saturday & Sunday: 10 a.m. – 6 p.m. ; Thursday & Friday: 10 a.m. – 8 p.m. ; Closed Mondays

View International Center of Photography in a larger map