Le Tour de France's Youngest Racers Are Like Us, but Superhuman
Imagine flying down a mountain in the Alps at 60 miles per hour, riding a bicycle among a group of 180 other athletes, all of you tired from riding a hundred miles the day before, and the day before that and the day before that. This is reality for a very select group of people — men who are college-aged in pro-level cycling.
Most Americans don't pay much attention to European sports, and cycling is one sport that's much more centered around Europeans and South Americans than U.S. citizens. 
Le Tour de France, the most famous of the three Grand Tours held in Europe every year, spans three weeks in July (COVID-19 forced this year's Tour to be held in September instead) when 180 cyclists compete to be the fastest and strongest in a group of already-elite riders. Each day, or stage, is around 100 miles long, and every rider must finish the stage within a time limit in order to start the next day. 
The riders compete for four possible jerseys: yellow for the rider with the best time over all stages; polka dot for the rider who reaches the most summits the fastest, earning mountain points; green for the rider who finishes sprints the quickest and/or most often, earning sprint points; and white for the rider aged 25 or younger as of Jan. 1 with the best overall time.
So while we're here at Zoom University and our only experience of cycling is dodging the cyclists of Central Park who think they belong in the Tour, guys our age from around the world are competing against 30-year-old champions.
The 26 young riders of the Tour, all between the ages of 21 and 26, compete together with the world's top cyclists, including country champions, Olympic champions and world champions. The oldest rider in this year's Tour, Alejandro Valverde, was competing at the junior level when the youngest was in kindergarten.
On Sunday, Sept. 20, Le Tour de France ended with Tadej Pogačar winning the Tour itself and wearing the yellow jersey, as well as the mountains competition and best young rider competition. The first person to ever win three jerseys in one year, he is also the youngest rider to win the Tour since 1904 — he turned 22 on Sept. 21.
Le Tour de France is truly any man's race; it seems to depend on luck and stamina more than age or even experience.
Pogačar was the third-youngest man in the 2020 Tour, beating his Slovenian countryman Primož Roglič by only a minute in the 87-hour race. Benoît Cosnefroy, another competitor in the young rider classification, held the polka dot jersey for 15 stages. Mads Pedersen kept the 2019 World Champion jersey, and Egan Bernal won last year's general classification in the Tour. Although 22 of these 26 young men finished the Tour, most were not top contenders, finishing hours after the winners.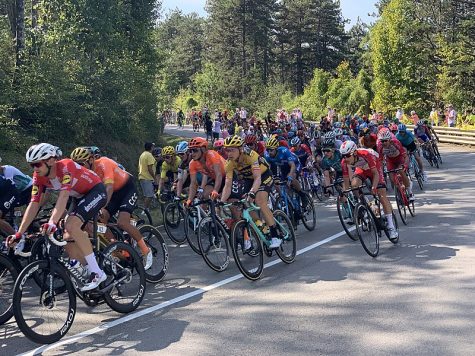 Instead of going to college, the young riders enter junior then professional circuits and travel the world, expending all their energy on a bicycle in order to race in competitions that last a day, a week or as long as three weeks. These guys are the up-and-comings, the names you'll see on cycling leaderboards for the next 10 years.
I tried hard to find some kind of connection between the Tour de France and Fordham. Alas, there's really no link. Why is that? Few professional-track road cyclists would go to school in the Appalachians, let alone in New York City. Some riders go to college specifically for cycling teams (at schools anywhere from Boulder, Colorado, to Ghent, Belgium), but many in the Grand Tours skip over collegiate cycling in favor of junior teams.
So while we're here at Zoom University and our only experience of cycling is dodging the cyclists of Central Park who think they belong in the Tour, guys our age from around the world are competing against 30-year-old champions. Their lives are difficult to say the least, though I wouldn't say living through a pandemic is easy for anyone. These white jersey contenders have faced many challenges as young riders and as athletes during the pandemic, but most have succeeded in completing the world's most important cycling race.
Seeing Pogačar and the other young riders — our peers — mature into the next years' champions is inspiring; similarly, following the racers' personal and physical journeys is exciting because of their athleticism and the beauty of the country of France. The Tour is held next year in July on NBCSN, and I hope you watch it with me — it's never boring, the racers and commentators are always entertaining, and it's a thrilling sport to compete in and to watch.
Cycling is a sport never to be missed, especially right now, since it has races worldwide and is still competing safely even during the pandemic. Even in an uncertain world, the quality of racing remains consistent and will only continue to improve.
Le Tour de France 2020 is a race to be remembered and the defining moment of Pogačar's career, at least until he beats another record.
About the Contributor
JILL RICE, Online Editor
Jill Rice, FCLC '22, is an online editor for The Observer. She is a classical languages and comparative literature double major, so please direct any ancient language-related questions to her. She enjoys figure skating and reading, but not necessarily at the same time. She was previously a head copy editor.