MSA Celebrates Islamic Awareness Week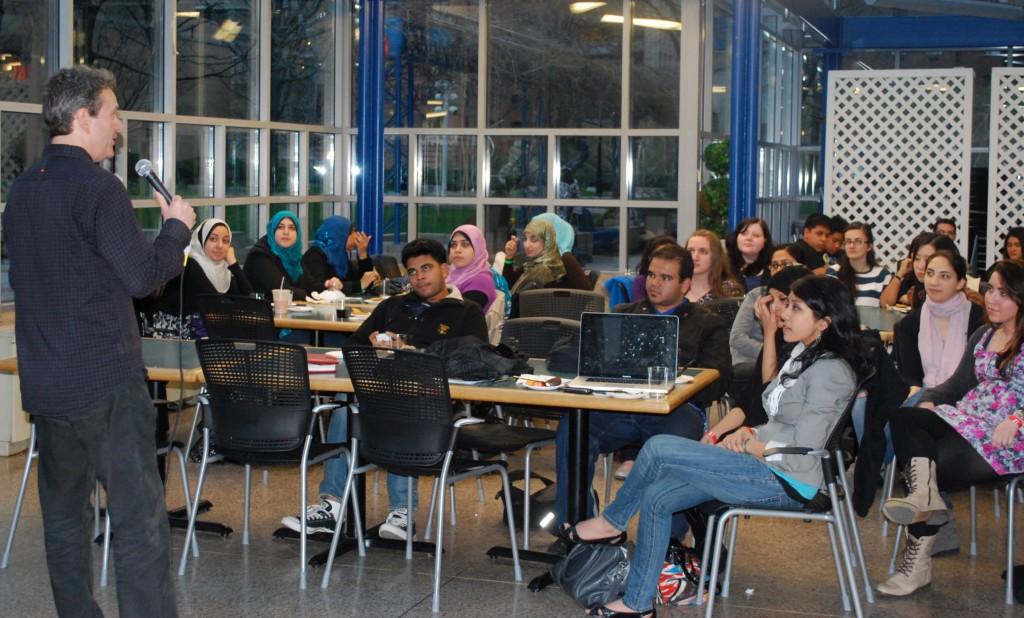 Published: April 20, 2011
On April 15, Fordham College at Lincoln Center (FCLC)'s Muslim Students Association (MSA) held their StandUP for Peace Comedy Tour in the Atrium. The event was in commemoration of Islamic Awareness Week.
Last year, MSA presented two poets for the Tug of War event as a final closing for the week. However, this year, MSA, in conjunction with Middle Eastern Students Association (MESA), Jewish Students Organization (JSO) and Students for Solidarity (SFS), decided to take a comedic route. The event was held in the Atrium and featured a comedy routine with one Arabic and one Jewish comedian, DeanObeidallah and Scott Blakeman.
Dean Obeidallah, an award winning comedian, is the co-creator and co-producer of Comedycentral.com's Internet series "The Watch List." The series focuses on the stand-up performances of a cast of all Middle-Eastern comedians. Scott Blakeman was the warm-up comedian for "The Late Show with David Letterman." The comedians combined their Arab and Jewish backgrounds to set the stage for their groundbreaking act.usrat Jahan, FCLC '13 and MSA's public relations coordinator, said, "This fun, yet informative, event presents the students with the comedians' perspective on issues in the Middle East." Their unique backgrounds and encouraging dialogue of peace aims to unite people of all nationalities.
Other students talked about their experience at the event. Karina Bowen, FCLC '12, said she enjoyed listening to the perspectives presented by both comedians. "Tonight's show truly presented how simple it should be for us to unite, without resorting to violence."
"I believe the continuous and unending turmoil in the Middle East is tragic. We are all humans, each created equally," she said.
Although it is clear issues in the Middle East are deeply rooted, the StandUP for Peace Comedy Tour  presented the few existing similarities between the rival nations of Israel and Palestine.
Matthew Spitalieri, FCLC '12, said he had never attended an event of this nature.
"No one expects to be presented with a round of political issues when attending a comedy show. However, I believe events like these are very beneficial to the Fordham community. It encourages students to be more open-minded and welcoming of everyone."
The StandUp for Peace Comedy Tour did not follow the typical comedic act where the comedian picks on audience members sitting in the front row, particularly due to the nature of the topics discussed at the event.
In an event of this nature, there is no stage for ridicule.