Fordham Alumnus and Professor Training STEM Students to Solve Problems of the Future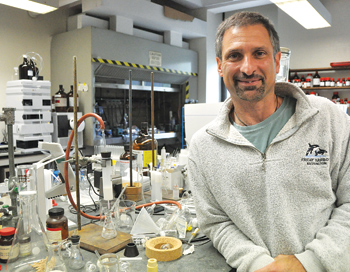 The pre-health track at any college is comparable to a double membrane. Students often enter and leave the program throughout their undergraduate years for various reasons. This trend is no different at Fordham.
Martin Di Grandi, Ph.D., assistant professor of chemistry, was one of these students when he attended Fordham College at Rose Hill (FCRH) from 1980-1984. When he initially enrolled at FCRH, he was a biology major on the pre-health track like many pre-med students. 
Sometime during Di Grandi's formative pre-med years, he began questioning whether this path was right for him. "I imagined telling a 45-year-old father he had lung cancer and — how could you do that you know? I wear my heart on my sleeve and I couldn't imagine doing that," he said. 
Di Grandi then changed his major to chemistry and began researching under his organic chemistry professor. He started working with post-doctoral students who worked with drug companies. This opportunity inspired him to venture into a new field and reassess his career plans. 
"Something crystallized in my mind that instead of being the guy who prescribed medicine I could be the guy who made them," he said. 
Di Grandi went on to get his Ph.D. in organic chemistry at Fordham University and joined Wythe Pharmaceuticals shortly afterward. He spent his first six years in the private sector researching infectious diseases. He aimed to try to synthesize molecules that could be potential medications to counteract the symptoms of herpes. 
Additionally, Di Grandi started working in the pharmaceutical industry in the 1990s, during the peak of the HIV/AIDS pandemic. He recalls being in a room with his fellow researchers as his supervisor asked who wanted to work on a project to find a potential treatment. No one stepped forward. It was at that moment that he realized he needed to work on this project given the massive need for a medicament. 
"I knew this was something I wanted to do, I just had to," he said. 
Di Grandi was one of the team leaders for this project until the company moved out of infectious diseases.
Seventeen years after working in the private sector, Di Grandi returned to his alma mater, FCRH, as an organic chemistry and biological chemistry professor. He was given the freedom to research anything he believed was pertinent. "It made sense for me to go back to my biology interests and focus on the synthesis of biologically active compounds," Di Grandi said. 
In his lab at Rose Hill, he now researches ways to treat viral infections and cancers by improving the biological activity of natural products and synthesizing them. Di Grandi is looking to the future of antiviral medications by synthesizing new compounds. 
In his classes, he focuses on teaching his students to move away from the route-learning they are used to and instead use deductive reasoning to draw conclusions and solve problems. The focus of his organic chemistry lecture is synthesis, making bigger molecules out of smaller ones. He stated that many of his students fall into the habit of memorizing as much as they could instead of understanding the underlying concepts.
"I can tell you what words mean and you can memorize those definitions. But if you don't have an understanding of how to put them together, you won't know how to make a sentence," Di Grandi said. 
In an email addressed to his former and current students he spoke about the current coronavirus pandemic. 
"Right now, there is an army of scientists trying to find a viral protein that can stimulate an immediate and strong immune response in humans, the first steps toward a functioning vaccine," he said. "This is all new territory and there is no solutions manual for this problem. All we can do as scientists is to use what we know and apply that knowledge to solve the problem." 
As scientists are scrambling to find a cure for this novel coronavirus, Di Grandi inspires the next generation of researchers and healthcare officials about their future role in times of crisis. 
"There will always be something looming on the horizon that will be our next great threat.  And in most of these instances, the threat will be something we — humans — have never encountered before," he said. In this case, we need to "recognize the issue needs to be addressed head on and use whatever means we have at our disposal to find a solution to the problem."