Radio Talk With Julianne Welby
Behind Fordham's Award-Winning Station
Published: September 27, 2007
This summer, WFUV (90.7 FM), Fordham's non-commercial radio station was the recipient of seven Public Radio News Director Incorporated Awards, adding to the 26 other awards they have accumulated over the years. Julianne Welby, Director of News and Public Affairs at WFUV, speaks about the station's success.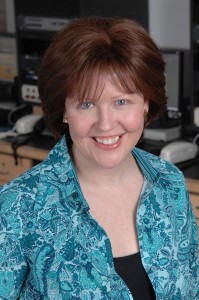 THE OBSERVER: How do you think WFUV was able to excel so much this year?
Julianne Welby: Years of practice. We've been able to build the department more and more each semester. We've learned how to teach students to do professional radio, and it is getting noticed by the organizations that grant awards, and by our listeners too. A lot of the projects we do here are not individual but are like a documentary that many people contributed to. I feel very good when a team of WFUV wins. I like it when we can spread the wealth.
O: You were mentioned in three out of the seven awards. These awards must reflect your hard work and commitment to WFUV.
JW: I'm very committed to WFUV. I am a former Fordham student who graduated in 1993. I came back because I had such a good experience here and I knew the job entailed teaching students and hopefully showing them the love of radio that I have. George Bodarky, my assistant news director, and I are sort of counterparts in that we both followed the same path. We learned radio from WFUV, we've left and gone elsewhere, and we've come back because we believe in the mission of teaching students.
O: Even though the studio is located at the Rose Hill campus, are there students from Lincoln Center working for WFUV?
JW: Absolutely. There are more than 70 students currently on the payroll. It is 100 percent open to Fordham students regardless of campus. We are very excited when we hear from Lincoln Center students because it is hard for you to know about us. One of our best newscasters and news editors, Lisa Tschernkowitsch, graduated from Lincoln Center in 2003 and still does freelance work for WFUV. She is definitely part of the WFUV family, and there are a lot of other examples like her too.
O: Of the students employed at WFUV, are they mostly graduates or undergraduates?
JW: It is mostly undergrads. In fact, it is part of the mission statement of WFUV that the program is a training ground for students, so since the majority of the Fordham population is undergrad, they are the largest in number at the station. We also have formal graduate assistantships here in which students work on a degree in the Public Communications Program, and work 20 hours a week for a free Masters degree.
O: You are also a co-host of City Folk Morning that airs weekday mornings. How do you combine your two roles, teaching and hosting, at WFUV to work together?
JW: It is an on-going challenge because half of my life is on the air so I can't be training students as much, or forwarding the department, or doing special projects except for half of the day. So when I come off the air, that's when I'm planning for other City Folk Morning features, or collaborating with George about improving the newsroom, evaluating our newscasters, deciding what kind of news stories we're choosing, coming up with special projects, going through a lot of mail from people who want to be on the radio, trying to find the best ones and then contacting them on time.
O: How did you and Claudia Marshall, your co-host, get together to produce City Folk Morning?
JW: We began in 2000 making preparations for a show that was consistently a music show like you hear on WFUV, but had everything people expect in the morning like a news update, a traffic update and the weather. Claudia has a news background and she's a DJ, a great music host, and I'm a news host who enjoys the music. We thought that was a good symbiotic relationship. We were really excited about having a morning radio program in NYC that was only two women because that's just unheard of. I'm very proud that I work for a radio station in a university where they will have something like that.