A Jesuit Approach to Army ROTC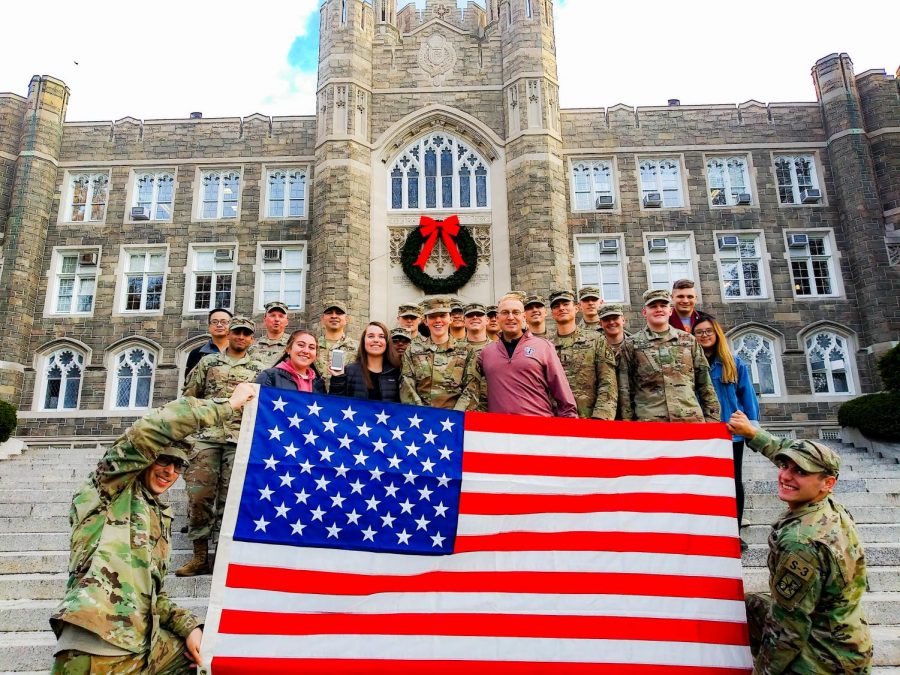 Fordham's Army Reserve Officers' Training Corps (ROTC) program has a long history dating back to the 1840s when the state sent 12 muskets to the Rose Hill campus after it received threats of destruction from the anti-Catholic Know-Nothing Party. From that point forward, the university has devoted resources to training its students for military service.
The university "Ram Battalion" is divided across three campuses: Rose Hill, Lincoln Center and Marist University. However, its approximately 85 cadets come from 20 different colleges and universities located in the area. 
The Lincoln Center ROTC program is known as the Bravo Company. While they train and take their military science classes on the Fordham Lincoln Center (FLC) campus, most of the cadets come from NYU or Columbia, and only five current cadets are FLC students. 
One of those cadets, Vadim Karimov, Fordham College at Lincoln Center (FCLC) '20, chose Fordham specifically because of the ROTC program. Coming from a military family in Long Island, he "heard about Fordham ROTC (and) heard that it was one of the best programs in the country." 
Contracted cadets, or those who have committed to an eight-year service obligation, receive monthly stipends, book allowances and a full-tuition scholarship. In addition, some cadets, like Karimov, receive two-, three- or four-year scholarships that also pay for their housing. 
The benefits come only with adherence to a busy schedule filled with training exercises, ROTC-specific coursework and other military events. Cadets must be awake at 5:30 a.m. three times per week, for Physical Readiness Training (PRT). 
On Fridays, the Bravo Company follows the two-hour PRT with their weekly "Leadership Lab," where they learn about military tactics like ambushes or raids. After the Leadership Lab, the cadets have a military science course, which changes each semester; these courses cover leadership, management and logistical skills. 
Fordham's ROTC program has a unique approach to its training practices in some ways. While it has a staff of former and current military officers, known as the "cadre," the PRT and Leadership Labs are led by upperclassmen. As Karimov explained, "The whole battalion is cadet-led, which I think is very unique. I've never seen a program that's all cadet-led." 
Cadre member Daniel Maher, a former Army officer, is one of the military science instructors who teaches on all three campuses. He described how the Ram Battalion's emphasis on student leadership and its diversity of cadets has led Fordham's ROTC program to be considered the top school for active duty production in the northeast region. "Whenever we send anybody to a school or summer camp, they always come back with all the accolades, all the awards." 
Additionally, Maher is influenced by Fordham's Jesuit history. "I'll sit you in a classroom. I'll tell you how we perform a task, but I expect you to go, 'Wait, why do we do it that way?'"
In an interview with FORDHAM magazine, Gen. Jack M. Keane, former vice chief of staff of the Army and Fordham ROTC alumnus, said, "The rigor of the Jesuit methodology was evident in all classes. What they were least interested in is regurgitation of information. What they're most interested in is critical thinking based on analysis and some rigorous method of interpretation using reasoning."
Maher hopes to further recruit students already enrolled at Fordham to join ROTC. "There is no reason that somebody should be in Fordham, have the ideology of 'I want to serve other people' … and say, 'I have to drop out because I can't afford it.'"
He also emphasized his wish that more students of differing viewpoints would become involved. "I wish the general population here in New York City recognized that if they're not happy with the way the military is running itself, they've got to get involved.
"You think it's terrible what the military is doing? Come do something about it. Join. Enlist. It's not like a club. It's not like joining a political party … You're bringing your party's ideology to the workplace."
After graduation, Karimov will be taking the values he learned as part of Fordham ROTC to the North Carolina National Guard. 
While he was incentivized by the Army paying for him receive his degree and live in Manhattan, he walks away citing other benefits of being a part of the Ram Battalion. "You really build a tight bond with your fellow cadets or classmates," he said. "We hang out with each other outside of ROTC. We're there for each other if somebody needs support, and you really build that tight bond that will last a lifetime."
"And the Army is pretty small. We're bound to meet each other again either in theater or at a post," referring to time spent in war and training.  "It's a pretty tight-knit community."