Fordham Student Finishes 2019 New York Marathon
Fordham proud to participate in the 2019 TCS New York City Marathon
On Sunday, Nov. 3, 2019, more than 50,000 people from 125 countries participated in the TCS New York City Marathon. Labeled as one of the world's greatest national sports events for both locals and tourists, the marathon is 26.2 miles long and goes through all five boroughs of New York City. 
The race is held each year on the first Sunday of November. It was reported that his year's marathon was the largest ever in world history. Most runners take between 2 to 10 hours to run from the starting point just before the Verrazano-Narrows Bridge in Staten Island to their final destination just blocks away from Fordham Lincoln Center, near 72nd Street and Central Park West, in Manhattan.
Caroline "Coco" de Marneffe, Fordham College at Lincoln Center (FCLC) '22, was one of two Fordham students to run in the marathon this year. She said she was inspired to run by her mother who completed the marathon herself a decade ago. De Marneffe was one of 59 runners aged 18-19, putting her in the youngest .001% of the participants this year.
De Marneffe said she ran partially to challenge herself, but mostly because she thought it would be a meaningful personal experience. "Honestly, I didn't even think I was going to finish until I saw that finish line," she said.
De Marneffe prepared for the marathon by training over the past 10 months. "I trained in Arizona over the summer in 90-100 degree weather. I trained in New York at the end of last semester, trained in Italy during a vacation trip over the summer," said de Marneffe. 
"What I learned about myself was that I wanted to do the 26.2 miles. To physically run and spend 7 hours in New York, not to cross the finish line," de Marneffe said. "It was purely about being in those New York spaces. And I knew I believed that on a philosophical level, it wasn't about the accomplishment, it really was about the journey."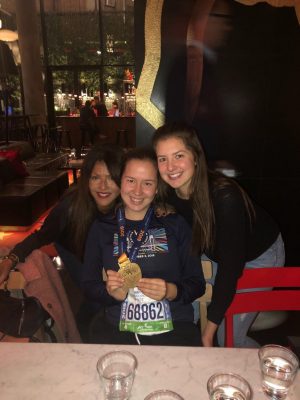 Although not a runner herself, another Fordham student, Madeline Diaz, FCLC '20, said that the environment while watching the marathon was intoxicating: "The cheering, the banners, everyone running from one point of the city to another to catch their favorite runner… it was overall a quintessentially New York experience." 
This year's marathon included over one million spectators, cheering and high-fiving runners as they ran past their families and friends. Spectators from all around the world also represented their country as they waved their flags with pride. 
Laura Auricchio, Dean of FCLC, congratulated the students who participated in the NYC Marathon.
"Running a marathon is a tremendous accomplishment! I have deep admiration for anyone who has the initiative, drive and discipline to undertake the challenge. Congratulations!" she said.
About the Contributor
DANIEL HUR, Staff Writer
Daniel Hur, FCLC '23, is a staff writer for The Observer and is currently majoring in psychology. He hopes to become a therapist one day. In his free time, he loves to watch movies, write for The Observer, listen to all kinds of music and tour the city.