Women's Rugby Fights for Fun in Bard Friendly Match
On Saturday, Sept. 28, the women's rugby club won their game against Bard College by forfeit after their opponent was unable to field enough players for a game. As the sounds of Fordham's football game against Richmond reverberated throughout Rose Hill and onto Murphy Field, women's rugby played their hardest in a game they had already won.
In a sport as rough as rugby, many people would have happily accepted Bard College's forfeit. On Family Weekend, the average individual would probably elect to spend their Saturday with parents and siblings and forego the hard-hitting sport altogether. After all, a forfeit is as good as a win in the scorebook. However, the women representing Fordham's rugby club had other ideas. They wanted to earn their win.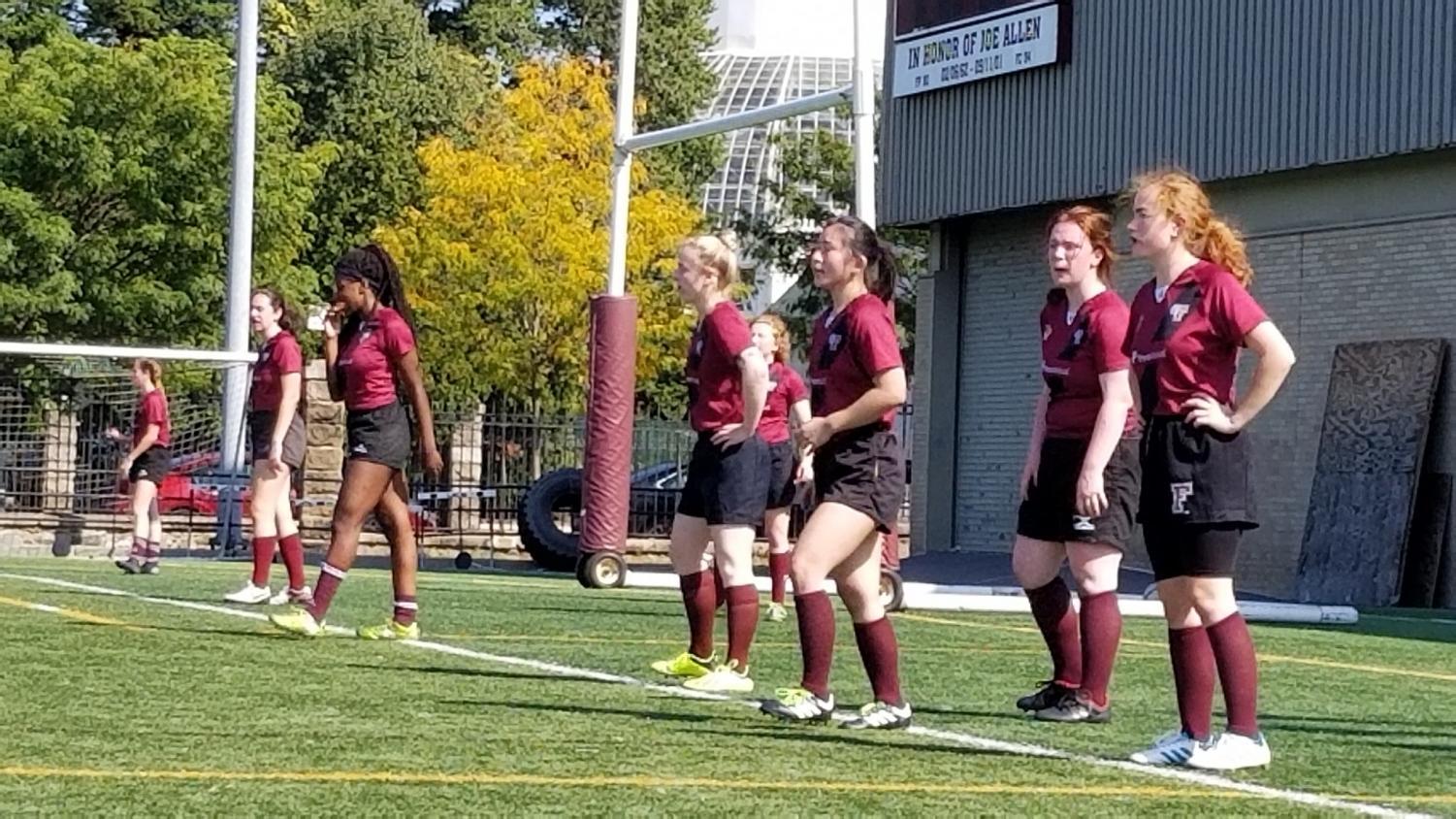 Having heard ahead of time that Bard College would not have enough players, Fordham still invited them to play in a friendly match. Family Weekend presented the Rams with an opportunity to play in front of family and alumni, and a friendly match allowed them to put their team on display. To make up for Bard's lack of players, several Fordham players switched teams, exchanging their dark red Fordham jerseys for black Bard ones.
The game was as exciting as an informal competition can be. Bard's lack of players took an obvious toll, as Fordham's two-wave attack always provided fresh players against a constantly tired opponent. Bard's players were almost never substituted, and Fordham took a significant lead and never allowed their opponent to contend. The team let up significantly late in the game but still won handily, 41-32.
Coaches occasionally paused play to instruct players, and the game sometimes felt more like a glorified practice. Raucous crowd reactions and intercom announcements from the neighboring football field clearly established a focal point for the student body's attention. However, to view the forfeited women's rugby game against Bard solely as a sporting event and compare it to Fordham's football game would miss the point of the event altogether.
Playing on a field lacking stands or bleachers, fans were forced to sit on the floor at different areas around the field. On a day celebrating Fordham families and alumni, many people filled the back of the field and cheered on their team.
Some middle-aged women wore their old Fordham women's rugby shirts and spectated a team of which they were once proud members. Many parents watched on and cheered for their daughters. The informal nature of the game allowed players to interact more freely with their families during the game, a personal aspect that would be unimaginable at a Division I football game.
The game was not competitive and the stakes were low, but Fordham women's rugby celebrated its past and present through the game itself. They played hard, running and tackling for hours non-stop.
Isabella Powers, Fordham College at Lincoln Center (FCLC) '22, stressed the importance of playing against Bard. Noting her teammates' passion for the game, she made clear that "club sports are completely comprised of students who really want to play the sport … we really value the time we have to play the game, especially with other teams who share the passion."
Powers and her teammates feel that any opportunity to play should be taken seriously, regardless of surrounding circumstances. Varsity athletic programs play to win, and a forfeit achieves that goal. In the eyes of Fordham women's rugby, club sports play out of a desire to compete.
She also focused on tradition, saying that their decision to play Bard "builds community because we are all working to bring recognition to ourselves along with trying to continue the success of the team."
With families and alumni in attendance, women's rugby players agreed to a friendly match against Bard so that they could display the progress of the team to those who helped establish it. Families and alumni could watch a new generation of women's rugby players continue a rich tradition of club sports at Fordham University.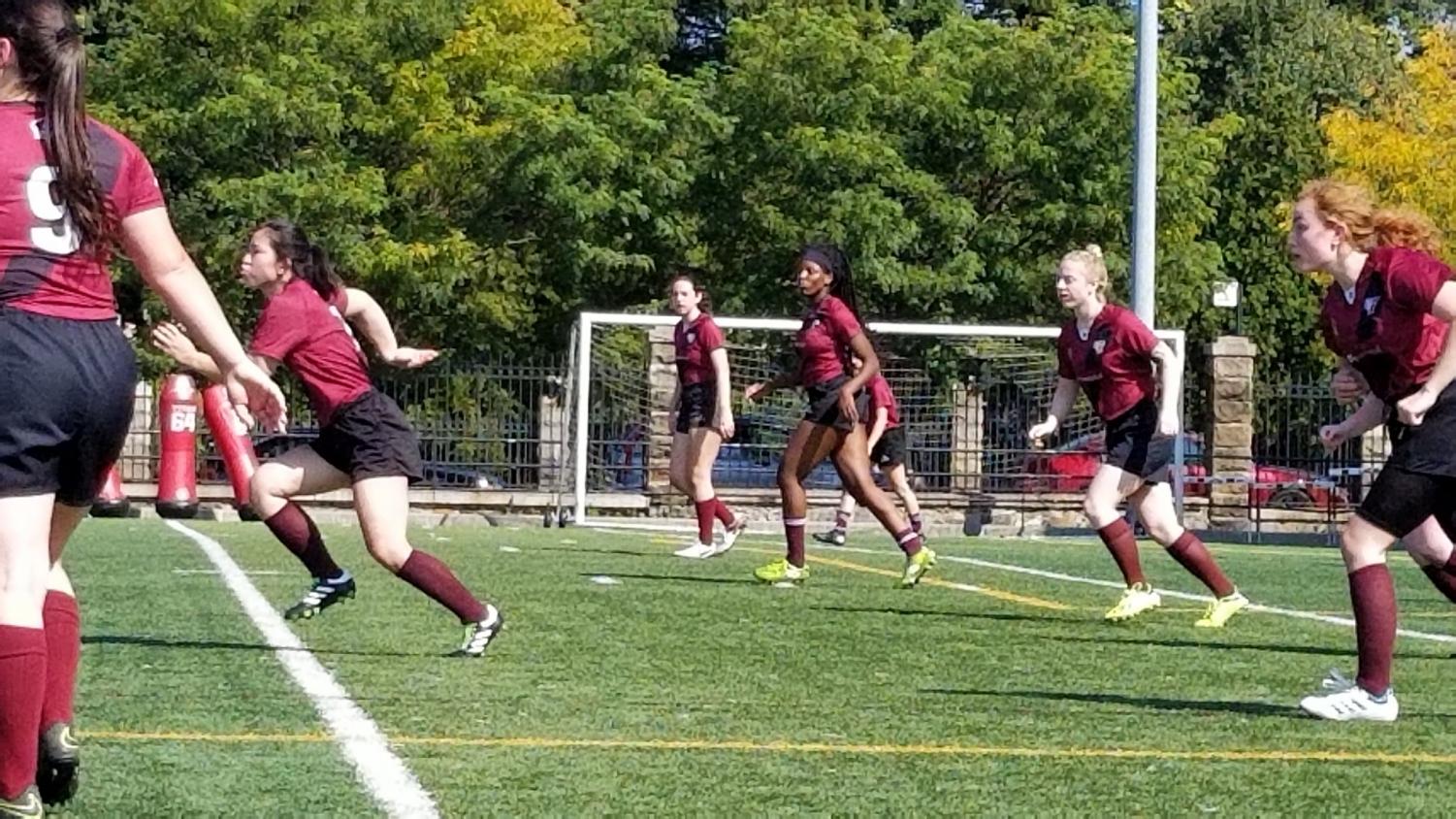 The highlight of the game occurred early on in the contest. As the Coffey Field intercom boomed, announcing the football game's score to everyone at Murphy Field, Kiara Pile, FCRH '23, recovered a ball in a skirmish and flew. Before anyone from either team could react, she was 20 yards away from any other player and did not look back, lengthening Fordham's lead. For just a moment, the intercom was drowned out by the crowd's cheers as women's rugby made their mark on Family Weekend.