It's a Guessing 'Game of Thrones'
With no basis in a book, one fan speculates what's in store for the final season
The theme song comes on. I'm up with all my friends as we stare mesmerized at the television to see where the intro takes us. We take a bird's-eye view, flying over castles and cities trying to piece together their inevitable relevance in the coming episode. Giant flames fill the screen as metallic sigils emerge and we finally get to the climax: "Game of Thrones" (GOT).
Since August 27, 2017, fans have not experienced the excitement of watching a new episode of the wildly popular HBO series. As someone who has read all the books and watched every episode, these last two years have been hard for me. I have tried to appease my appetite with fan theories and videos, but nothing can rival the feeling of authentic, new GOT. However, that's just the problem: who decides the fate of GOT?
The show is based on the book series "A Song of Ice and Fire" by George R. R. Martin. The series currently consists of five books, with two more slated to be released. The first book in the series, "A Game of Thrones," came out in 1996 and the latest release, "A Dance with Dragons," was in 2011. The GOT show first premiered in 2011, with each of the first six seasons roughly corresponding to the first five books (seasons three and four shared book three since it is the longest in the series).
The seventh season officially premiered on April 3 at Radio City Music Hall with the HBO premiere on April 14. A giant replica of the Iron Throne was erected at Rockefeller Center on that day where fans could go see it before the premiere.
In addition, the entire cast stayed at the Mandarin Oriental Hotel right down the street, where some lucky Fordham students were able to see them heading off to the premiere. One of those students was Caroline de Marneffe, Fordham College at Lincoln Center '22. She waited for an hour and half outside the hotel and eventually saw Sean Bean (Ned Stark), Gwendoline Christie (Brienne of Tarth), Iain Glen (Ser Jorah), Jack Gleeson (Joffrey), Liam Cunningham (Davos) and George R. R. Martin himself. "None of them stopped to take any pictures," said Caroline, "but George waved at us." She added that other fans kept yelling to Martin, asking when the next book would come out.
Going into season seven, GOT showrunners David Benioff and D. B. Weiss faced a new challenge: making a show based on a book that hasn't yet come out. When GOT first began, HBO was under the impression that Martin would finish the next two books before the show caught up with the source material, but that was not that case. Martin has yet to announce if he has finished the sixth installment, "Winds of Winter," but he has been dropping some hints that it may be coming out soon.
Going into the sixth season of GOT, Benioff and Weiss were given more or less full control of the story Martin started, and the split from the book and the show has only grown with each episode.
While differences have always existed between the book and the show, many of the most prevalent ideas from the book in earlier seasons have since been abandoned in order to make the show more appealing to general audiences. In the first seasons, the passing of time was an extremely important element. Characters would spend entire seasons simply trying to get from one place to another. Now, they can seemingly teleport all around the world instantaneously to be in any scene they want.
HBO has made it clear that this coming season of GOT, premiering April 14, will be the last. Weiss and Benioff will get to finish Martin's story before even he does. As a devoted fan of the books, this scares me. I hate to sound cliche, but the GOT books are better than the show. Imagine if the Harry Potter movies had beaten J. K. Rowling. How differently would that franchise be remembered?
Going into the final season, I am both excited and skeptical. I am thrilled to get new GOT, but I fear it will feel like a Walmart version of what Martin will hopefully write. Or, worse, Martin will model his ending after what Benioff and Weiss decide to do. Either way, I feel like I'm being set up for disappointment.
That said, do not reach out to me Sunday night because I will be very busy.
About the Writer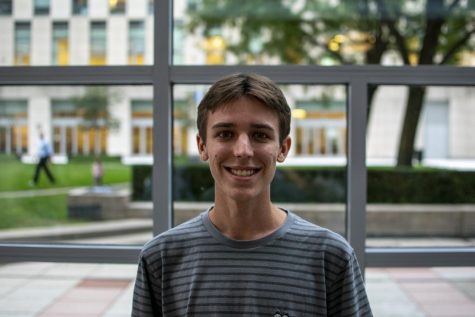 ETHAN COUGHLIN, Arts & Culture Editor
Ethan Coughlin, Fordham College at Lincoln Center '22, serves as an editor of the arts & culture section. Ethan is studying film and television as well as visual arts. Originally from Maryland, Ethan can often be found exploring the city. He enjoys going to the movies, listening to music and, most of all, cheering for Manchester United.