Beyond Grades Promotes Community Dialogue
Hang on for a minute...we're trying to find some more stories you might like.
A new program called Beyond Grades hopes to foster student-teacher discussion and dialogue. Beyond Grades, created by Interim Dean of Fordham College at Lincoln Center (FCLC) Frederick Wertz and Associate Dean of FCLC Mary Bly, seeks to encourage, as quoted in the email announcing the program, "learning for the pure love of it."
In each Beyond Grades session, no more than 10 students meet with a professor to discuss various topics. With diverse subjects to choose from, sessions range from the sci-fi novel "The Sparrow," the horror movie "Night of the Living Dead" to music from the hit musical "Hamilton."
Wertz described the program as "a way to enhance the culture of the college by increasing opportunities for student intellectual engagement, students' relationship with the faculty and relationships that would really be generative."
For Wertz, the inspiration for Beyond Grades stemmed from academic discussions that famed psychologist Sigmund Freud had with German philosopher Franz Brentano on Wednesday evenings in Vienna would discuss subjects such as psychology and philosophy.
Wertz believes it was through these discussions that both Freud and Brentano inspired each other and, in turn, aided the men in their contributions in their respective fields. "It seemed to me like relationships between inspiring faculty and students could really transform not only those students lives, but also the world," he said.
Professor Lea Puljcan hosted a Beyond Grades session on Philip K. Dick's novel "Do Androids Dream of Electric Sheep?," the inspiration for the popular "Blade Runner" movie series. The organization of the event was noticeably inconsistent, with the email detailing the time and location of the event being sent out a mere hour before it began. This likely contributed to the lower turnout, with only four students attending despite all 10 slots being taken on the sign-up document.
Students engaged in lively discussions during the session. As promised, free pizza and soda were delivered. Students also received free copies of the book, which they were allowed to keep. Much of the discussion revolved around themes, comments and critiques of various aspects of the novel.
For Wertz, Beyond Grades is just one aspect of a much broader initiative to create more opportunities for Fordham students to interact with one another. This initiative began before the school year started with the freshman class reading "The Magicians" by Lev Grossman as well as with the subsequent panel that freshmen attended during orientation.
The reading of "The Magicians" was part of what Wertz called the "Year of Magic," the theme for a series of events that have occurred so far this year.
Such events included trips to an exhibit on magicians hosted at the New York Historical Society, as well as readings of the "I Ching," an ancient Chinese divination classic.  These events will culminate with the group "Magicians Without Borders" visiting Fordham Lincoln Center. According to Dean Wertz, the event, scheduled for March 29, will include catering, music, live magical presentations and a magic workshop to teach aspiring magicians.
As for Beyond Grades, Wertz is optimistic about its success. He noted how quickly spots for Beyond Grades sessions filled up with interested students, commenting "within 24 hours, almost all of them were totally full."
Already, Wertz has received offers from other faculty members offering to host future Beyond Grades sessions for later years. "There's interest on the part of the faculty and students," he said, "and we'd like to see this program continued."
About the Writer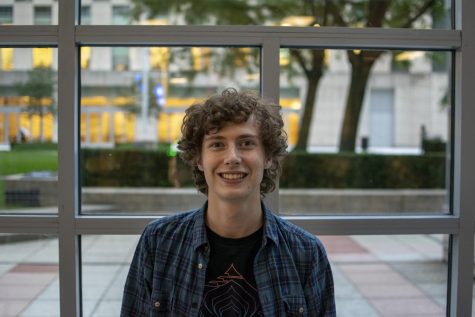 GUS DUPREE, Assistant News Editor
Gus Dupree, Fordham College Lincoln Center '22, is an Assistant News Editor at The Fordham Observer. A psychology major at Fordham, Gus prides himself in reporting the news and investigating the happenings on campus. When he's not covering a story, Gus can be found enjoying some chicken tenders at Ram Café, playing Slither.io wherever there's Wi-Fi, or taking a nap somewhere on the 6th floor in Lowenstein.