Fordham Off-Stage Spotlight: Motivated by Movement
Hang on for a minute...we're trying to find some more stories you might like.
Raised in a household filled with theater and dance, Kaylie Groff, Fordham College at Lincoln Center (FCLC) '20, has always been comfortable in creative spaces. First exposed to it by her mother, a dancer herself, Groff became involved in dance through a performance group in Vermont. Dancing gave Groff a creative outlet, but in her freshman year of high school, she wanted to venture into more realms of artistic expression. After a year of exploring her art, Groff found her niche in directing plays, saying that she "loves being able to craft a vision with a team."
Her collaborative work at Fordham began last semester with her directorial debut of the Yiddish folktale "The Dybbuk" during the fall studio show season. The show presented Groff with a new opportunity to grow in her directing, as it included more dialogue than she normally would deal with. Influenced by her dance experience, she tends to make her pieces more movement-based than verbal. "The Dybbuk's" primary element of dialogue gave Groff the chance to work on an element of directing she had not fully delved into before. Groff's love for and commitment to directing, which has flourished even more since directing "The Dybbuk," first came from seeing the musical "Les Miserables."
Groff described seeing "Les Miserables" as a formative experience. Her grandmother showed her videos of the musical's 10th Anniversary Concert. After seeing them, Groff immersed herself in the world of "Les Miserables," listening to the music, reading the book and then seeing it once at a community theater, twice on tour and once on Broadway. She said she related to the "young, rebellious energy" of the show and thought that if she could "create anything that comes close to touching this, it will have been worth it."
The show inspired her so much that she brought it into her own work. Many of her high school directing endeavors were done with a dance troupe centered on interpreting popular shows, "Les Miserables" included, but with a twist. One of the shows she modernized was "West Side Story," which she centered around rival dance crews in Los Angeles.
When looking to the future, Groff envisions herself expanding her directorial experience into other art forms but mainly focusing on directing live theatre. She noted a "passion … that just rolls off the stage" that for her is found solely in live theater.
About the Writer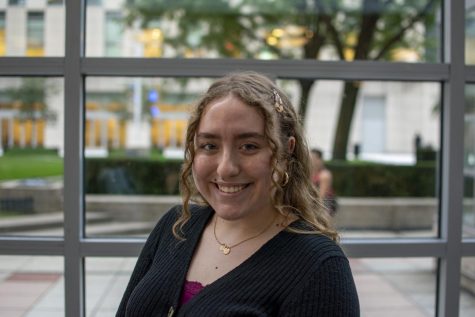 CAITLIN BURY, Assistant Multimedia Editor
Caitlin Bury, Fordham College at Lincoln Center '22, is the assistant multimedia editor for The Fordham Observer. She is a visual arts film major who can usually be found exploring the city, making films starring her friends, or watching "Parks and Recreation" or "Lady Bird". Due to her love of artistic exploration and creation, she's looking forward to molding the multimedia outlet at The Observer into something unique and engaging alongside her two counterparts.