In Recollection of 15-Year-Old's Death, McShane Defines Fordham's "Mission-Centric" Community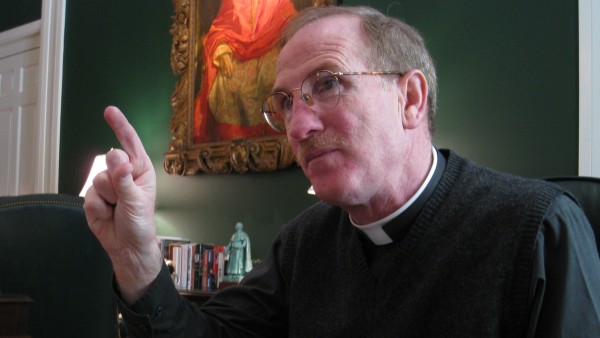 By RUBY GARA
News Editor
On Oct. 15, University President Rev. Joseph M. McShane, S.J., addressed the Fordham community in an email revisiting the June 20 death of 15-year-old Lesandro Guzmán-Feliz. Otherwise known as Junior, Guzmán was murdered in the Belmont area, in the intersection of Bathgate Avenue and East 183rd Street, eight blocks from the Rose Hill campus.
His death, McShane said, remains "a heartbreaking tragedy, for his was a life full of promise, cut cruelly short."
McShane's email classified Guzmán's death as "a case of mistaken identity" in which members of the Dominican gang Trinitario followed the teen into a bodega, dragged him out and brutally slashed him. The NYPD has since arrested 14 members as suspects in the murder.
Guzmán's murder, McShane noted, "requires a thoughtful response from the Fordham community," raising the question: "who is the Fordham community?"
McShane offered two initial answers: those who live or work on campus and those who make up the 185,000 alumni, colleagues, benefactors, as well as the board of trustees.
Yet while these responses "are certainly pretty accurate," McShane wrote on, "they don't capture that fullness of the University's historic and mission-centric sense of community." Neither Fordham campus has ever "lived in isolation from the community," he said of Rose Hill and Lincoln Centers surrounding neighborhoods.
The Rose Hill campus is located in the Fordham-Belmont neighborhood, home to an estimated 75,000 residents. Part of Fordham's mission, McShane stated, is "strengthening and deepening" a relationship between the university and its neighborhood. This outreach, he said, exercised through community service, teaching and research by the Fordham community, aims to achieve "the co-creation of knowledge and authentic human connection."
"Since we are bound to our neighbors with such strong ties of affection, when one of our neighbors suffer, we rightly suffer, as well," McShane acknowledged.
He proposed action in addition to reflection, calling the Fordham community to "do more to address the challenges that our extended community faces and to do so precisely as a Jesuit university." In doing so, McShane aims to "expand and deepen" involvement with the Fordham-Belmont community on campus starting with next year's Bronx Book Festival, hosted at Rose Hill in June next year.
McShane said the Center for Community Engaged Learning (CCEL) is another "focal point of these efforts." Established in August 2018, CCEL oversees Global Outreach and the Dorothy Day Center for Service and Justice. The initiative allows Fordham students to engage with the democratic and social justice traditions of Jesuit education. According to McShane, CCEL "will offer many more opportunities for members of the campus community and our off-campus neighbors to do mission-driven work together."
The Office of the Chief Diversity Officer recently took another step towards fulfilling the mission McShane set out in his email will. It is sponsoring the Fordham-Bronx Community Relations Panel and Town Hall on Nov. 14. The event aims to open discussion on the relationship between Fordham University and the Bronx, which it describes as currently "uneasy at best" and "categorized by racial, economic and social ignorance and insensitivity." According to the event page, the panel will be comprised of university faculty and students as well as "Two Bronx activists TBD," who will detail their experiences "navigating the two frequently disparate worlds of Fordham and the Bronx."
Regardless of the important work to be done by the Fordham community, however, McShane proclaimed the community's "shock and sadness" over Guzmán's death in his closing.
Though one institution cannot address all the "societal ills" that led to Guzmán's death, McShane concluded, he does believe the tragedy can function as a catalyst for critical reflection on living out Fordham's mission among its neighbors.
"I do have faith that we can do more," McShane said, "and I promise you that we shall."
About the Writer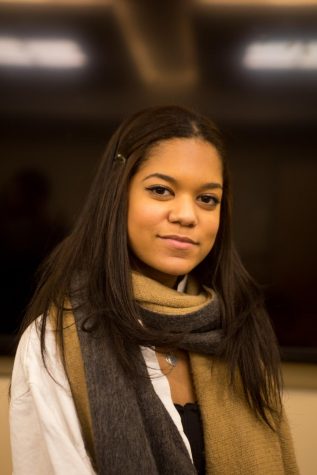 RUBY GARA, News Editor Emerita
Ruby Gara, Fordham College at Lincoln Center '21, is a journalism major and became a staff writer for The Observer during her freshman year. She then became the assistant news editor her second semester at Fordham and has been the news editor since August 2018. Budapest-born, Ruby is half Cuban and half Hungarian and speaks five languages (English, Spanish, French, Hungarian and German). Her hobbies include seeing plays in addition to exploring the hidden gems of New York City.