Petition Targets Student Drag Show
Hang on for a minute...we're trying to find some more stories you might like.
On Wednesday, Oct. 10, the American Society for the Defense of Tradition, Family and Property (TFP), launched a petition condemning a drag show event co-hosted by Rainbow Alliance and Fashion for Philanthropy clubs at Fordham Lincoln Center (FLC). The TFP Student Action, the organization's university outreach, is a group that opposes "the liberal, socialist and communist trends of the times," according to their webpage. At the time of this article's publication, the petition has over 13,000 signatures, breaking its initial goal of 10,000.
TFP Student Action has launched several petitions against Fordham University in the past. In November 2017, a petition about stopping "pro-abortion internships" hosted by the university and in partnership with Planned Parenthood garnered 21,042 signatures. Another petition earlier that year in May aimed to stop a "pro-euthanasia lecture" held at the Graduate School of Social Service, receiving 11,675 signatures.
The drag show, hosted at FLC, was staged partly with the goal of raising funds for the LGBTQ Community Center in New York City.
On Thursday, Oct. 11, Jack Bugbee, Fordham College at Lincoln Center (FCLC) '19 and president of Rainbow Alliance, posted a livestream video on Facebook where he addressed the issue, calling the petition "crazy and ridiculous."
Having found out about the petition earlier in the day, Bugbee called the number listed on the petition's webpage which directed him to the Office of the President. They informed him that they had received no calls regarding the issue, but referred him to Public Safety, who assured him that the posted security personnel are trained to deal with any potential disturbances or harassers.
Bugbee also received a response from Dr. Dorothy Wenzel, the senior director of the Office of Student Involvement, who expressed her support for the Rainbow Alliance. She offered him advice on dealing with any media attention the petition might attract as well as affirmed her desire for the club to remain in constant contact with her regarding the issue.
The Observer spoke with both Bugbee and Nicole Shapiro, FCLC '19 and president of Fashion for Philanthropy, about the petition.
"The fact that this is happening [is] not a good thing and I don't condone it. I don't respect it. I don't agree with the thing happening," Shapiro said. "It's frustrating to see this sort of backwards logic just to try [to twist] their religion for their own personal beliefs."
Bugbee added: "Being gay and being Catholic are not mutually exclusive things. Being LGBTQ and being Catholic are not mutually exclusive things … It is a Jesuit value to respect everyone in the community."
Both Bugbee and Shapiro expressed their hope that McShane and Fordham's administration would take measures against the issue. "I hope that it makes the administration realize the real, everyday problems that actually happen to LGBTQ students," Bugbee said.
Robert Howe, vice president of communications and special adviser to the president, told The Observer that the university had no plans to respond to the petition. "Part of Cura Personalis is honoring the individuality of all of our students, regardless of their race, religion, sexual orientation, or gender identity," he noted. "As a global university in the heart of New York City, Fordham is committed to diversity and inclusion. Integral to that commitment is giving the students space for self expression. The Drag Fashion Show sponsored by the student group Rainbow Alliance and Fashion for Philanthropy, in conjunction with LGBTQ History Month, is a channel for that self expression. It is but one event among hundreds in the school year."
The Rainbow Alliance & Fashion for Philanthropy Drag Show will be held in Pope Auditorium on Friday, Oct. 19 at 7 p.m. Bugbee noted during his livestream that the best way to stand up to the petition was to go the show. "Show these people they are not in the majority," he said. "Show that this is our university, our voice and our show."
This article was updated on Oct. 16 to reflect new information.
About the Writer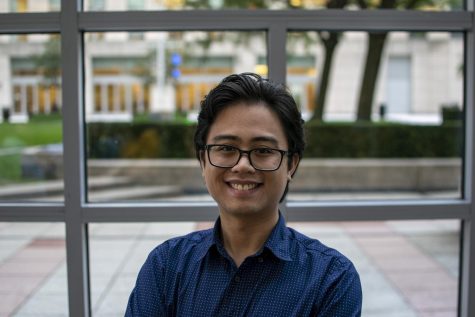 KEVIN CHRISTOPHER ROBLES, Retrospect Host
Kevin Christopher Robles, Fordham College at Lincoln Center '20, is the Retrospect Host for The Observer. Though his main role is hosting Retrospect, the official podcast of The Observer, he has in the past been an Asst. Arts & Culture Editor. He has also written for Opinions, Features and News - though still always searching for that Sports & Health to write article so that he can claim he's written for every section. Kevin's other interests include theology, film-making and spending too much time writing his staff profile.