SAGES Hosts First "Fordham Disorientation"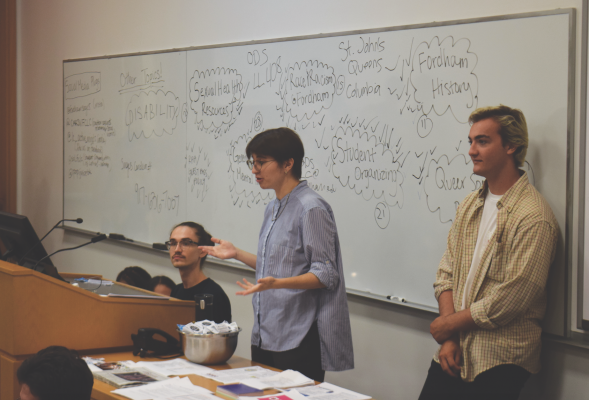 On Sept. 7, members of the Students for Sex and Gender Equity and Safety (SAGES) Coalition hosted an unprecedented "Fordham Disorientation" in a law school lecture room at Fordham College at Lincoln Center (FCLC). In addition to discussing access to contraception on campus, SAGES tackled topics from sexual and mental health to race and racism at Fordham.
On their Facebook event page, the event was described as "a student-run guide to everything admin didn't teach you at Freshman Orientation." SAGES has been running as an unofficial student-run group advocating for enhanced sex education on campus since 2014.
The core members of SAGES explained to the attendees that the event was a "safe space," where students could freely share their experiences. Trigger warnings were given prior to sensitive conversations. The event, promoted as "for the students by the students," took the shape of an open discussion after brief introductions by the group's members.
Each member leading the event shared their knowledge on specific topics. Alisia Ortiz, FCLC 20, spearheaded the conversation about mental health. Ortiz called the lack of resources available on campus as "frustrating" and provided the students with information on cheaper off-campus mental health resources.
The turnout of the event was higher than anticipated; according to leading member Eliza Putnam, FCLC'18, over 130 students attended, mostly from the class of 2022. "We estimated that 25 of us were not freshmen," she reported to the Observer, "meaning that 1 in 7 members of the freshman class, including the Gabelli business students, attended last night."
Core member Maggie Ball, FCLC '19, said that SAGES saw some Columbia students' initiative of providing online resources with the students on campus, and were inspired to host their own version of the event. Ball joined SAGES their sophomore year and said that they have been trying to contribute to the group by taking on "a more active role" during their last year at Fordham.
SAGES considered following in Columbia's steps, "but the idea of having it as an event came together very quickly, because we wanted to educate students about what's going on at Fordham," Maggie stated. "It was also about seeing student organizers on campus and feeling that you can find a place where you won't feel patronized."
As part of their drive to improve campus-wide access to contraception, the members of SAGES shared with all attendees a phone number they could text, at any time, for free condoms. The SAGES Coalition wants to start the conversation about birth control on campus. As reiterated on their Facebook page, their cause is urgent because their daily lives are affected by the university's policies.
Ball also stated that, after the event, many students approached SAGES and expressed interest in joining the group and hoped for a second event. More still thanked them for hosting the "Disorientation."
"I think it's generally a trend in younger people," Ball said, referring to the increasing number of involved students on campus. "With each passing year, students at Fordham and in general seem to be more educated about the issues in the world, and are more interested in bettering them."
A SAGES representative, who spoke on the condition of anonymity for fear that it would endanger their scholarship, spoke about the turnout of the event. "It was very heartening," the student said, "to see so many interested people actively listening to us and engaging with us."
When asked about potentially hosting "Disorientations" in future years, The anonymous source replied that "as long as the resources and topics we discuss aren't available at the actual Orientation, there should continue to be a Disorientation."
About the Writer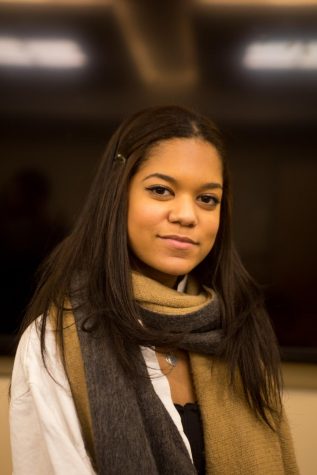 RUBY GARA, News Editor Emerita
Ruby Gara, Fordham College at Lincoln Center '21, is a journalism major and became a staff writer for The Observer during her freshman year. She then became the assistant news editor her second semester at Fordham and has been the news editor since August 2018. Budapest-born, Ruby is half Cuban and half Hungarian and speaks five languages (English, Spanish, French, Hungarian and German). Her hobbies include seeing plays in addition to exploring the hidden gems of New York City.