WFUV Lands 13th Spot as 'Best College Radio'
The WFUV public radio, licensed by Fordham University, appeared among Princeton Review's annual ranking of the 20 best college radio stations. In a list of 20 universities, Fordham University's Voice was ranked 13th.
Posted on Aug. 8, Princeton Review based its list on student rankings they garnered from their conducted surveys. Along with the list of best radio stations, Princeton Review, a company that specializes in college admissions and personalized online tutoring, made 62 other rankings in "The 384 Best Colleges" book, set to publish in Aug. 2019.
The WFUV is "New York's discovery music station and the public media service of Fordham" and has been running since 1947, with their studios located in the basement of Keating Hall in Fordham University at Rose Hill (FCRH). As a member of the National Public Radio (NPR), the WFUV is a non-commercial and listener-supported radio that has an estimated 350,000 listeners, leading them to receive national recognition.
Fordham alum George Bodarky, appointed News Director of the WFUV in 2008, has since helped students in broadcasting as he has extensively worked in newscast broadcasting. In regards to the ranking, Bodarky stated that "It's always humbling to receive such a designation. WFUV works very hard to maintain and grow a learning environment that sets students up for success."
By creating a space designated for building knowledge and a set of skills, "students are able to receive what [the WFUV] like[s] to believe is unmatched on the job training that allows them to graduate the University with skills that set them apart from the rest in the field."
Mary Munshower, FCRH '18, worked at WFUV during her four years of college in Video Engineering. She stated that the recruitment process for that department consisted of looking for "any previous photography or videography or editing experience, and a passion for music."
Her duties involved editing the photos and videos taken during recording sessions, and posting them online. "We also travel offsite to concerts throughout the city to record those," she stated. At the time of Munshower's graduation in 2018, the department of Video Engineering had about 10 students, and the WFUV was made up of about 70 students.
As the fall semester approaches, George Bodarky stated that "as always, WFUV will be looking to build upon its success in the upcoming year. We will be looking to advance training and opportunities in the digital space, including social media and podcasting." The WFUV will also focus on collaborating with Norwood News, as well as BronxNet TV, to grow their audience "and provide additional learning opportunities for our student staff."
The WFUV states that it "trains the university's next generation of multimedia professionals through educational programs and practical experience; and contributes to New York City, its hometown, through community engagement and public service."
About the Writer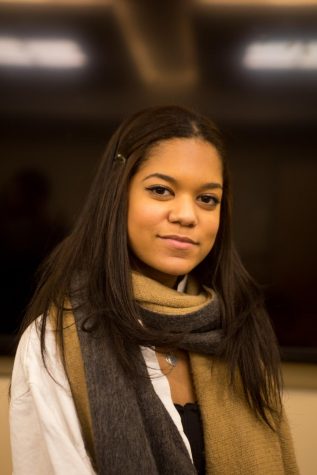 RUBY GARA, News Editor Emerita
Ruby Gara, Fordham College at Lincoln Center '21, is a journalism major and became a staff writer for The Observer during her freshman year. She then became the assistant news editor her second semester at Fordham and has been the news editor since August 2018. Budapest-born, Ruby is half Cuban and half Hungarian and speaks five languages (English, Spanish, French, Hungarian and German). Her hobbies include seeing plays in addition to exploring the hidden gems of New York City.