Ram Jams — June 2018
KIDS SEE GHOSTS: "KIDS SEE GHOSTS"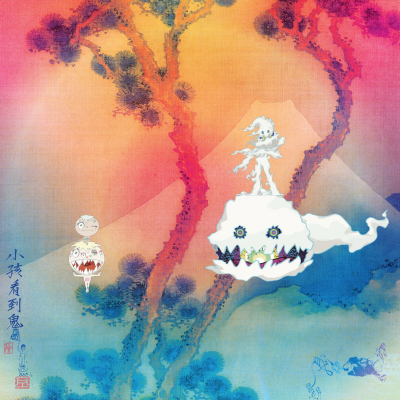 (via G.O.O.D Music, Def Jam Recordings, Universal Music Group)
Genre: Rap, alternative hip-hop, psychedelic
On a playlist with: Kanye West and Kid Cudi
The deets: I surmised in early June that Kanye West, whose albums are normally elaborate, had rushed "ye" to the public. If he did this to focus on his collaboration with Kid Cudi on "KIDS SEE GHOSTS," boy, was it worth it. If "ye" is a mere collection of largely unrelated songs, "KIDS SEE GHOSTS" is a cohesive album, a journey whose vessel is music.
The introductory track, "Feel the Love," is powerful in a way that tells the listener to sit down and shut up, because it's about to go down. As Kid Cudi's line "I can still feel the love" echoes in my ears, I can almost see the beautiful orange and pink album art start to jump off the screen and dance. When Kanye comes in later with his gunshot onomatopoeia verse, I feel like I'm being sonically attacked by the rapper. "Freeee (Ghost Town, Pt. 2)" has a similar effect: as the reverb on Kanye's voice shouts "I feel free!" over and over, it creates a psychological effect I can only compare to a plant-induced high. "Reborn" is not only incredibly catchy, it is also the most passionate and moving song on the album. Kanye speaks to the stigma surrounding his bipolar disorder diagnosis: "I was off the meds, I was called insane/What an awesome thing, engulfed in shame/I want all the rain, I want all the pain." In the next verse, Cudi sings about his past issues with drug abuse in an especially powerful way on the line, "Easy then to feel worthless/But peace is something that starts with me."
The album's samples are esoteric in the best way: "4th Dimension" samples a Christmas song by Louis Prima from 1936, and "Cudi Montage" borrows a Kurt Cobain guitar riff that he played on his posthumous documentary "Montage of Heck."
My main concern with this album is much like my problem with "ye": it is too short. Seven songs is simply not enough time for me to feel like the album is complete, especially when at least one of them is slightly underwhelming — in this case, "Fire" is a bit of a boring piece with a beat that's average at best. More quality material could have led to a timeless classic — 24 minutes of music is going to have to fight to qualify for that kind of praise. Still, though, its length (or lack thereof) does not make it a bad album; it is still an outstanding work of art.
The bottom line: "KIDS SEE GHOSTS" is a truly ingenious collaboration by Kanye West and Kid Cudi, an unlikely supergroup. Here's to hoping for another album or two from the duo.
The peaks: "Reborn," "Feel the Love," "Kids See Ghosts"
The valleys: "Fire"
The final verdict: 9/10
Panic! at the Disco: "Pray for the Wicked"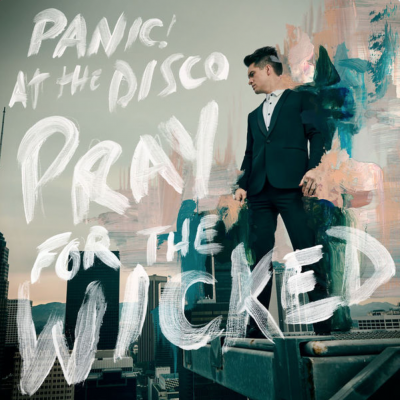 (via Fueled By Ramen, DCD2 Records, Warner Music Group)
Genre: Alternative pop, big band jazz
On a playlist with: 30 Seconds to Mars, Frank Sinatra and The Mighty Mighty Bosstones, somehow
The deets: Panic! at the Disco — also known as Panic, P!ATD, Brendon Urie, et al. — continue on their trajectory away from rock and toward jazz-infused pop with their latest offering, "Pray for the Wicked." If you liked Panic's earlier albums like "A Fever You Can't Sweat Out" and "Pretty. Odd.," which feature more guitar and drums and are definitely more "rock"…there's no telling whether or not you'll like "Pray for the Wicked." While it's not worlds apart from 2016's "Death of a Bachelor" in terms of its fusion of jazz with the sometimes ineffable P!ATD style, it is certainly new and interesting.
Songs like "Roaring 20s" and "One of the Drunks" are decidedly not rock; in fact, they remind me more of Frank Sinatra and Justin Timberlake, respectively, than Panic. The inclusion of older styles like jazz in modern popular music is rare, but one-man band Brendon Urie pulled it off. He even managed to get the record on quite a few major charts, including internationally.
The lurking problem with the record, though, is its lack of emotional connection. There is no appeal to pathos whatsoever on this album. The closest Urie gets to being emotional is on "Dying in LA," a piano-and-vocals-only track about making it as a musician in world-famous Los Angeles — a niche topic, to say the least. However, the album makes up for its absence of poignancy with unique and interesting lyrics. "Roaring 20s," a song about Urie's time starring in "Kinky Boots," has my favorite lines, which include "My tell-tale heart's a hammer in my chest/Cut me a silk-tied tourniquet" and "Broadway is like a black sinkhole […] This is the oddest of summers." Fortunately, the mixture of innovative music and complex lyrics on "Pray for the Wicked" outweigh its emotional weakness.
The bottom line: While it is hard for most listeners to empathize with what Brendon Urie is saying on "Pray for the Wicked," it should be quite easy for them to enjoy the record and jam out to it for hours on end. After all, dancing's not a crime.
The peaks: "Hey Look Ma, I Made It," "King of the Clouds," "Say Amen (Saturday Night)"
The valleys: "Old Fashioned," "One of the Drunks"
The final verdict: 7/10
State Champs: "Living Proof"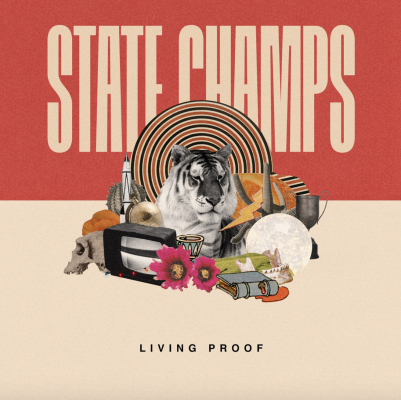 (via Pure Noise Records, The Orchard, Sony Music Entertainment)
Genre: Pop-punk, power pop
On a playlist with: All Time Low, Neck Deep and blink-182
The deets: State Champs, a modern pop-punk powerhouse, hail from right here in New York. The band even held a music video premiere and album release party in SoHo the week before the album's release. I am quite proud of the fact that State Champs are from my city, because this band is extremely fun and talented, and "Living Proof" is on par with the excellence of the band's previous releases.
Tracks like "Criminal" and "Lightning" are exciting and show off the band's power through fast beats and anthemic choruses, not to mention the raw talent of lead vocalist Derek DiScanio. Songs "Dead and Gone" and "Crystal Ball" are strong evidence of drummer Evan Ambrosio's wide skill set behind the kit.
But while the music surely is fun, the album's main issue is that it is static; it is not a deviation or innovation from what the band has done before. Aside from a few tempo changes in "Mine is Gold" (the best song on the record), State Champs do not do anything new and exciting on "Living Proof." They still stick to simple chord progressions, no guitar solos and the same production style as their previous two full-length efforts. Additionally, the ballads on the album,"Our Time to Go" and "Time Machine," feel disingenuous, much like older slow songs such as 2016's "Around the World and Back." The lyrics, which address the insecurity and pain that come with pretending you're "fine," appear to pander to the band's largely young and female audience.
Still, though, this album delivers on the State Champs brand promise of catchy pop-punk tunes you'll be shouting at Warped Tour all summer long.
The bottom line: Despite a lack of progression in sound and style, State Champs deliver an album full of powerful pop-punk anthems and earworms — some of their catchiest yet.
The peaks: "Mine is Gold," "Criminal," "Crystal Ball"
The valleys: "Time Machine (feat. Mark Hoppus of blink-182)"
The final verdict: 7/10