Students of SJP Await Court Decision
Over a year ago, the members of Students for Justice in Palestine (SJP) were denied permission to start their club, whose main objective was to essentially promote and advocate for equal human rights for Palestinians, as well as encourage solidarity on campus. After approximately 11 months of striving to be granted official club status by Fordham College at Lincoln Center (FCLC), SJP was approved, unanimously, by the United Student Government (USG) in a closed vote, following several lengthy deliberations. However, on Dec. 22, 2016, Dean of Students Keith Eldredge overruled the student government's approval as he claimed it would ultimately be "polarizing" on campus.
On April 26, Ahmad Awad, FCLC '17, Sofia Dadap, FCLC '18, Sapphira Lurie, FCLC '17, and Julie Norris, FCLC '19, with the help of Palestine Legal, filed suit in the Manhattan Civil Courthouse for SJP to officially be recognized as a club on campus, as well as have club privileges, since they are not allowed to reserve spaces to host events, nor are they able to have meetings.
In response to Fordham's motion to dismiss the case, the four petitioners filed a second motion for a preliminary injunction, in order to hasten the pace of the legal battle due to the limited timeframe it introduces, and be granted a temporary club status. Most of the members and student leaders of SJP will soon be graduating, or have already done so, namely Awad and Lurie, and will therefore not have the opportunity to fully experience SJP, nor be able to truly participate in it.
Only three of the four petitioners, Awad, Dadap and Norris, were present at the hearing. "I was hopeful in the courtroom," stated Awad, the lead petitioner and intended president of the club. "We had an unbelievable amount of supporters turn out to attend. The courtroom was so filled that the court officer had to tell some people to stand outside the courtroom because there was no space." Ranging from 70 to 80 people, SJP was undeniably exposed to visual evidence of the support it had acquired during this process.
The support ranged from dozens of members of Jewish Voice for Peace, the fastest growing Jewish organization in the United States, to current Fordham students and alumni in the courtroom. Members of the USG, along with reporters and Fordham professors, all attended the hearing to show support for this case and for Palestine.
Dean Eldredge's decision to veto SJP as a club marked an unprecedented event, as it was the first time an administrative official has overruled a club approval by USG. Eldredge supported his decision by claiming that SJP, a group that seeks to promote justice for the Palestinians, would lead to violence and disruption. "It was difficult for us," Sofia Dadap, FCLC '18, stated, "because we are students that care about oppression, discrimination and racism, and for us to hear that we were violent, it had no basis in reality."
In fact, Dadap revealed that the members of SJP were the ones subject to violence, mainly racialized violence, as most members are POC and/or of Arab origins. "People were targeting us for harassment", said Dadap, but even "a lot of members of SJP in schools around New York, and around the country, have been harassed as violence was incited against them". The members of SJP also feared that other students interested in showing support for them would become discouraged due to the fear of being identified and getting "blacklisted".
The time required for the judge to make a decision in regards to this case is indefinite for the moment, although it will presumably take a few weeks or months, as the judge now needs to review documents from both sides. The documents show the timeline of events, as well as different protocols that SJP members have been given that are contradictory in their nature, as there are disputed facts in the case.
As for future demonstrations, SJP members don't have any planned actions yet as the course of events now mainly depends on the decision of the judge. Dadap revealed that if they do eventually decide to plan a protest, it would be in response to a specific event that would spark said protest. For instance, last year the members of SJP had a demonstration in response to the travel ban, along with other student groups that were against the anti-Muslim ban, as it is an issue they deeply care about, albeit not directly correlated with the mission of SJP.
"We continue to spread awareness for our case and our situation to spread the truth behind Fordham's horrendous decision," Awad wrote. For instance, other schools, such as Sarah Lawrence College, have invited certain SJP members to collaborate with them and allow them to spread awareness about the necessity for justice for Palestinians. Dadap hopes to eventually have a study group about Palestine, which could serve as an outlet that would be easily accessible to students that are interested in learning about the different aspects of Palestinian struggles, while also tying into other topics such as environmental justice. She hopes that "in the future, other Fordham students can carry on the legacy and keep doing whatever they need to get this education about Palestine, and solidarity on campus, to make it visible and accessible to everyone."
About the Writer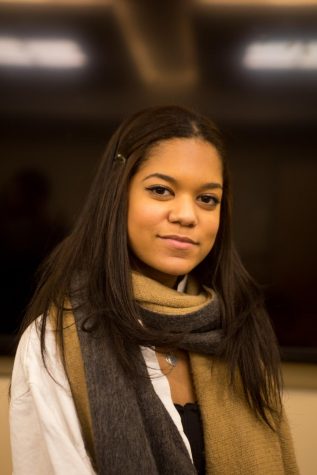 RUBY GARA, News Editor Emerita
Ruby Gara, Fordham College at Lincoln Center '21, is a journalism major and became a staff writer for The Observer during her freshman year. She then became the assistant news editor her second semester at Fordham and has been the news editor since August 2018. Budapest-born, Ruby is half Cuban and half Hungarian and speaks five languages (English, Spanish, French, Hungarian and German). Her hobbies include seeing plays in addition to exploring the hidden gems of New York City.