Is it Time for An Indigenous Peoples' Day?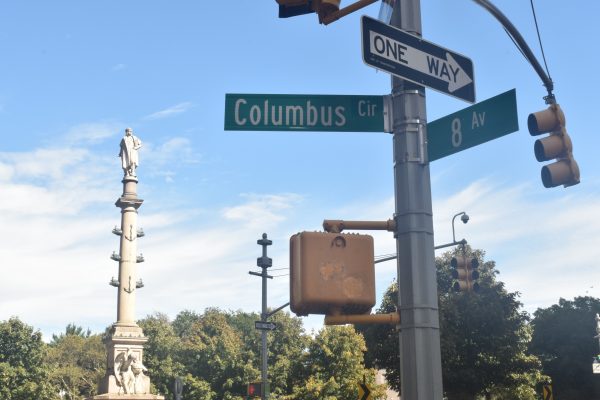 By KATHERINE SMITH
Asst. News Editor
In many schools across New York City, classes are canceled on the second Monday of October to celebrate Columbus Day, a holiday that commemorates the achievements of Christopher Columbus, as well as the accomplishments of Italian-Americans. Due to increased pressure from a growing community of voices, however, the question of whether Columbus Day should be replaced at Fordham has only become more relevant with each passing year.
Indigenous Peoples' Day, or Re-Thinking Columbus Day, focuses on celebrating the history and culture of Native Americans. It was created as a way to protest a holiday that represents the violence and oppression indigenous Americans faced in the years that followed Columbus's arrival in 1492.
While some colleges like Harvard and Brown University have made the decision to celebrate Indigenous Peoples Day, Fordham remains one of the many schools that continues to observe Columbus Day. The change at other universities came largely through the efforts of Native student organizations, who spoke out against the commemoration of Christopher Columbus for several years on campus before the university administrations made a decision.
At Fordham, the circumstances are different. The university website indicates that students who identify as American Indian make up less than one percent of the 2021 class. At the Lincoln Center campus, the only student organization created specifically for Native Americans is the Native American Law Students Association, which launched at Fordham University's School of Law in 2016 as a way to support Native law students as well as educate those interested in learning more about Native American law.
Samantha Basilone, Fordham College Lincoln Center (FCLC) '20, believes that a lack of awareness is one of the main reasons the holiday continues to be commemorated.
"I don't think the majority of Fordham students are knowledgeable about native issues, or if they are knowledgeable, they're not vocal about them," Basilone said.
Megan Leary, FCLC '19, concurred, saying, "I feel like I did learn a little bit in my Understanding Historical Change course that I took last semester, but I feel like I don't know as much as I should, being someone who lives in America."
The university participated in the city's annual Columbus Day parade in 2012. The event, meant to celebrate the accomplishments of Columbus as an Italian explorer as well as the achievements of Italian immigrants, was something that University President Rev. Joseph M. McShane, S.J., said he was "honored" and "proud" to be a part of.
"Fordham has been blessed over the decades and even over the century by the presence of great Italian-American students in the student body," McShane said in the university video covering the event. "They have contributed to us beyond measure and this is the way we celebrate what they've done."
For some New Yorkers, Columbus Day is seen as an opportunity to celebrate the success of Italian immigrants from the years following Columbus's voyage, an aspect that has led to tense disagreements between both citizens and city officials. After Mayor Bill de Blasio announced that he was considering the removal of the Christopher Columbus statue in Columbus Circle, Councilman Joe Borelli called his actions "divisive" to the city, according to the New York Daily News.
Basilone, an Italian-American from New York State, doesn't associate Columbus Day with the Italian-American community, saying, "I haven't noticed that it's relevant to my family in any way."
While there is still opposition to the possibility of renaming Columbus Day, areas around the country have already made the decision to change the name and the meaning of the holiday. The city council of Austin, Texas, voted to celebrate Indigenous Peoples Day, and Los Angeles County voted to replace Columbus Day as well as designate Oct. 12 as Italian-American Heritage Day, according to the LA Times.
"I'm one hundred percent in support of replacing Columbus Day with Indigenous Peoples Day," Basilone said. "Why not change it to something that's meaningful?"