Fill Your Fall With These Five Activities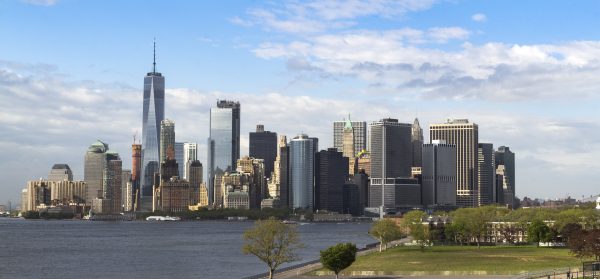 BY CARSON THORNTON GONZALEZ
Features Editor
1. Governor's Island
This quick getaway from the city is located only 800 yards from Lower Manhattan. Home to some of the best views of the city, Governor's Island hosts different events throughout the year and has permanent art installations and original military barracks to explore. For a lazy day, you can take a book and read in one of the island's 50 red hammocks, gazing upon the beautiful skyline we all know and love. Or, if you have slightly more energy after a week full of studying for midterms, grab a bite to eat from one of the many food trucks, rent a bike and enjoy the beautiful fall weather.
Open until Oct. 31
Free
2. Bronx Botanical Gardens
The most important thing to do during these beautiful fall months is to find activities that get you outside. The Bronx Botanical Gardens is beautiful any time of the year, even during the winter, but there's no time quite like the fall. Even the trip up to the Bronx is a spectacle of changing leaves in preparation for winter. Plus, the Dale Chihuly exhibit is up until Oct. 29; the world-renowned glass sculptor has a permanent exhibit in Chicago but we're lucky enough to get him for one more month!
Open year-round
Free for Fordham students
3. New York Film Festival
Tragically, most Fordham Lincoln Center (FLC) students do not take advantage of what we have within a couple blocks of campus (remember, Fordham is our school and New York is our campus). Now is your time! Every year, one of the largest film festivals in the country happens in our own backyard. Organized by the Film Society at Lincoln Center, these three weeks present new and upcoming filmmakers as well as special events focusing on the power and pervasiveness of film.
Sept. 28-Oct. 15
Prices vary
4. NYCFC Game
Sports! Many FLC students came to this campus knowing their main focus would not be the wonderful world of sports. There is, however, no feeling quite like going to a New York City Football Club game at Yankee Stadium. The summer days are blisteringly hot in the huge stadium, but these fall months are perfect for some chicken nuggets and a little healthy competition. The feeling of camaraderie is something that can't be beat.

Sept.-Oct.
Prices vary
5. Halloween Dog Parade
Without a doubt the cutest day of the year. Located in Tompkins Square Park, New Yorkers and their dogs go all out for this parade, not only perfecting the dog's outfit but often finding a way to incorporate the owner's costume into the ensemble. It's an event you won't want to miss!
Oct. 21
Free
Featured image courtesy of Jason Stewart via Flickr.