NBC To Air Three Ram Basketball Games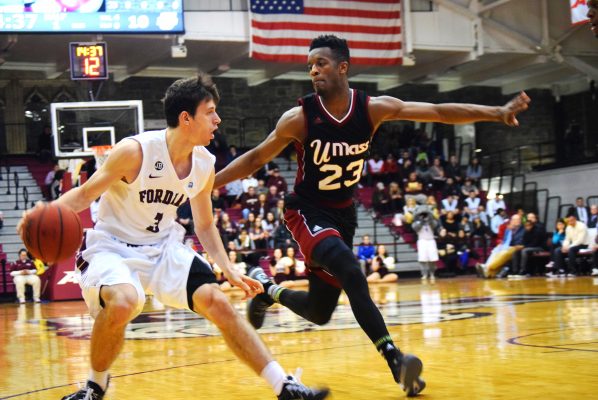 Alexander DiMisa
Sports and Health Editor
Fordham men's basketball, one of the most popular teams on campus, just received their schedule for the upcoming 2017–18 season. The schedule first became available to the public on Sept. 6, and was received with much excitement and hope for the upcoming season. Seventeen out of the 30 games that the Rams will play will be at home in the newly-renovated Rose Hill Gym, hopefully providing them with a home court advantage.
If you can't catch any of the games up at Rose Hill, they will be making four appearance on national television during conference play. Fordham plays in the Atlantic-10 (A10) conference, which provides them with the opportunity to play during these national broadcasts. Three of the four games will be featured on NBC Sports Network, and the other will be shown on CBS Sports Network.
Fordham will be hoping to improve on and build off of a strong showing last season that featured impressive wins over Dayton, Virginia Commonwealth University (VCU), Davidson and Rhode Island. In addition, the team was able to fight their way into the second round of the A10 championship tournament as a #10 seed, but ultimately fell in overtime to George Mason University. The Rams have come very close in recent years to qualifying for the NCAA championship bracket, otherwise known as March Madness, but have fallen short in each endeavor. Hopefully this year will be the year that the Rams rise to the top.
While hopes are high that Fordham will be able to have an impressive showing this year, especially considering the large amount of talent that this team will feature, it will not be an easy task. While Fordham will still play its normal A10 foes such as George Mason, Davidson, George Washington and VCU, they will also face some very tough non-conference opponents. These adversaries will include five teams that played in the March Madness tournament, such as Harvard and West Virginia University, both of whom performed very well in the postseason.
In the 115th varsity men's basketball season, Fordham will first face the Miami (Ohio) University RedHawks. This game will take place at home in the Rose Hill Gym on Friday Nov. 10. This game is only the second time that these teams have ever played each other. Additionally, this game will be part of the Jamaica Classic-Montego Bay, for which the Fordham Rams will play two games in Montego Bay, Jamaica.
After opening against Miami University, Fordham will face off against LIU Brooklyn three days later, once again in the Rose Hill Gym. After these two games, the Rams will then travel to Jamaica to face off against Tulane University and one yet-undetermined school: Florida State, Long Island University, Hartford or Colorado State. Once Fordham returns from Jamaica, they will have a five-game homestand where they will face opponents such as Harvard University and St. Francis College Brooklyn. The Rams will also play Manhattan College in the annual "Battle of the Bronx," which will be the 110th time that these teams play each other, with Manhattan holding the edge 57 victories to Fordham's 52.
On Dec. 12, Fordham will face its first true road battle when they travel all the way to Piscaaway, NJ to face Rutgers University. This is also the last game before the players take a quick break for finals, returning on Dec. 21 to play Florida A&M in the Bronx. The Rams will open the new year against the always fearsome Spiders from University of Richmond. Fordham then begins its long test in the A10 conference, playing the majority of rivals within our conference in January and February. Games at home during these months include: Duquesne University (Jan. 6), Davidson College (Jan. 14), University of Rhode Island (Jan. 24), University of Massachusetts (Jan. 27), George Mason University (Feb. 7), Saint Joseph's University (Feb. 14) and La Salle University (Feb. 24). Fordham will close its regular season on March 3 at home against VCU. Overall, Fordham will plays 18 of its 30 games against A10 opponents, half at home and half away, and will face Davidson College, Duquesne, La Salle, Saint Joseph's University and VCU twice during this year's campaign.
While this schedule may seem daunting, Fordham has the talent, experience, and coaching to make this one of the best seasons in recent memory, so you will want to make sure to catch a game whenever you can.