T-Lloyd Shares His Story With Bronx Students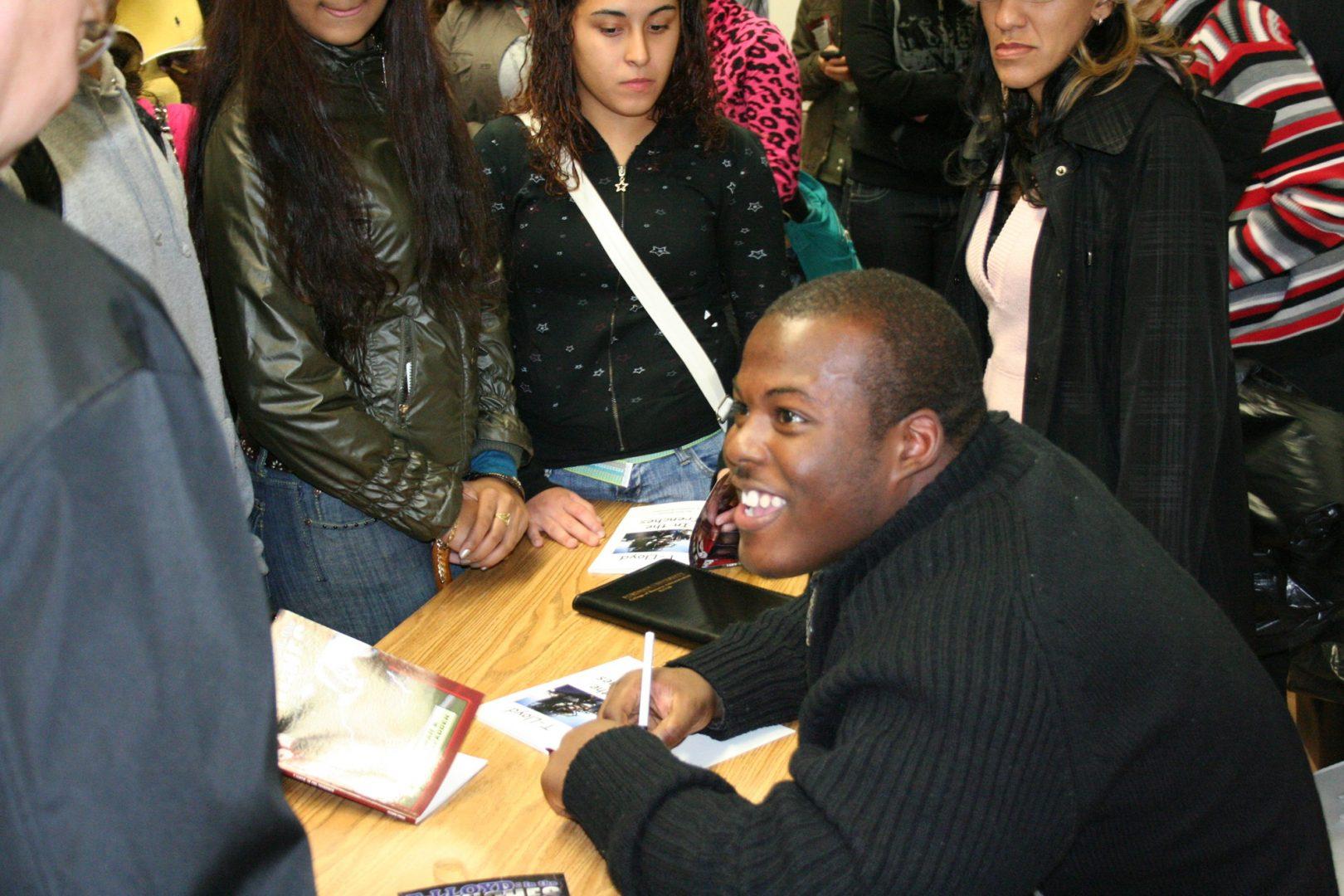 Published: November 5, 2009
Four years ago, Fordham defensive lineman Thomas Lloyd said goodbye to his father and embarked on a 27-hour drive from his home in New Orleans, La. to Texas. With Hurricane Katrina bearing down on his home state, Lloyd and his family evacuated while his father, who could not swim, stayed behind at the Lloyds' home.
It would be two weeks before father and son were reunited, but Lloyd still faced a tough journey. His family relocated to Hurst, Texas, where he managed to earn a spot on the L.D. Bell High School football team, which Lloyd describes as being straight out of "Friday Night Lights." T-Lloyd, as he is known to friends and teammates, excelled in the competitive world of Texas high school football, earning a scholarship offer from Fordham University. New York was an entirely new experience for Lloyd, but, as he said, "I loved the campus and football program. Playing football and getting a great education made me come to Fordham." Lloyd, CBA '12, has appeared in six of the Rams' seven games this season, recording a total of 11 tackles.
Lloyd's story caught the eye of a representative from Scobre Press, which released "T-Lloyd: In the Trenches" in 2008. The children's book, authored by Ron Berman and Steven McFadden tells the story of Lloyd's escape from Katrina and the challenges he faced adjusting to his new life in Texas.
On Oct. 27 at Rose Hill, Lloyd shared his story, and the book that it inspired, with a familiar group of high school students. Lloyd volunteers as a tutor and mentor for the Fordham University RETC 21st Century Learning Center, an organization that helps Bronx teenagers catch up on missed class credits.
While most of the students know about Lloyd's spot on the football roster—his 6'0", 284-pound frame makes that obvious—few were familiar with his experience during and after the hurricane.
"I don't like to talk about it," Lloyd said. "I don't feel the need to tell them that there's a book about me. That's just my personality. I don't want the kids to feel less than me. I want them to feel that they can talk about anything with me. This is the first time I've really stated that to them."
That sort of humility was at the heart of Lloyd's talk with the large group of students from seven different Bronx schools.
"[Relocating after Katrina] was hard, but I had to adjust," Lloyd told the students. "I had to work hard and move on. That's what you need to do to be successful."
Theresa Lupo, senior professional developer for Fordham's RETC program, organized the event after she learned about Lloyd's ordeal after Katrina. Even then, he only revealed his story and the book while being interviewed for a mentoring position.
The students asked Lloyd a variety of questions, from what his role is on the football field—"I basically try to stop the other team's offense from getting a touchdown. I like tackling people."—to what his favorite class is—"financial accounting."
Lloyd spent as much time discussing his studies as a business administration major and his other on-campus roles as he did the hurricane and his football career.
"I do a lot here," Lloyd said. "The more the better. Managing it all is actually the hardest thing."
With the majority of students in attendance were working with the 21st Century Learning Center to make up for a credit shortage, Lloyd stressed the role of effort in overcoming significant challenges.
"Don't let college scare you," he cautioned. "I'm not the smartest guy, but I worked hard. I had to study, but I did it. Do the things you need to do to be successful."
Each student received an autographed copy of "T-Lloyd in the Trenches" with an inscription reading, "It's all about the effort."
Words to live by, according to Lloyd, who is still driven to achieve "just a little bit more everyday."
"I think I'm helping the kids by being there and showing them that its possible to go to college," Lloyd said after the event. "I just want them to work hard. I just want them to be successful. And I'm not successful yet myself. I'm going through that same ride everyday. I want them to know that it's a continuous thing. If you give up on yourself, you're not giving yourself a chance to be successful."