Possible White Power Message Found Carved Into Rose Hill Desk
A student reported to Public Safety today that she possibly found a white power message carved into her desk at the Rose Hill campus. The carving reads "Don't Fight the Power WP [White Power]."
Assistant Vice President for Communications Bob Howe confirmed in an email to The Observer that the incident was reported to Public Safety, which is currently investigating it. Howe added that the university may have a statement later on.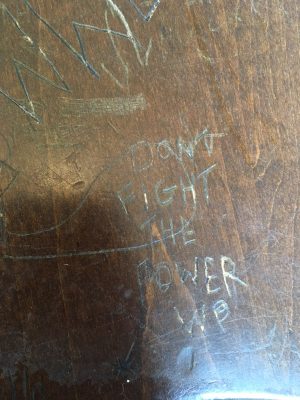 In September, an anti-gay message was found in a Rose Hill dorm. March of 2016 saw anti-semitic graffiti appear in McMahon in March 2016. Several incidents of similar graffiti occurred in the Fall 2015 semester. On Sept. 13 2015, a black Rose Hill student found the n-word carved into his door. A week later on Sept. 20 2015, a swastika was found in a Rose Hill stairwell. The incidents led to multiple statements from student organizations and departments, solidarity door signs, College Council discussions, and town hall style mandatory meetings. Two months later in November, a swastika was found in a Fordham Lincoln Center bathroom.
The university has made concerted attempts to resolve issues of diversity and inclusion, including forming a Diversity Task Force, which released its University Study in November. Shortly thereafter, University President Rev. Joseph M. McShane, S.J., announced that he would appoint a Chief Diversity Officer in the university administration, The Fordham Ram reported.