University Hosts Annual Great Fordham Smokeout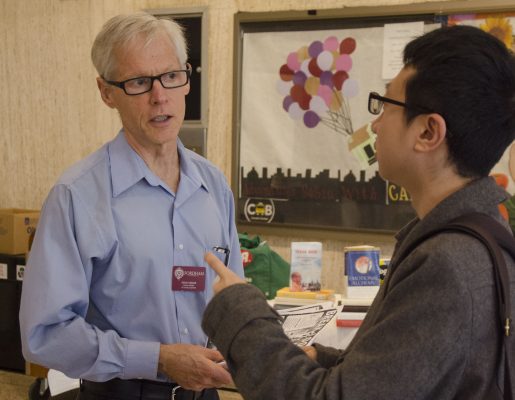 By ISABELLA ROXAS
Contributing Writer
On Wed. Nov. 17, Fordham University at Lincoln Center (FCLC) hosted its annual Great Fordham Smokeout. The event took place in the Lowenstein Plaza and consisted of four tables of information to raise student's awareness of the many harmful effects of smoking. From 11 a.m.-3 p.m., Fordham faculty members David Vassar, Melissa Quiroz, and Jeanne Molloy dedicated their time to speak to numerous students about tobacco usage.
A blackened pig lung was placed on display at one table in order to provide a visual of the damage induced from smoking. Quiroz clarified that a pig's lung is similar to that of a human, and therefore accurately mimics the lung of a real smoker. Quiroz works as the licensed practical nurse (LPN) at the Fordham Health Center. "I have these 'Quit Kits'… so if you're thinking about quitting here's something to help you", she presented. These "Quit Kits" contained candy and gum as well as straws and rubber bands to help a smoker combat cravings for a cigarette. Quiroz wants the student body to take away "that we are here to help and that they can come see the health center and we can help them with smoking cessation."
Of Fordham's goal in particular, Quiroz noted: "I have David Vassar here and Mrs. Molloy and we are trying to get the campus smoke-free and we want to start with student engagement."
To Molloy, the wellness manager in human resources at Fordham, engaging with both smokers and non-smokers is key. "At any point that you can engage smokers and non-smokers and give them resources to be able to either help a loved one or a friend to quit smoking, or to actually engage with the smoker and try and catch them when they are open to engagement, then it's a positive thing."
"We hope for the future to have no smokers at Fordham. That is our goal," Molloy added. In direct correlation with smoking, Molloy pointed out that a decline in smoking will reduce secondhand smoke as well.
In addition to the detrimental effects of tobacco to a person's health, the environment also takes a negative hit. Molloy shared information of how cigarette buds contain "carconogetics and GMO's, and that's going into the soil and leaches in."  
As a result of the Great Fordham Smokeout, many FCLC students were not only informed about the capacity of damage caused by smoking, but were also able to learn of ways to help themselves or another person quit their smoking habit altogether.
Molloy concluded, "I feel in the three hours we've been here today, that we have already really touched a couple of people so [that] makes me really happy."