Library's New Exhibit Reflects City's "Hamilton" Obsession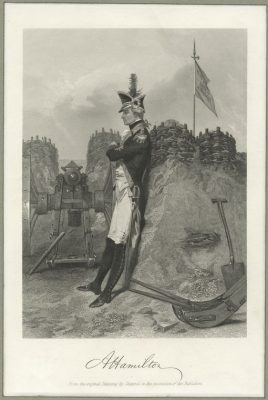 Hang on for a minute...we're trying to find some more stories you might like.
By MORGAN STEWARD
Arts & Culture Co-Editor
The New York Public Library's (NYPL) newest exhibit is capitalizing on the city's obsession with Broadway's biggest character—Alexander Hamilton. The free six-month exhibit, aptly named "Alexander Hamilton: Striver, Statesman, Scoundrel," officially opened on June 24.
The goal of this exhibit is to explore the various facets of Hamilton's personality as well as his relationships with fellow prominent politicians, a feat first began by Lin Manuel Miranda in his hit Broadway musical, "Hamilton." The collection assembled by the NYPL includes historic documents regarding the Founding Father's political, personal and military life.   
Michaela Browner, Fordham College at Lincoln Center (FCLC) '19 is one of the many FCLC students dying to get a ticket to the sold out show. "I like the music from the show a lot, but it's been so hard to get tickets," she explained. Upon hearing of the new exhibit, Browner immediately got excited for the opportunity, saying "this exhibit will give me the chance to see and learn everything the show would have taught me."
As the title of the exhibit explains, it focuses on three aspects of Hamilton's personality and the ways in which his ambition, government service and outspoken attitude affected his life and political career. Library patrons are given the opportunity to read several documents from his time serving the government, including Hamilton's proposed plan to replace the Articles of Confederation with the Constitution. Although Hamilton retired from the Department of the Treasury in 1795, his political work did not end there. The NYPL exhibit also contains a draft of George Washington's famous 1796 Farewell Address written by Hamilton after he had joined the New York bar.
The exhibit also provides documents that defend Hamilton's reputation as a scoundrel. Not one known for biting his tongue, these documents highlight the statesman's tendencies to be blatantly outspoken—a character trait many believe lead to his eventual death in a duel with his arch rival Aaron Burr. Among these records are an original copy of the infamous Reynolds Pamphlet (1797) and the broadside of a letter between Hamilton and Burr in the weeks preceding their fight.
While history buffs might be most interested in the political documents, it is a collection of letters that might catch the eye of avid fans of the Broadway production. The NYPL has managed to gather a series of correspondences between Hamilton, his widow, Eliza Schuyler, and her sister, Angelica Schuyler Church, who also harbored feelings for the Secretary of State. This love triangle is explored throughout Miranda's "Hamilton," resulting in musical numbers like "Satisfied" that quickly became audience favorites.       
For those unable to attend the exhibit in person, the NYPL's website also offers virtual interactive features that coincide with items on display. These items include virtual documents that users can read, as well as an interactive Google map that allows individuals to click on key locations in Hamilton's life and learn why they are important.
"Alexander Hamilton: Striver, Statesman, Scoundrel" will be on display in the Stephen A. Schwarzman Building at the NYPL branch located on fifth Ave and 42nd St. through Dec. 31.